Best-Practice-Recruitment-Dashboards auf Knopfdruck
Die Gewinnformel für Ihr Unternehmen liegt nicht in Spreadsheets begraben. Sie liegt in der vorgefertigten Analysefunktion von Vincere.
Demo vereinbaren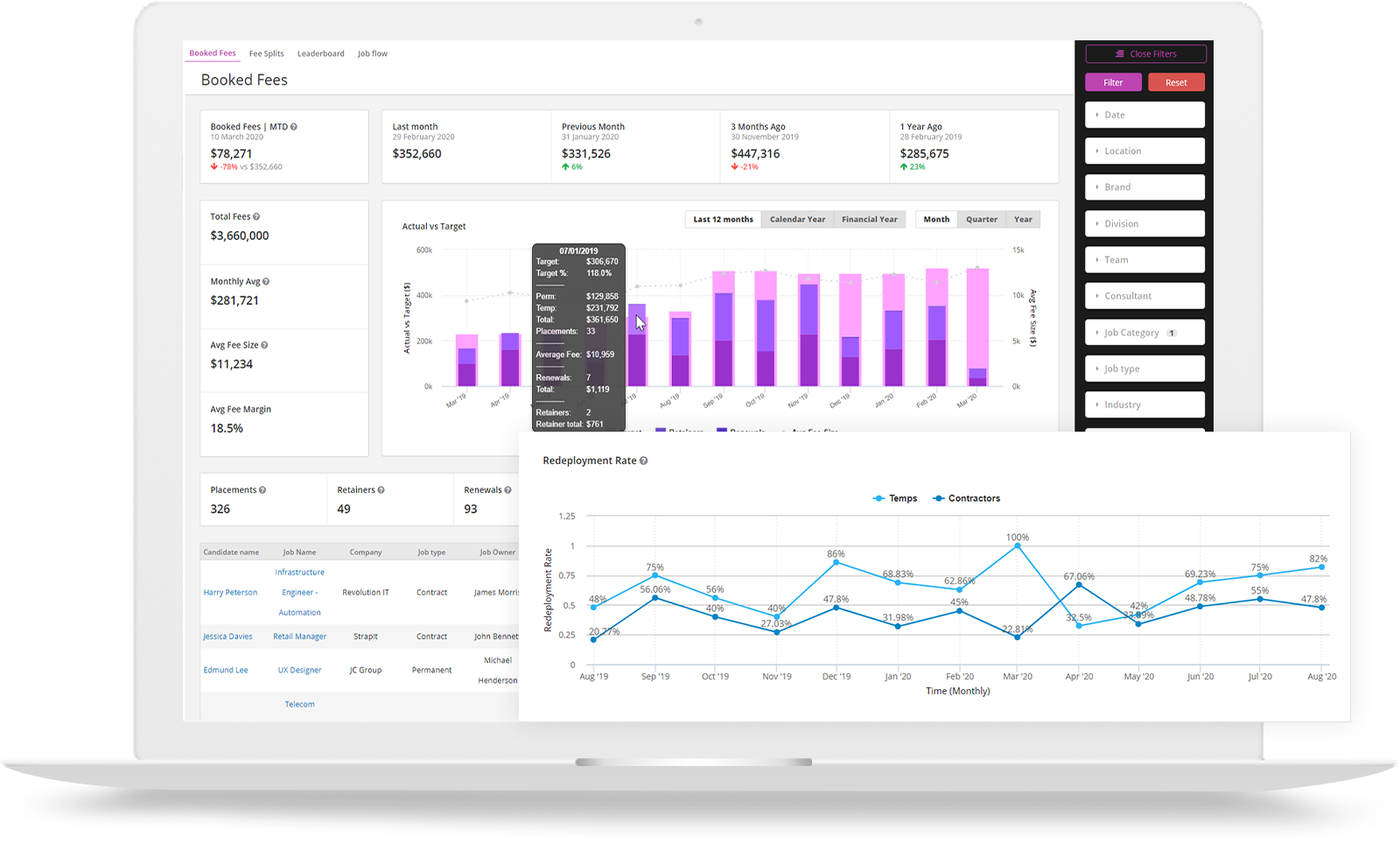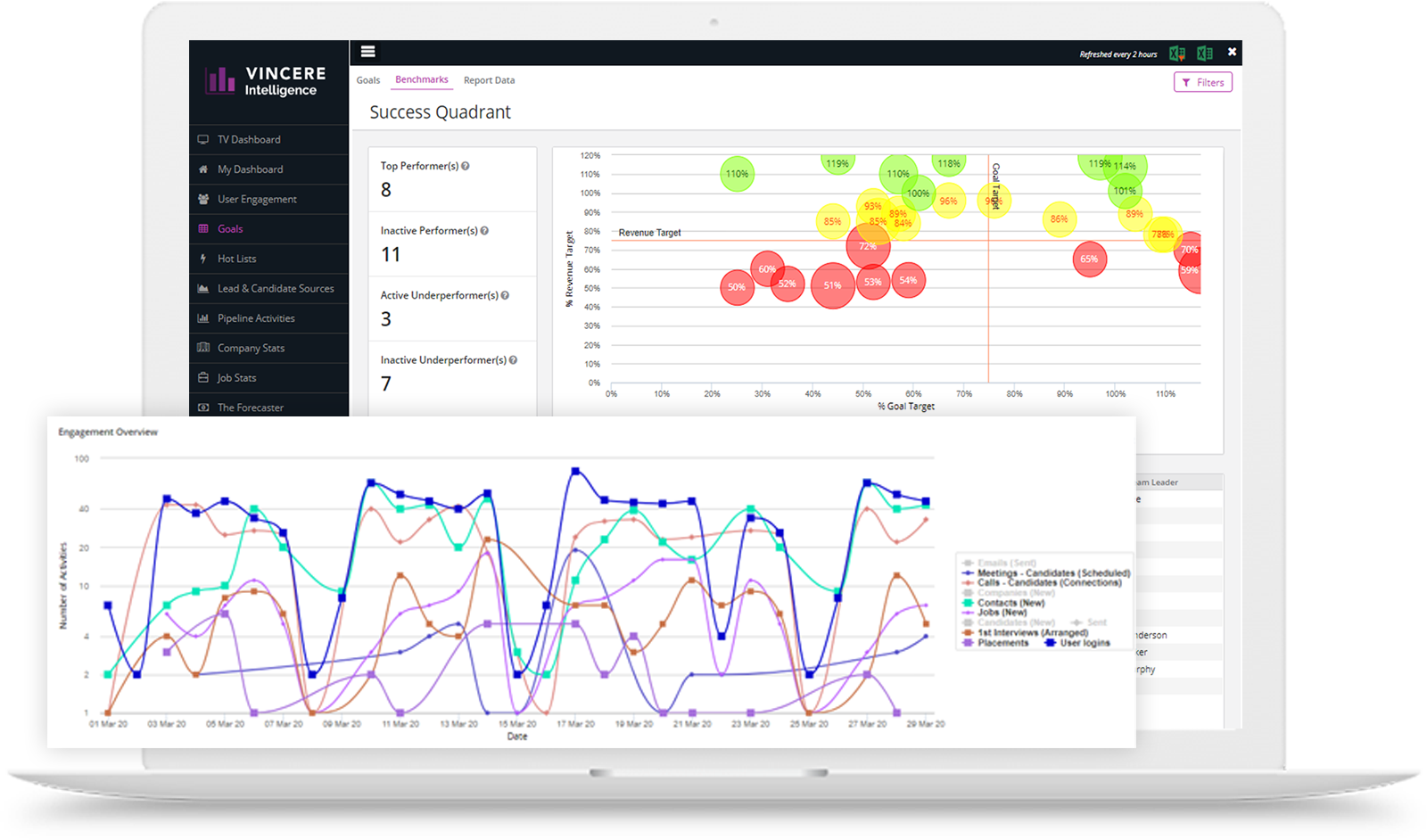 Keine Spreadsheets.
Keine IT erforderlich
Zugriff auf eine Bibliothek von Best-Practice-Dashboards, darunter mehr als 50 vorgefertigte Berichte.
Management leicht gemacht
Decken Sie die Stärken und Schwächen jedes Beraters auf, damit Sie konstruktive Gespräche führen können, um ihnen zu helfen, sich zu verbessern.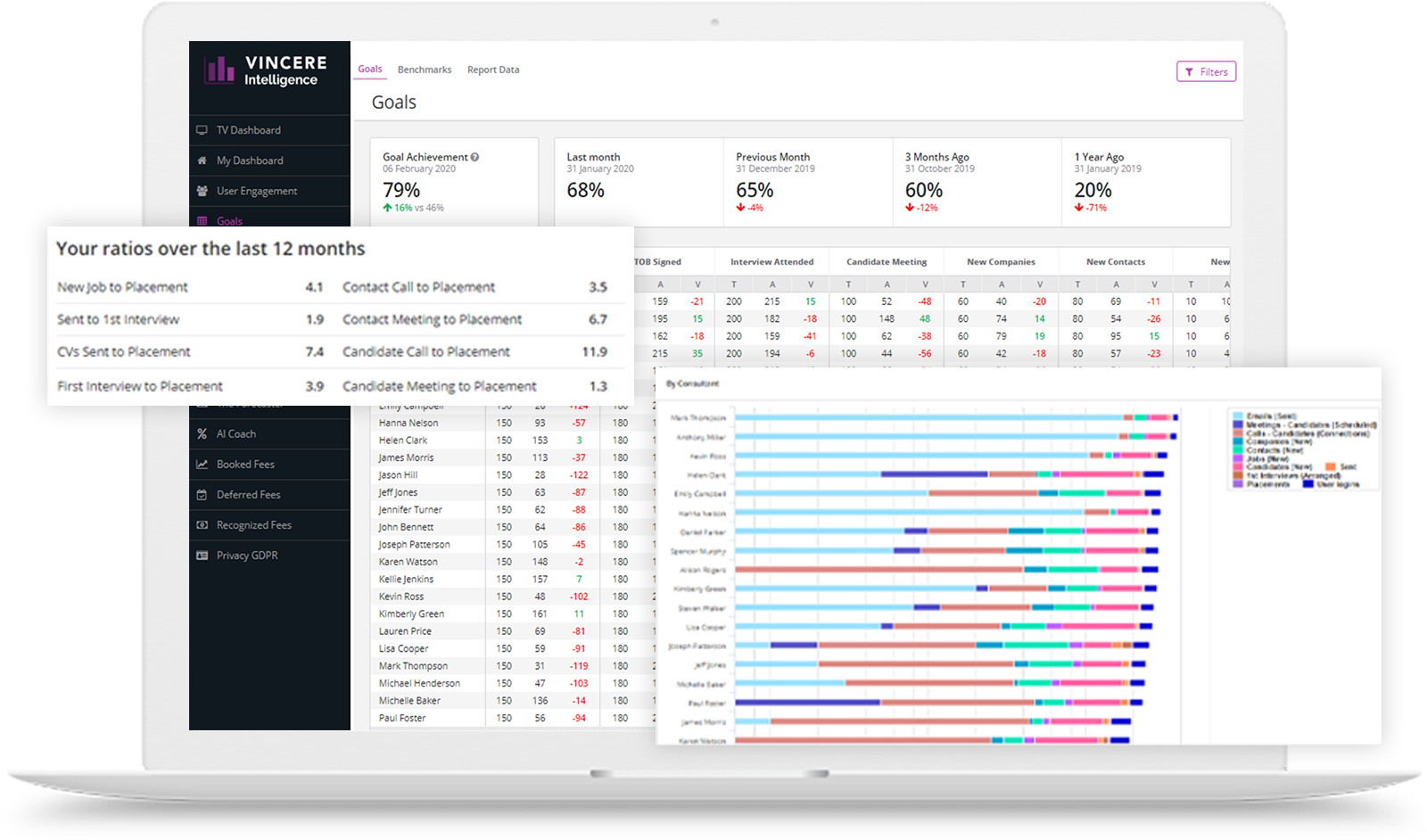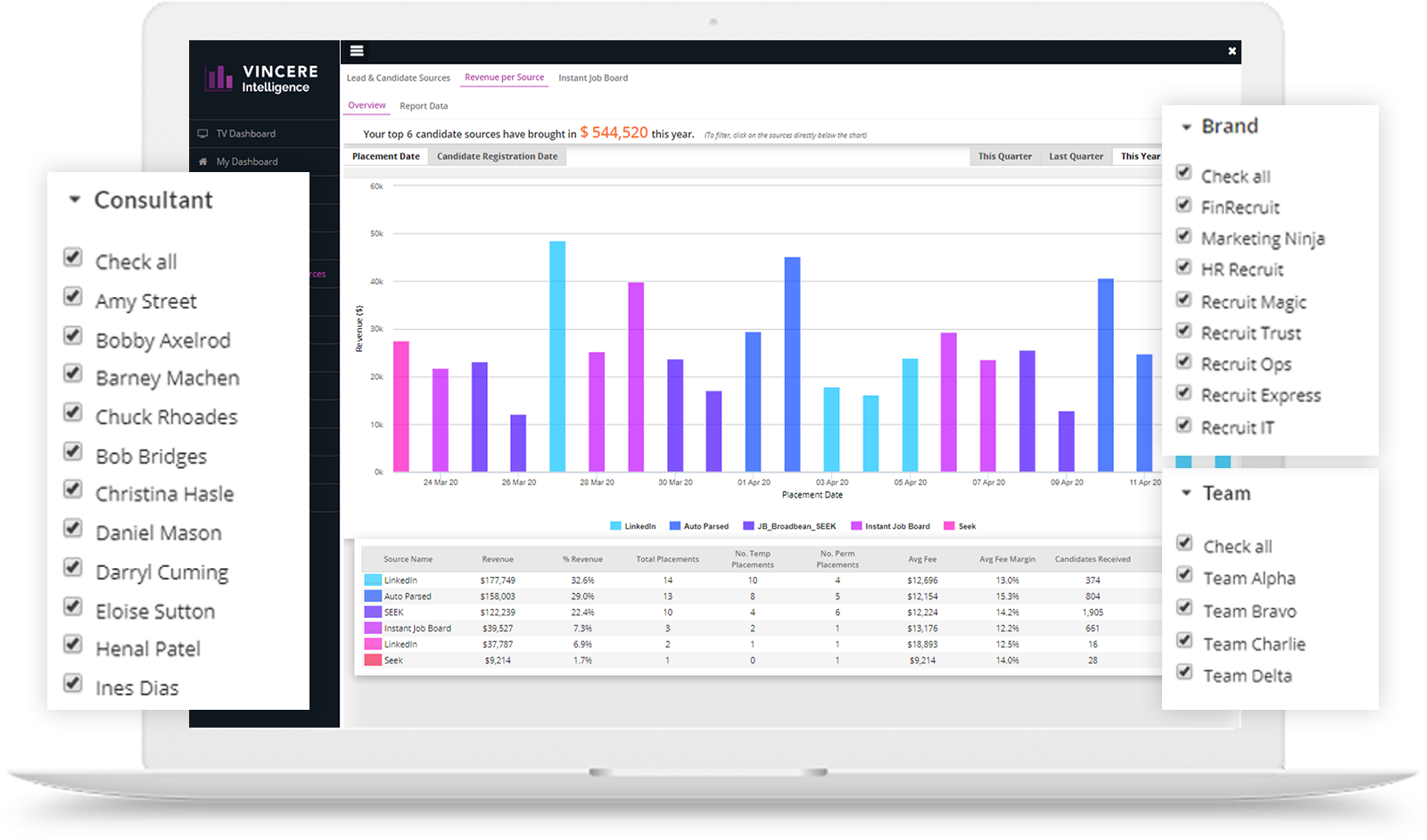 Slice-and-Dice in Echtzeit
Wenden Sie Filter an, um schnell zu sehen, was Sie sehen möchten. Drilldown nach Marken, Niederlassungen, Teams und einzelnen Beratern.
Eine 360°-Ansicht über Ihr gesamtes Unternehmen, in Echtzeit

Von Business Development, Performance Tracking, Pipeline-Aktivitäten bis hin zu Umsatz und Prognosen - Vincere Intelligence liefert Ihnen innerhalb von Sekunden alle Antworten, die Sie brauchen.

Ziele/KPIs erfassen
Sie können Ziele festlegen und die Leistung Ihres Teams im Auge behalten, indem Sie sich die in der Plattform erfassten Aktivitäten ansehen.

Umsatzwachstum verfolgen
Genau wissen, wie viel Geld eingeht. Zu jeder Zeit.

Werbeausgaben im Auge behalten
Stellenbörsen sind teuer. Finden Sie heraus, welche Quellen die besten Kandidaten und den besten ROI einbringen.

Demo vereinbaren
Sehen Sie sich Ihren Aufwand nach Unternehmen an und sehen Sie, wie viele Aufträge sie Ihnen erteilt haben.

Gamification
Erfolge feiern, indem sie Echtzeit-Statistiken und Ranglisten auf einem Leaderboard anzeigen.

Verbesserung der allgemeinen Datenqualität
Überlassen Sie Vincere die Polizeiarbeit mit Berichten, die Ihnen helfen, sich von "Müll" zu befreien.

CRM / ATS Nutzung maximieren
Der Mensch ist ein Gewohnheitstier. Stellen Sie sicher, dass Vincere zur neuen Gewohnheit wird - wenn es nicht in Vincere ist, ist es nicht geschehen.

Audit-fähige Compliance-Dashboards
Alle Ihre DSGVO-Aktivitäten werden auf einem Dashboard erfasst und visualisiert.
Suchen Sie nach benutzerdefinierten Berichten?
Das Self-Service-Analysemodul von Vincere gibt Ihnen die Superkräfte, die Sie benötigen, um beliebige Berichte zu erstellen.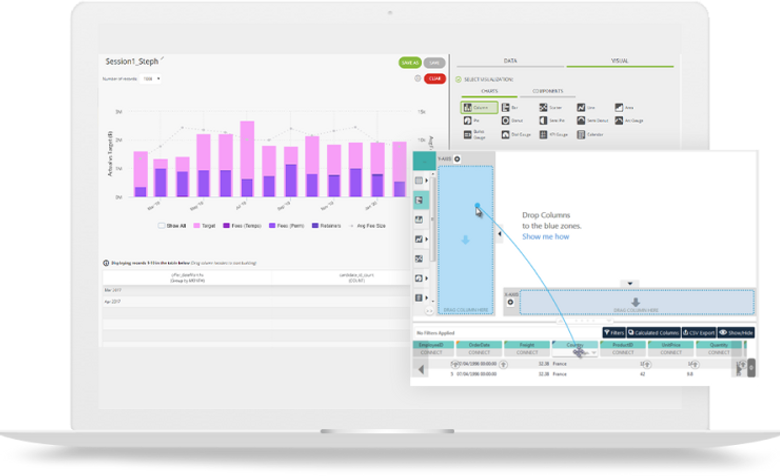 "Es gibt keinen Platz zum Verstecken. Man erhält eine ausgezeichnete Sichtbarkeit bis hinunter auf die Beraterebene, und das können wir, weil die Dashboards und Leaderboards so gut funktionieren."

Robert Quirk
Head of Marketing bei Tempting Ventures
Sind Sie bereit, Ihr neues
Recruitment OS kennenzulernen?
Recruitment terms & glossary:
A recruitment or talent dashboard is a tool that provides interactive visualizations of your recruiting data. With one, users can quickly get an overview of the process, identify trends, and spot areas for improvement.
Recruitment metrics dashboards are typically used to track the number of applications received, the number of candidates interviewed, and the number of offers extended. Additionally, it also helps with monitoring overall progression by department and job function.
Thanks to the ability to visualize all relevant activities in one single place, these dashboards are extremely beneficial for staffing agencies that wish to optimize their recruitment process and success.
Dashboards are a critical asset to staffing agencies for a variety of reasons.
​Firstly, they provide an easy way to understand potential recruiting problems. Thanks to multipoint data tracking, it becomes simpler to identify bottlenecks and inefficiencies. Once this is done, it is easier for agencies to make necessary changes or improvements.
​Additionally, they allow staffing agencies to make better, data-driven decisions. This in turn helps them to use their resources more efficiently and effectively, to make informed choices about which potential candidates to pursue.
​These dashboards are also useful for managing team performance as they provide a visual background to evaluate if your recruitment team are meeting their KPIs.
​Finally, by analyzing recruiting funnels, staffing agencies can come up with refined strategies to continuously improve their chances of making successful placements.
Recruitment dashboards are a powerful data visualization and business analysis tool for recruiters. That said, designing an effective dashboard is not simply a matter of randomly stitching together a bunch of charts and graphs. To be truly useful, one needs to follow some best practices:
1. Be selective about data
Data included on the dashboard should be carefully chosen to provide users with the most useful and relevant information. Too much data can be overwhelming, while too little can leave key insights unnoticed.
2. Use charts and graphs
Charts and graphs should be used judiciously to visualize data in a way that is easy to understand. The navigation needs to be straightforward so that users can quickly find the information they need.
3. Remember to update continuously
Finally, data should be updated frequently to ensure that the dashboard always provides an accurate picture of the current situation.
A recruitment analytics dashboard is a powerful tool that can help streamline the recruitment process and provide valuable insights into your daily operations. But how do you build one that truly works?
The first step is to decide on the types of dashboards you need. Do you want a simple overview of your recruiting progress or something that has more detailed information? Do you want to track the number of applications you receive, or the number of interviews conducted, or the number of offers extended?
Once you have decided on the types of data you want to track, it is time to identify the relevant metrics. For example, if you are tracking the number of applications you receive, you will want to look at things like response and conversion rates. If you are tracking the number of interviews you conduct, you would want to look at things like interview-to-offer ratio and time-to-hire.
Post that, it is time to integrate all your data sources into one place. This step is very important as it allows recruiters to track their progress over time and spot trends that might otherwise be missed.
Finally, you can now compose your recruitment KPI dashboard in Excel/ Google Sheets or build it using recruitment agency software.
When it comes to recruitment dashboards, there are four main types: strategic, operational, analytical, and tactical:
1. Strategic dashboard
A strategic dashboard is focused on the big picture. It tracks KPIs such as time-to-hire and cost-per-hire that help senior management make decisions about the direction of the recruitment function.
2. Operational dashboard
An operational dashboard is focused on the day-to-day running of the recruitment team. It includes metrics such as vacancy rate and number of applications per role. Based on this data, recruiters can track their progress and identify any bottlenecks in the process.
3. Analytical dashboard
An analytical dashboard is focused on data analysis with metrics such as conversion rates and source-of-hire. This information enables recruiters to understand where candidates are coming from and how effective the current process is.
4. Tactical dashboard
A tactical dashboard is focused on short-term goals which are visualized with metrics such as open roles and requisitions in progress. Based on this, recruiters can prioritize their work and ensure that all vacancies are filled promptly.
One of the most important aspects of any recruitment process is having the ability to track and measure key metrics. This allows companies to see what is working well and what is not.
Some of the most important metrics to track in your recruitment metrics dashboard include:
Applicants per opening: The number of applications received for a job, divided by the number of openings.
Offer acceptance rate: The percentage of candidates who accept an offer.
Recruitment experience: How satisfied candidates are with their overall recruiting experience.
Time to hire: The amount of time it takes to fill a vacancy.
Quality of hire: This metric measures the value and quality of hire.
Cost per hire: The total cost of recruiting a new candidate.
Turnover rate: The percentage of candidates who leave during a given period.
Recruitment dashboard software is specifically designed for managing recruitment data. As a result, it typically includes features and tools that make it easy to track and analyze process-related information.
By contrast, Excel and Google Sheets are general-purpose tools created for generic purposes. While they can be used as a type of dashboard, they don't include features that make them as effective as dedicated software.
Another advantage of using software is that it's generally easier to use. This is because the interface is designed with users in mind, and the software is updated regularly.