各種書類の送付
健康診断や資格証明書など事前確認が必要な各種書類を顧客へ送付。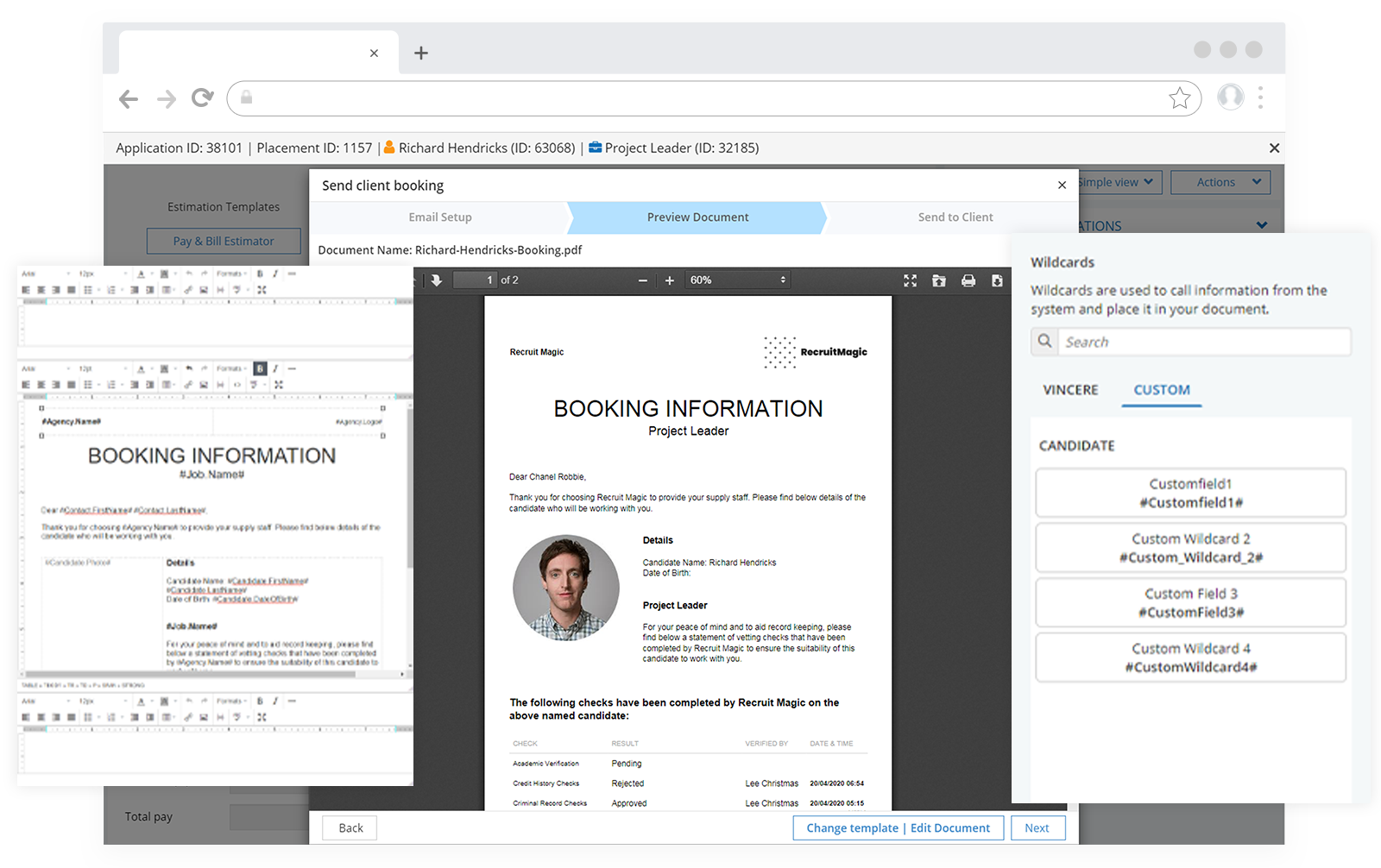 時間・経費
勤怠、休暇、経費の承認をオンライン化。モバイルアプリにも対応しているので、すばやく簡単に処理。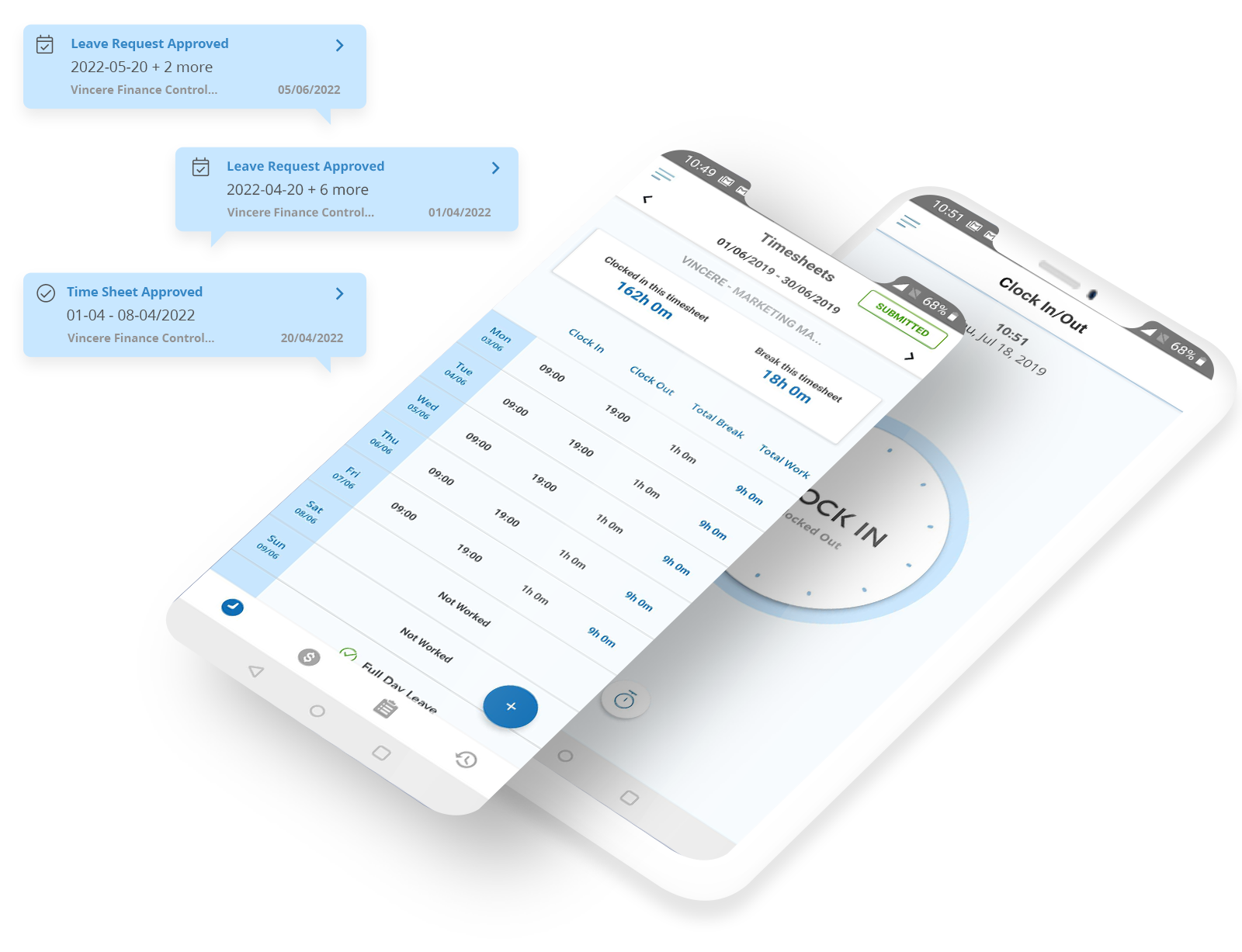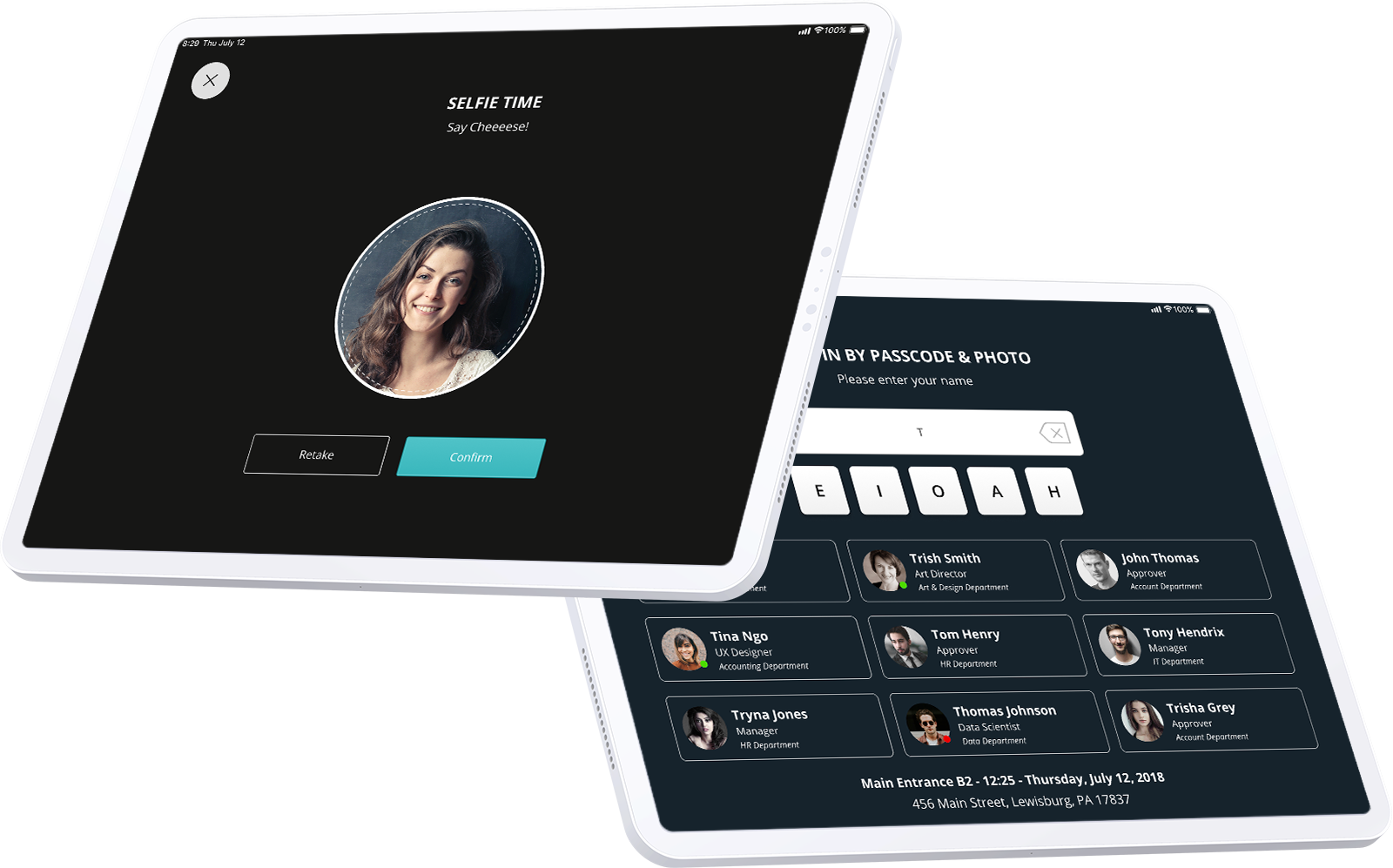 ドアクロック
出力用のフィールドをカスタマイズして、バックオフィスの業務をスムーズに。1度スケジューラーで設定すれば自動で出力するから安心。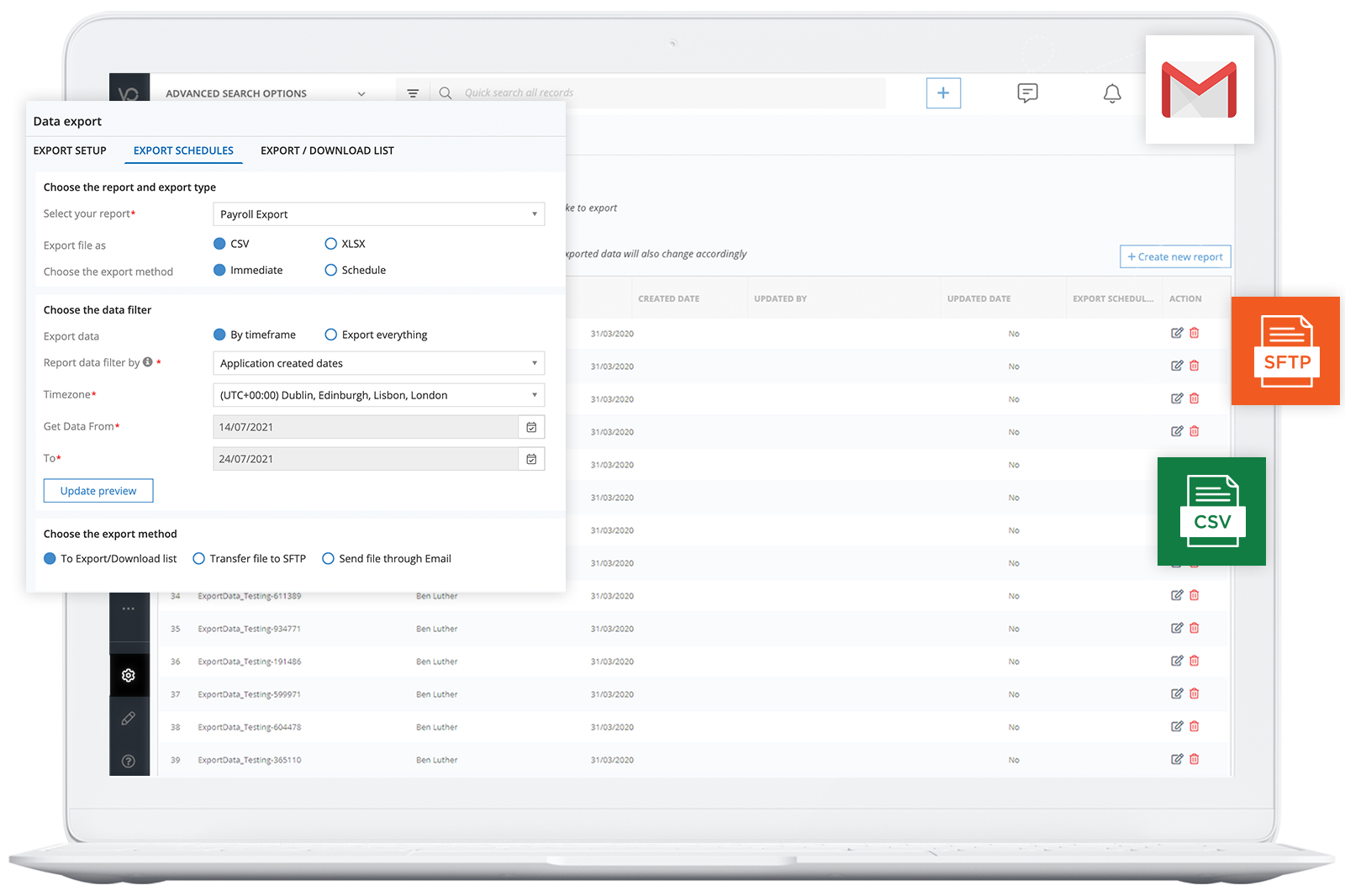 出力用のフィールドをカスタマイズして、バックオフィスの業務をスムーズに。1度スケジューラーで設定すれば自動で出力するから安心。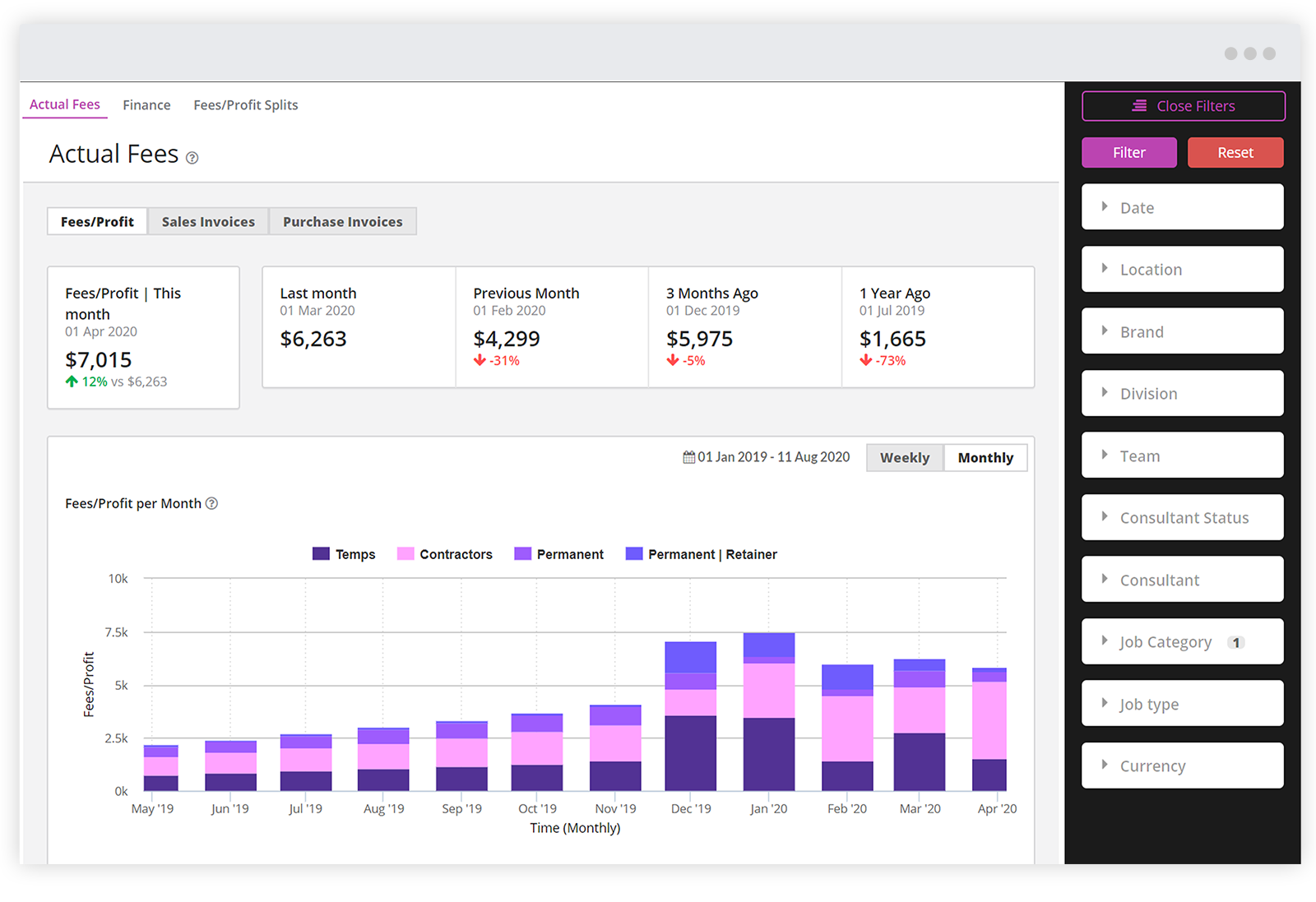 リアルタイムで収益を把握
正確な収益の把握:
月次の手数料、利益の累計額
コンサルタント、チーム
日付、地域ごとにドリルダウン
人員稼働率分析
配置率の最適化で利益を最大化:
再稼働率をリアルタイムに把握
未稼働の候補者を掘り起こして活用
コンサルタントの目標設定に再配置率を設定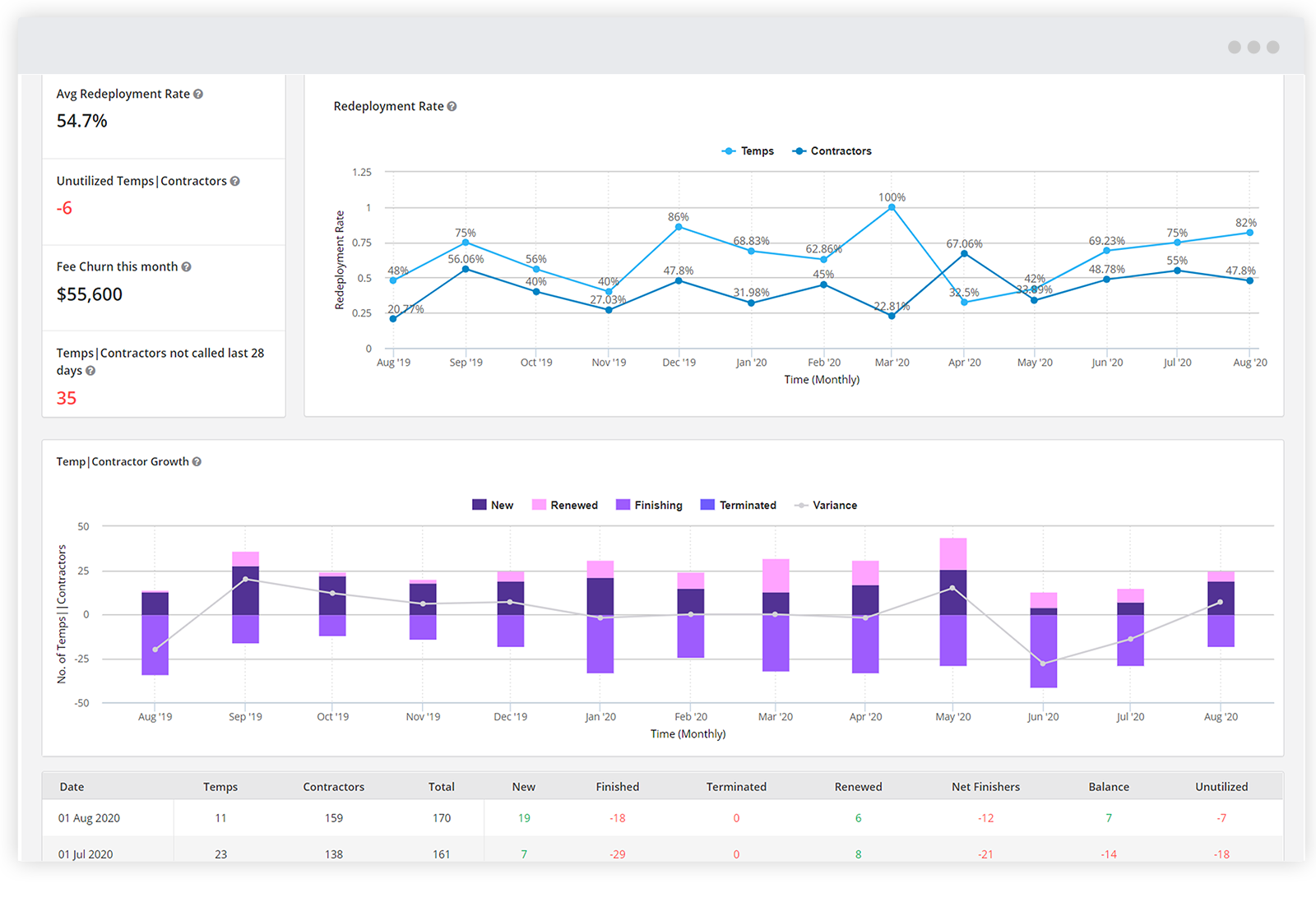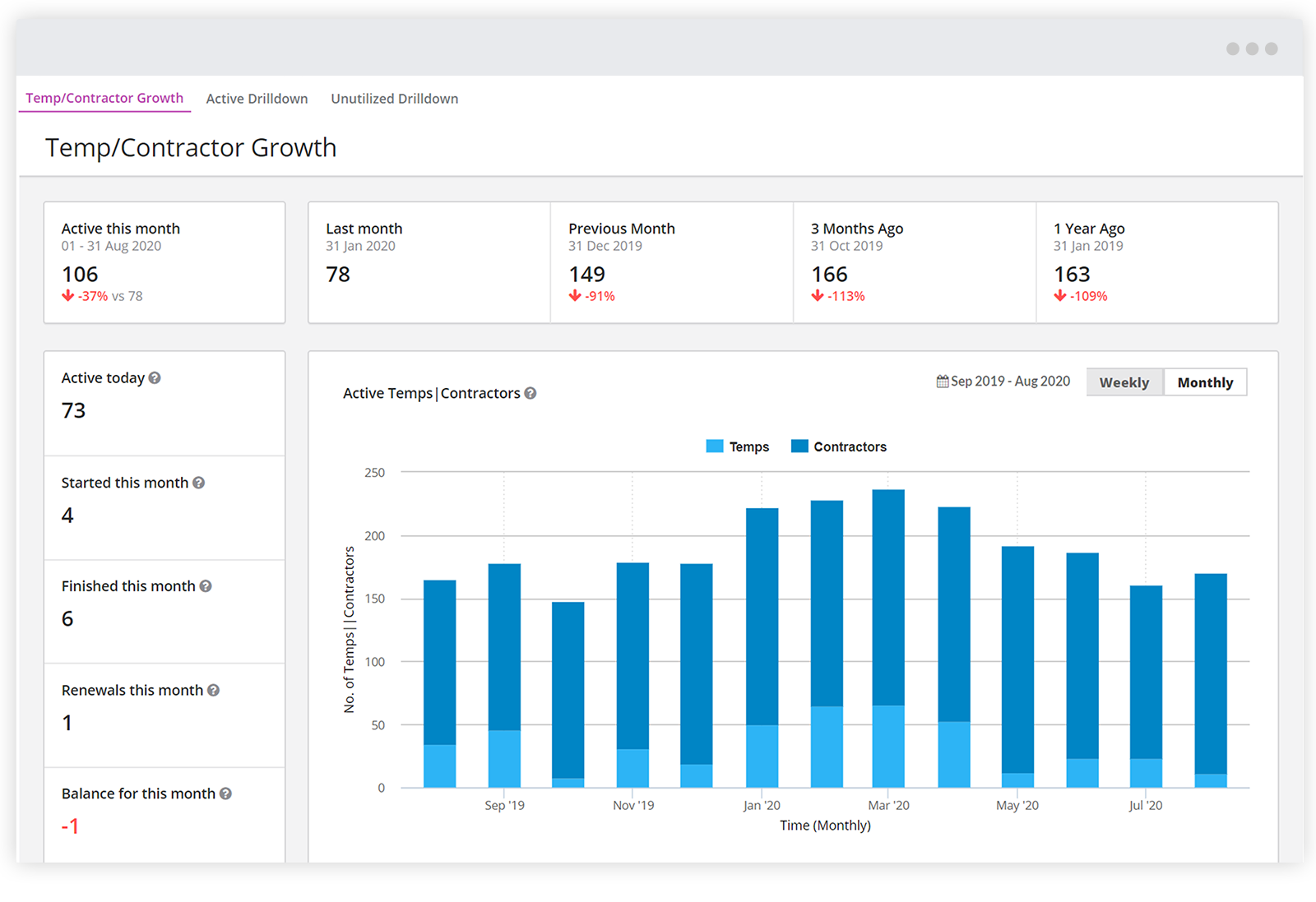 分析ツール
派遣ビジネスを「数字」で管理:
新たに勤務を開始する候補者、契約を更新及び終了する候補者の人数
今現在勤務している人数
月次利益・支出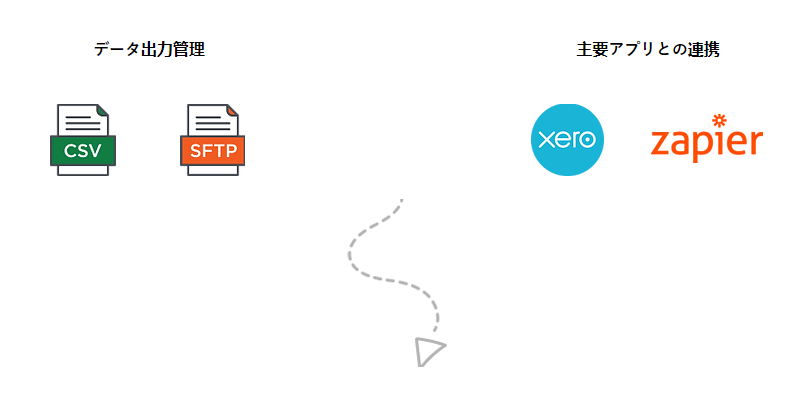 Recruitment terms & glossary:
In brief, temporary working can be understood as the process of recruiting temporary and contract workers such as interns, freelancers, consultants, and temps. Demand for short-term workers has been increasing in a variety of industries - hospitality, engineering, and education, to name a few.

Compared to permanent work, temporary work comes with a lot more detailed and complicated requirements.
As demand for temporary workers continues to rise, digitizing recruitment operations is vital for recruiters to quickly detect and enlist quality candidates. Temporary employment software provides an efficient tool to track, shortlist and book candidates or workers to jobs/shifts efficiently and quickly. By using this software, recruiters are able to optimize the staffing process at a lower cost, in a shorter time with high volumes.
Both companies and employment agencies benefit from such software. The latter, however, make the most of it, as such a system helps them to identify, monitor, and recruit top talent for each position based on data-driven parameters. At the same time, it also allows recruiters to build strong relationships with potential candidates.
A common challenge when it comes to recruiting temporary workers is how to consistently find quality candidates in a short amount of time. With the help of a recruitment agency software, recruiters are capable of managing the recruiting process much more effectively - they can achieve their goals at the lowest cost and the shortest time possible.
To make the process more efficient, temp agency software are often designed with many useful features. Some of them include:
1. Identifying Potential Candidates
Screening and identifying qualified candidates is a crucial function of such software. Vincere's ATS for staffing agencies offers tools to keep track of candidates' schedules and search for available timeframes. The AI Automatch feature assists recruiters in finding candidates within a specific location in a single click. This feature also comes with a map view and potential candidates list. Recruiters can also adjust filters based on job requirements.
2. Digitizing the on-boarding process
A huge difficulty in recruiting temporary positions is the onboarding process, which includes sending out booking.
1. Increased efficiency (save time & money)
Temping can prove to be tricky, as each client has different requirements in terms of skill sets and working time. In addition, many candidates might apply for split shifts, as their available time is limited. Using software can help recruiters save time and money per candidate, especially in the sourcing and screening stage.
Vincere recruitment operating system (RecOS) offers various time-saving solutions for recruiters - including bulk availability requests and real-time updates on candidates' availability, as well as a Schedule Shifts system that can arrange single, split and overtime shifts based on clients' requirements.
​2. Candidate management
Beside finding the right fit from a broad candidate pool, recruiters' core tasks also includes building and maintaining relationships with potential candidates. Keeping close contact with candidates and regularly updating them on current openings is the best way to find and match potential candidates with suitable positions.
3. Automation and customization of the recruiting process
There are many procedures that can be automated to save time and create easy online access for both candidates and clients. Temporary staff software can assist in this process by keeping track of the recruitment process, automating the onboarding process, and sourcing & organizing candidate information to produce real-time reports.
Vincere offers Scheduled Exports to Payroll to assist recruiters in automating documents related to contracts and payslips, optimizing client and candidate experience.