Kontrolle für die Kunden
Ihre Kunden erhalten ein eigenes Login und können rund um die Uhr auf alles zugreifen, was sie benötigen: Dokumente, Verträge, Rechnungen und vieles mehr.
Demo vereinbaren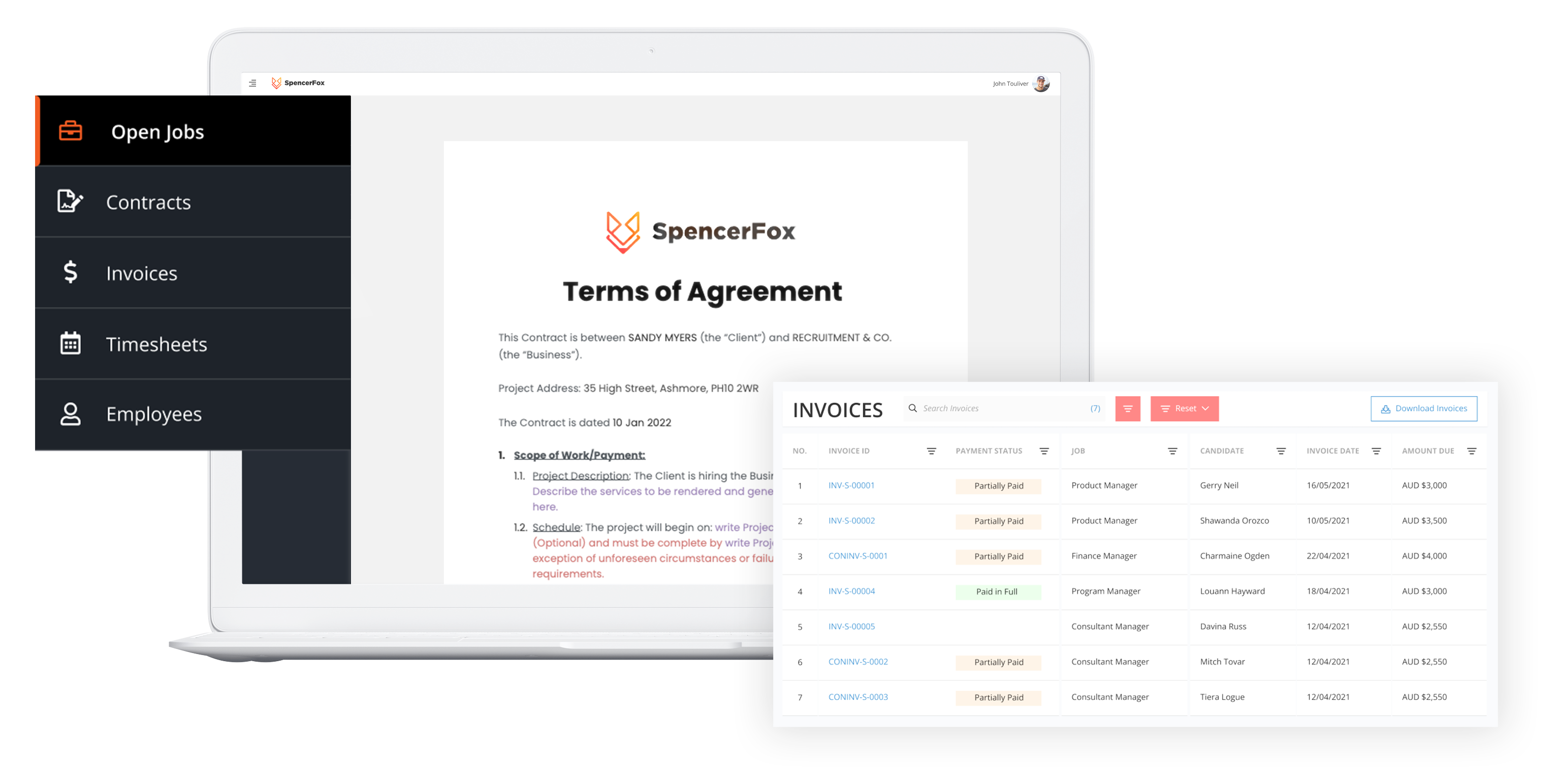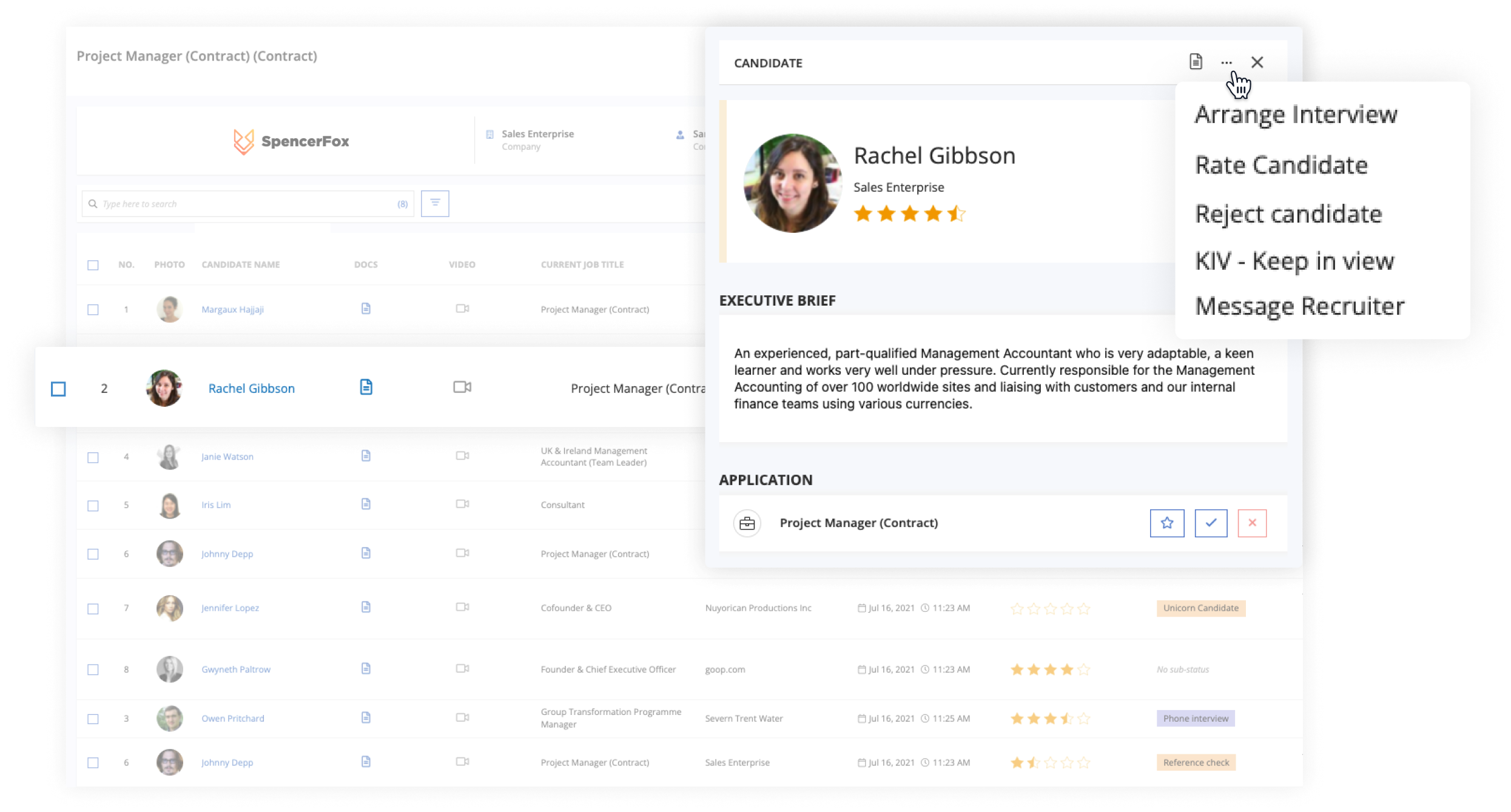 Mit LiveList™ integriert
Das Fenster Ihrer Kunden zu ausgewählten Kandidaten. Kunden erhalten Zugang zu einem Portal, um Kandidatenprofile einzusehen, Bewertungen zu hinterlassen und Vorstellungsgespräche zu vereinbaren.
Sichere & einfache Freigabe von Dateien
Geben Sie Ihren Kunden bequemen Zugang zu Dokumenten, von Lebensläufen und Zeugnissen bis hin zu Verträgen und Rechnungen.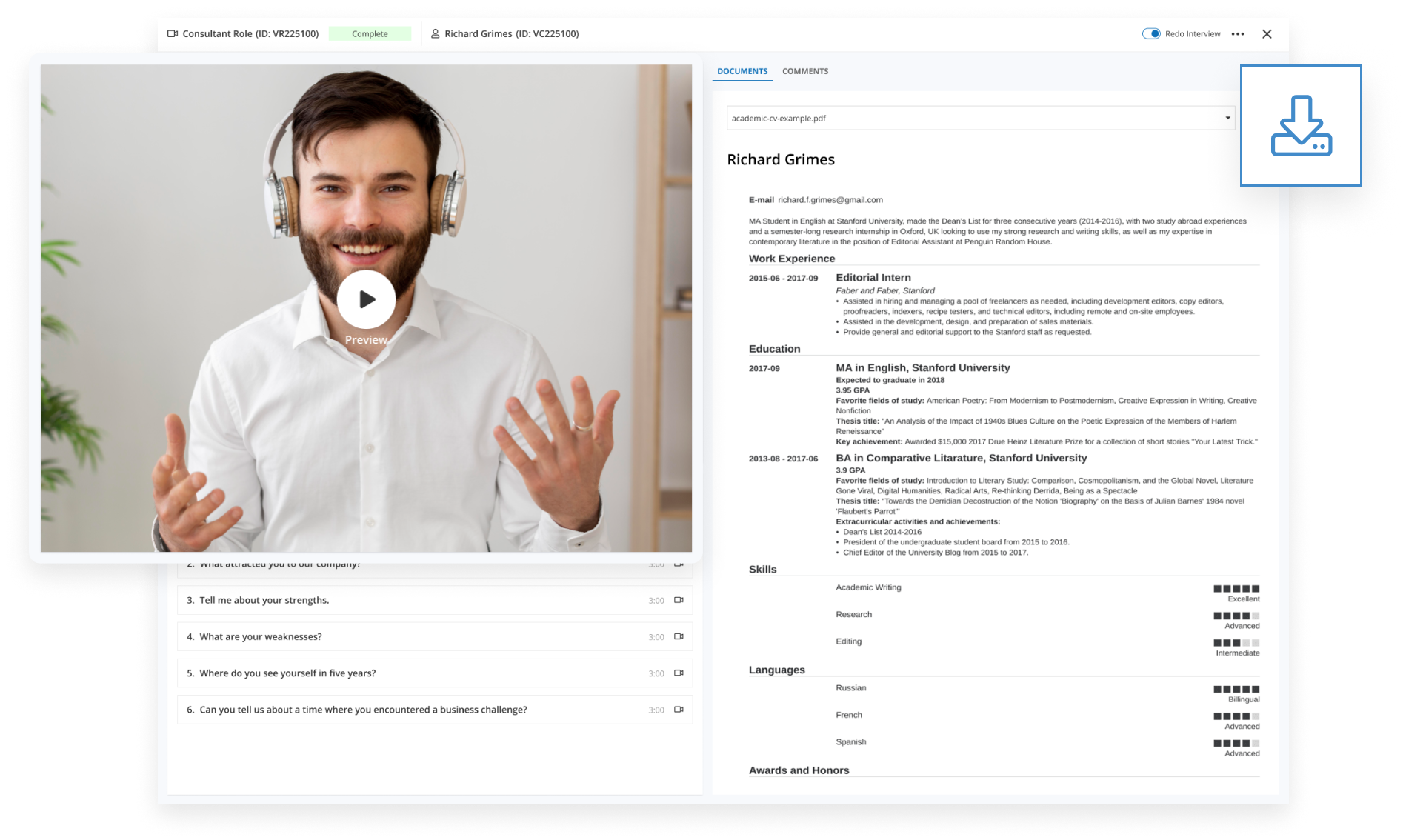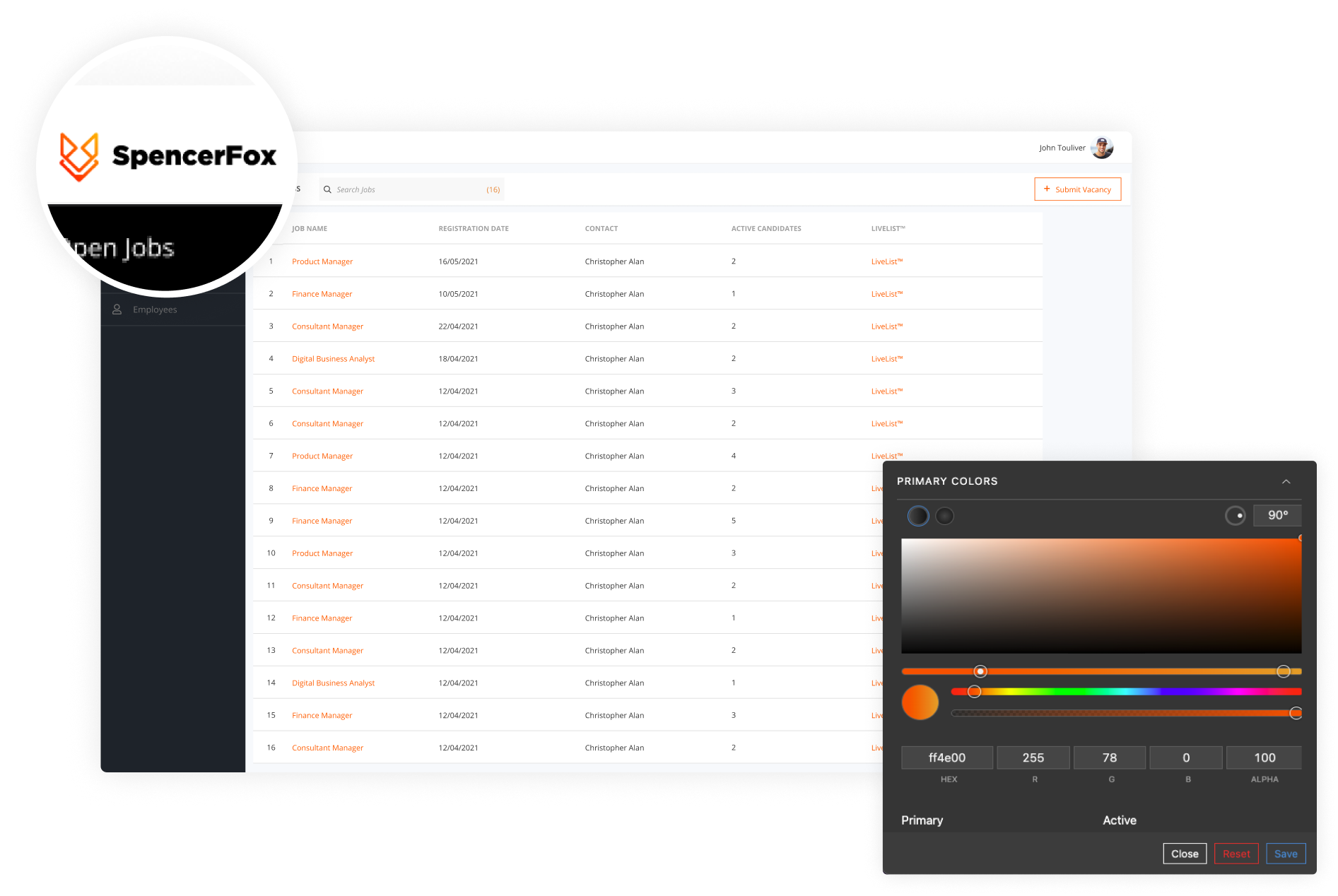 Ihre Marke im Mittelpunkt
Schaffen Sie eine nahtlose Verbindung zwischen Ihrer Webseite und dem Portal, mit Ihrer Domain, Ihren Logos und Ihrem Farbschema.
Integriert mit SignRequest
Verträge versenden, einsehen und unterzeichnen - alles über das Portal.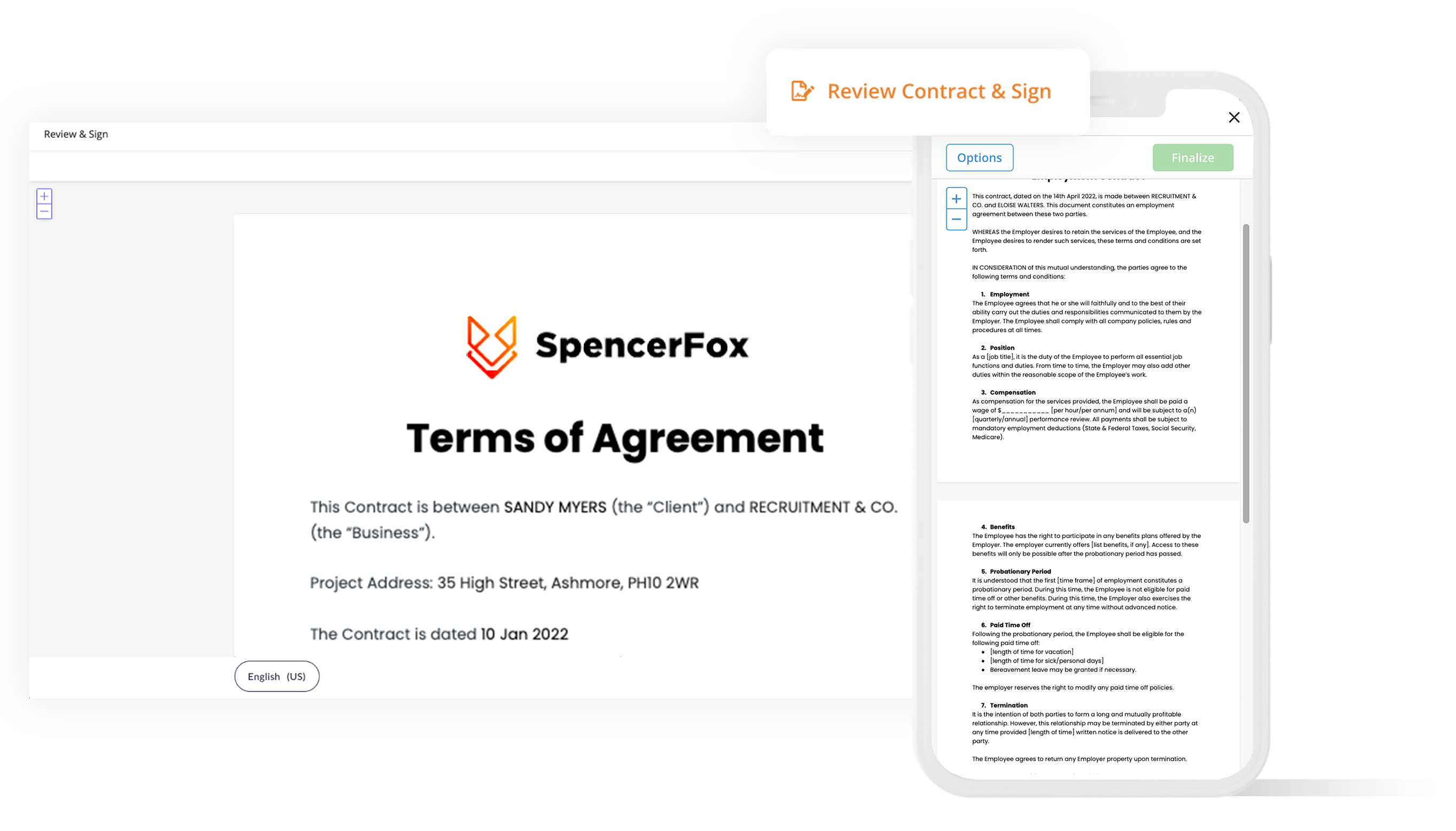 Von der Masse abheben

Modernisieren Sie das Kundenerlebnis von Anfang bis Ende.
Einen ersten Eindruck mit Video vermitteln
Teilen Sie Interview-Videos parallel zu den Lebensläufen von Kandidaten.

Stundenzettel genehmigen
Nutzen Sie TimeTemp? Ermöglichen Sie Ihren Kunden einen bequemen Zugang zur Freigabe von Stundenzetteln.

Bewertungen und Feedback in Echtzeit
Kunden können Kandidaten auf der Basis der von Ihnen festgelegten Kompetenzen bewerten.

Rückrufe anfragen
Mit Ihnen lässt es sich am einfachsten arbeiten. Lassen Sie Kunden Ihnen eine Nachricht schicken, um einen Rückruf anzufordern.

Zugriff auf Rechnungen
Rechnungen innerhalb des Portals anzeigen und filtern. Einfacher Export von Daten für das Backoffice-Team.

Neue Aufträge erhalten
Kunden können Ihnen neue Jobs direkt übermitteln. Anfragen aus dem Portal werden mit Vincere synchronisiert, damit Sie sie bearbeiten können.
Sind Sie bereit, Ihr neues
Recruitment OS kennenzulernen?
Recruitment terms & glossary:
A client portal is a gateway that allows clients to access certain information of a project – including documents, messages, latest updates, billing, scheduling, and more. As a central "hub" where items are stored for everyone to access and work on, it ensures that communication is always transparent – and no relevant stakeholder is left out/ missing any important update.
Client portals for recruitment agencies are built to serve as a secure connection between staffing businesses and their clients. With one, every team member can safely access essential information in the recruitment CRM system and perform tasks (e.g: add notes; confirm shortlisted candidates) – without the risk of exposing/ interfering with any important data points.
Transparent and ongoing communication is an essential component of client relationship management. Given the dynamics of the current business world, digital transformation is now a must – in order to maintain consistent interaction and meaningful relationship with clients. That means it's time to renovate your recruiting operation process with the help of a good recruitment agency software.
These days, most staffing software developed by SaaS providers come with various functions – among which client portal is a common one. Recruitment portals provide a perfect solution to "automating" the management of relationship with clients. If you are looking to start a recruitment agency then a client portal will help streamline your process and provide value to clients.
Improve recruitment operations
Maintaining communication in the "classic" way (i.e: via emails/ phone calls) is a nightmare for businesses who need to scale up. Your time is better spent on planning, making deals, and similar strategic tasks that bring the most value to both the business and the client. With a recruitment client portal, updates are made automatic – hence, no longer will you have to bounce bath and forth to keep things on track.
Enhance business profitability
By having the workload for admin tasks reduced, recruiters have more time (and resources) to focus on building relationships. This opens a window for more deal chances and better engagement with clients – hence a potential rise in incoming revenue.
Ensure data security
As stated above, client portal for recruitment agencies provide a secure gateway for every stakeholder to access information – without the risk of losing/leaking any critical information. Just make sure that your SaaS provider is a reputable one that has been in the industry for long.
Be prepared for client objection
Digital transformation has never been easy – both from a recruiter and from a client's perspective. Setting up an online agent recruitment portal is going to take tons of time for training from your customer's calendar. If you are unable to prove that the new technology will work - or that there's any long-term benefit, chances are your customers will not be so willing to co-operate.
As a recruiter, your job is to demonstrate the various benefits of adopting recruitment software with client portal - including better transparency into the recruitment process, faster onboarding, and reduced risk of losing track of messages.
Maintain engagement with customers
Persuading your customers to adopt a client portal is just the beginning - you need to make sure that they are ACTUALLY using it. Constant communication is key to this - you are expected to provide training and regular updates on the latest results/ functions.
Remember to measure metrics
Recruitment analytics play a critical role in your success as a recruiter. Staffing agencies should always keep an eye out for KPIs of your client portal's success - such as:

Number of clients with login information
Device usage (mobile and desktop)
Number of candidates sent by portal versus that by email
Reduction in the number of emails with resume attachments
Time-to-hire reduction
Number of clients retained
Reduction in the ratio of sendouts to placement
etc.
Relationship management is critical to your success as a recruiter. In order to stay competitive in the staffing industry, you need to constantly communicate with your customers - while at the same time finding strategies to accelerate organizational agility. Adopting an online agent recruitment client portal is a step you can take towards this.
Vincere's client portal is designed specifically to cater for recruitment agencies who need to manage various customers. Our client portal is integrated with our recruitment agency software right from the beginning - hence, no customized coding is required. All information is synced; as a result, collaboration bec
What's in it for your clients?
✓ no more shuffling between emails and searching for lost documents
✓ ability to accept / reject candidates and schedule interviews directly
✓ remove rejected candidates and forward the list internally
✓ check the status of each candidate
✓ rate and add comments directlyomes much easier - and the chance for winning placements is much higher as well.
What's in for you?
✓ increased efficiency: shortlist and send candidates in bulk over to your clients
✓ absolute control: attach the document of choice and the right executive briefs for each candidate - you decide what you share with clients
✓ enhanced branding: upload your logo so that it matches your company's branding
✓ enhanced collaboration: get notified and respond to comments quickly
Check out our client portal guides here: