You've perfected the pitch, sent personalised InMails and shared job postings on all your social media channels - great work! Now all you need to do is wait for candidates to start applying for those jobs...
A couple of days pass, then a week but you haven't heard from anyone good enough for the job yet, and the clock is ticking. Why aren't more qualified candidates applying? If you are asking yourself this question then chances are that you've spent too much time on publicising the job and skipped over the part where it matters most - how job seekers are interacting with your career site.
What makes a great recruitment website? Where are the missing pieces to the puzzle? To answer these questions, we decided to scout around and see how the top recruitment firms are doing it. Adecco, Manpower, Randstad, Michael Page, Robert Walters, Kelly, Aditi Staffing, Hudson, Korn Ferry and Hays - do these recruitment websites share anything in common?
Here are 7 key elements we've identified from our quick study that every recruitment website needs in order to get more candidates applying for jobs.
1. SEO
S-E-what? For those of you who haven't heard of SEO. It's high time you did some googling to find out what it is and how it affects how your website.
SEO stands for Search Engine Optimisation which simply refers to the practice of improving the visibility and ranking of the website when a search is performed in a search engine such as Google, Bing or Yahoo. The internet is now the primary resource for job seekers worldwide and investing in SEO efforts can directly increase your rankings, improving the chances of your website or job postings being found online.
Some basic SEO strategies include creating custom URLs, custom page titles and keyword-rich job descriptions in your job postings and career pages. We found that majority of the top recruitment firms depended on meta descriptions and meta keywords to boost SEO. If your recruitment website is powered by WordPress like Aditi Staffing, a good SEO plugin you can use is Yoast.
If you're not yet familiar with SEO, we recommend reading these articles:
2. Go Mobile
We're sure this isn't the first time you've heard about the importance of going mobile, but there are still so many recruitment websites that are not optimised for mobile viewing. According to Kelton Research, 86% of candidates use their smartphone to begin a job search and 70% want to apply for jobs via mobile. To our surprise, we found that one of the top recruitment firms did not have a mobile-responsive website (eeks!). Manpower has a mobile-friendly website while the others had full mobile-responsive pages.
There's a difference between mobile-responsive and mobile-friendly sites. A mobile responsive site means that your website is responsive when viewed on any mobile devices i.e. the website adjusts automatically so that the layout of the website, font size, images and buttons changes to match the device's screen size.
A mobile-friendly site means that it's scalable. The layout of the webpage remains the same but are "scaled down" to about half the size. Just imagine what a struggle it would be to zoom, squint and constantly shift the screen. As a job seeker, there are many other recruitment companies out there offering the same type of jobs, and the chances are that potential job applicants will just X out and never return to your website again.
Examples of mobile responsive websites: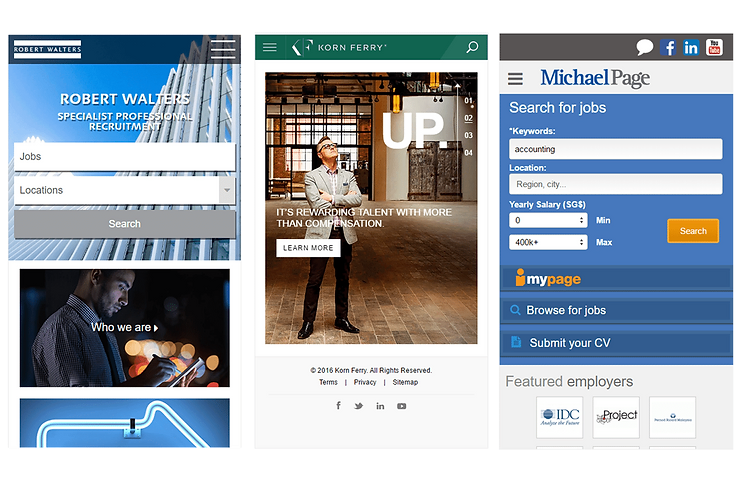 One more good reason to adopt mobile-responsive design is that mobile-responsive websites are loved by Google. This means that your website will receive a higher SEO ranking than mobile-friendly sites. To see how the mobile version of your website ranks against Google, here's a free tool you could use.
3. Clear Navigation
As a recruitment company, you work with Employers and you work with Job Seekers. Not one is more important than the other so you need a website that caters to both to help you get jobs and fill jobs.
It can be a bit tricky trying to create a targeted message that speaks to both groups so why not learn from the best and direct the right groups to the 2 different pages instead?
All of the top recruitment companies have separate links on their menu: 'For Job Seekers' and 'For Employers'. It's a simple but super effective way to send the right type of visitors to the relevant pages.
4. Advanced Job Search Tool
When job hunting, job seekers are not always looking for jobs filtered by location. If you've got hundreds of jobs to offer, adding more job search filters could help candidates find exactly what they're looking for quickly and enhance the job search experience entirely.
Robert Walters provides a good search tool which allows candidates to filter by location, sectors, type of contract and even salary range. Hays takes it a step further and offers additional sort function by Relevance and Date (job posted date).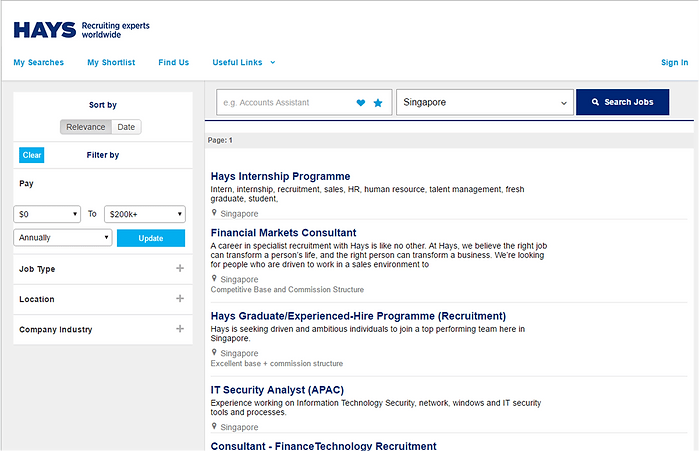 5. Obvious Call To Actions
Call to Actions (CTAs) refer to the buttons on your website where candidates can click in order to take an action e.g 'Search', 'Apply', 'Read More'.
Not all CTAs are created equal. Some work better than others and in order to encourage more candidates to search or apply for jobs, you need to design an effective call-to-action button and place it at a strategic location on the page. Ask yourself these:
Are the CTAs easy to find? Is the button big enough? Does it stand out from the rest of the page? Are they clear and work the way the text on the button says it should? Are there too many CTAs on one page? What's the main action I want candidates to take?
Let's take a quick look at our samples. For Adecco, see how the red button pop against the white backgrounds?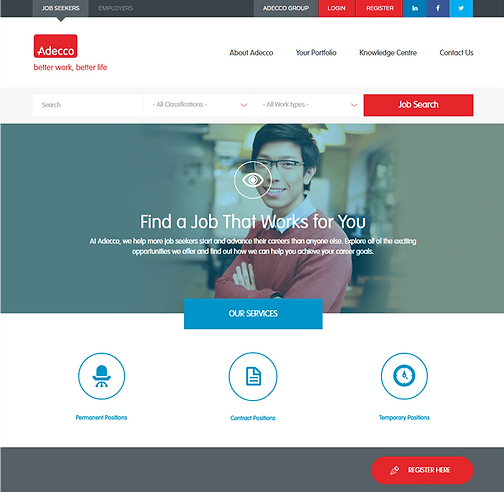 There are 2 main actions Adecco is encouraging candidates to do; either 1. Search for jobs or 2. Register. The same goes for Randstad & Kelly Services with their orange CTA buttons.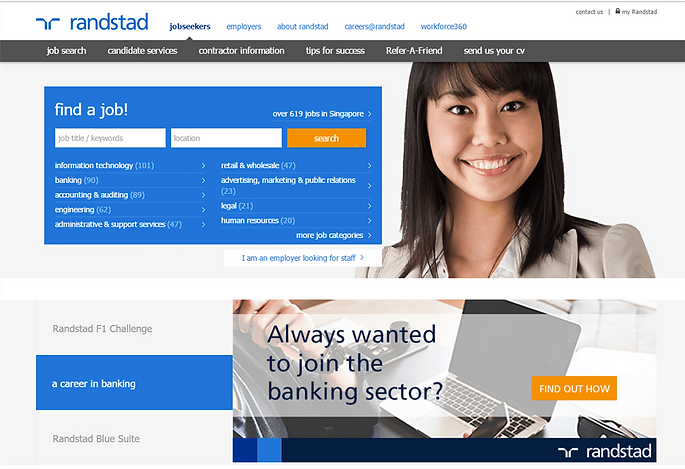 6. Fuss-free Job Application Process
Just like how you need to make the job search on your job listings page as easy as possible for candidates, the actual job application experience should be quick and easy too.
All of the websites we looked at encouraged candidates to register for an account. The account is tied to the candidate where they had to add basic information and upload their CVs but it is only a one-off process when they first apply for a job. To apply for more jobs, all they need to do is log in to their account and simply click apply to submit their application instead of having to repeat the job application process all over again for a new job. If your candidates have to fill out several pages of information before they even get to apply, you'll lose them before they even submit a resume.
The application experience should be streamlined and applying for a job should take as few steps as possible. The best websites like Adecco, Michael Page, and Robert Walters offer a 'Apply with LinkedIn' option, making the job application a one-click process. Brilliant!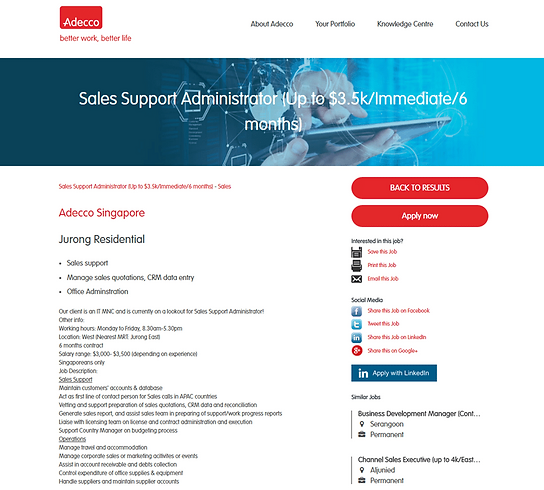 Learn more about the job application process and how to optimize it for 2023.
7. Links to Social
One final tip: if your recruitment company is active on social media, get candidates to start following you there. All of the top recruitment companies we looked at had Twitter, Linkedin, or Facebook 'follow me' icons placed either at the top of the page or at the footer of every page - what a great way to let candidates know which channels you're on! So even if candidates aren't applying for your jobs right now, they'll stay up-to-date with your latest job postings on social and might come back sometime in the future as potential candidates to fill your jobs.
Remember, your website should be more than just a list of open positions. To get more candidates applying for jobs, take inspiration from the best. Your recruitment website should be easily found online and give an all-around positive experience with minimal barriers to application, even when your job seekers are on the move.
An optimized recruitment website is crucial to online recruiting efforts and makes up one part of the latest recruitment trends.