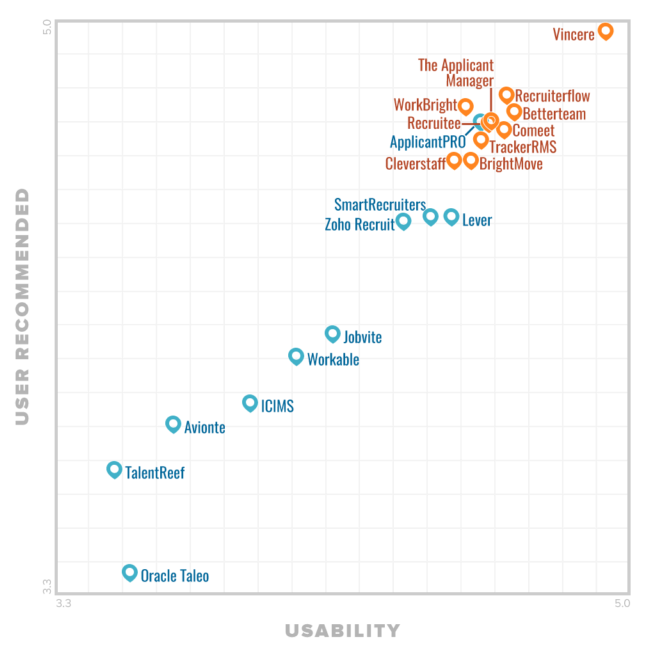 Read the official press release here.
Vincere today announced that they have been positioned as the leading FrontRunner of Frontrunners by Software Advice, owned by Gartner Inc.
The 2018 FrontRunners quadrant provides a data-driven assessment of products based on usability and customer feedback.
Out of all Global Recruitment ATS products reviewed by Software Advice, Vincere scored highest for Usability (4.93 out of 5) and User Recommendations (4.94 out of 5); and emerged the clear recruitment CRM/ATS market leader based on verified user reviews and ratings. 247 vendors were analysed in the report, including Bullhorn, Talent Rover and Jobadder.
Bernie Schiemer, CEO of Vincere, commented, "We have been caught off-guard being rated No. 1. This is a huge accolade but it's not something to get carried away with. Any success is because of our customers, they drive the product, they tell us what is needed and we do our best to deliver. The product is far from finished, in fact we are only just getting started. So on behalf of the team at Vincere, I would like to thank our partners – our customers – as they are the main reason why Vincere is ranked as the leader on Gartner's FrontRunners Quadrant."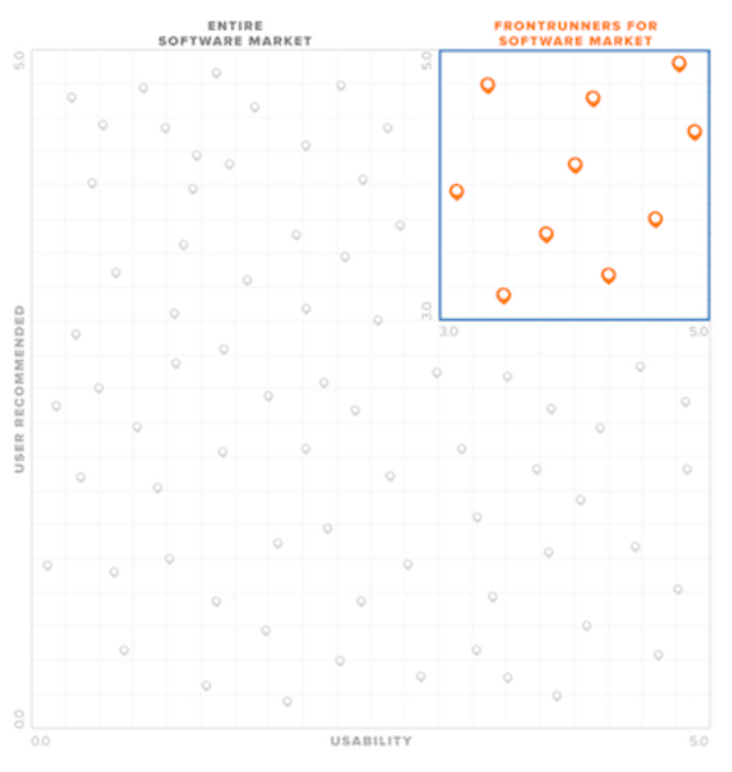 This marks the third time in Q3 of 2018 that Vincere has been awarded by industry software analysts. Vincere was recently accoladed as High Performer Summer '18 on G2Crowd, Best Value and Best Ease-of-use by Capterra 2018.
Schiemer continued, "It is always humbling to receive feedback from our customers, good and bad, so we will not let such awards or badges detract us from our main mission: to help ambitious recruitment businesses grow."
The full FrontRunners report is available here.
Disclaimer:
FrontRunners constitute the subjective opinions of individual end-user reviews, ratings, and data applied against a documented methodology; they neither represent the views of, nor constitute an endorsement by, Software Advice or its affiliates.
About Software Advice
Software Advice is the leading online service for businesses navigating the software selection process. Advisors provide free, personalised software recommendations, helping companies of all sizes find products that meet their business needs. Software Advice also features objective research by industry experts and reviews from validated users, saving buyers time and resources.
Software Advice is a Gartner company. For more information, visit https://www.softwareadvice.com/