Are you a recruitment firm that deals with international clients and invoices in multi-currencies? Are you managing busy Contractor books and complex time sheeting, across ever-fluctuating FX market rates? If the answer is 'yes', then...we have something for you.
Here's what you want:
You want accurate numbers on Fees across your entire business, across multi-currencies at the snap of your fingers. No spreadsheets, no calculations required outside of the CRM to level changing currency rates.
Yet you're dealing with this:
Your Middle & Back Office teams are stuck in Excel hell. It's 2019 but they're still reconciling numbers across different currencies, wrangling bank spot rates and FX fluctuations that change from the date placement is made, to the date invoice is sent/contractor is paid. It's a mess.
This is a universal source of pain for Financial Directors (and Middle Back Office teams) regardless of company size, industry or niche. Whilst Vincere was designed with multi-currency capabilities from day 1, our June 15th release takes things a step further. We have added a critical function that is missing from many (erm....pretty much all) of the CRMs & Recruitment BI tools on the market today.
Introducing Home Currency 💶💷💰
This enhancement allows you to input Bank Spot Rates per placement or per invoice, which then feeds through to the Fees Dashboard:
 ✓ ability to set default Home Currency
 ✓ add Bank Spot Rate per placement (or per invoice)
 ✓ supports up to 4 decimal places

This will have a huge impact on overall reporting accuracies on FX rates and reconciling your General Ledger.
At last! True 'down-to-the-very-last-cent' accuracy across all your financial reporting.
Now, you can make placements anywhere in the world, get paid in 100+ currencies and let Vincere automate the complex calculations and FX rates for you. All of this, right out-of-the-box.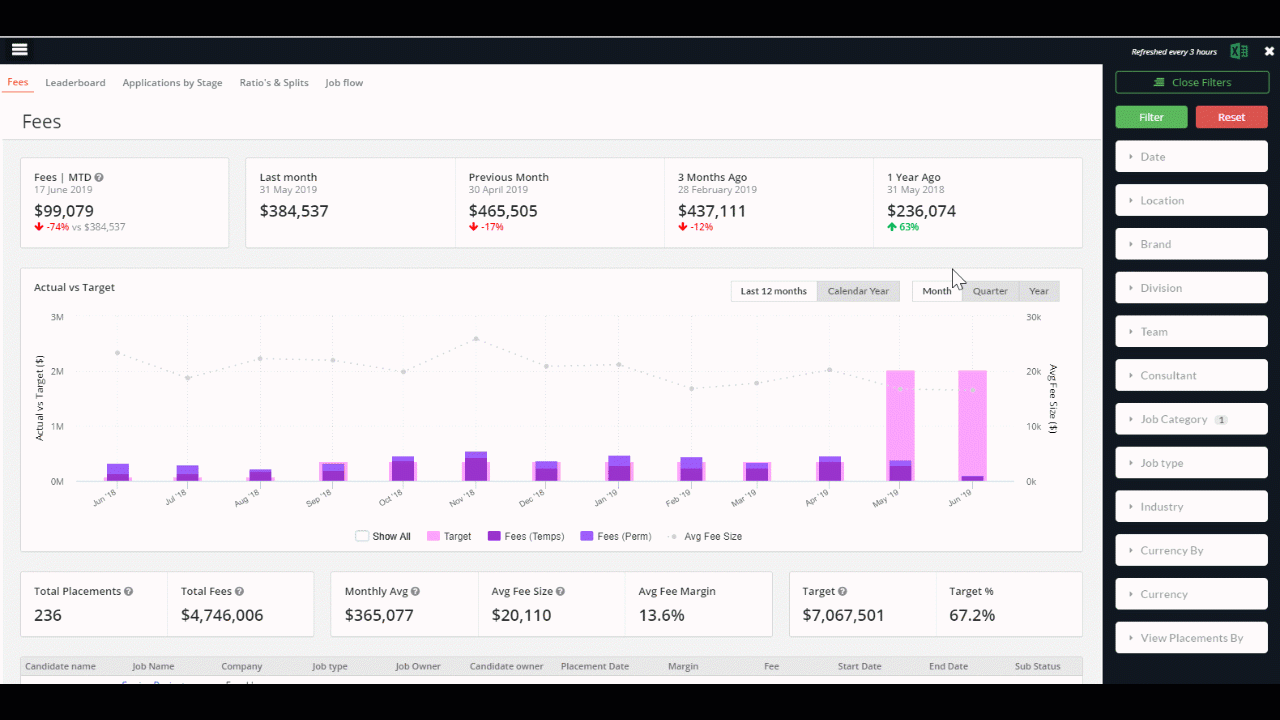 Supporting your growth, globally 🌍
If you want to scale, we've got all bases covered:
Languages, currencies, global taxes & compliance. Use Daily Currency Spot Rates or your Home Currency across reporting. Vincere is a CRM/ATS with a complete Front- Middle-Back Office & Analytics Suite to help you scale, fast.
Does any other CRM for recruiters offer this functionality out-of-the-box? Serious question, we're interested to know if any other vendor offers this to their customers. Let us know in the comments below.
*This feature was a direct request from our amazing customer community....You suggested this feature to us back in March- we're delighted to deliver this to you by June...You're welcome! 🙌🚀🤟