This month, we've really focused on enhancing our features to serve you up a seamless Vinny experience.
We keep things fresh with a new modernized email view to help with usability and visibility for your clients and consultants. It just looks better.
Innovating, evolving, and tailoring Vinny, for you.
Here are the highlights 👇
Core Updates
1. New email UI
We've redesigned the entire email layout.  
Navigate and manage your emails in one modernized quick view.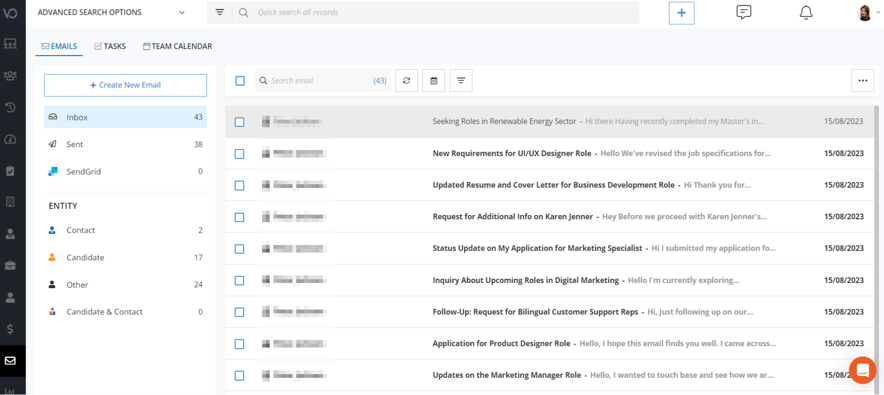 You can even search and locate emails from a specific day.
Enhanced visibility for you and your consultants. Not to mention, a total time-saver.
Ditch the doom scroll and sort by status.
Looking for important docs? Filter your emails with attachments.
It's all about giving you the power to access what you need in the fastest way possible.
2. Bulk Upload Candidate Files
Now you have the ability to bulk upload files at once in the Candidate profile.
No more one-by-one file uploads.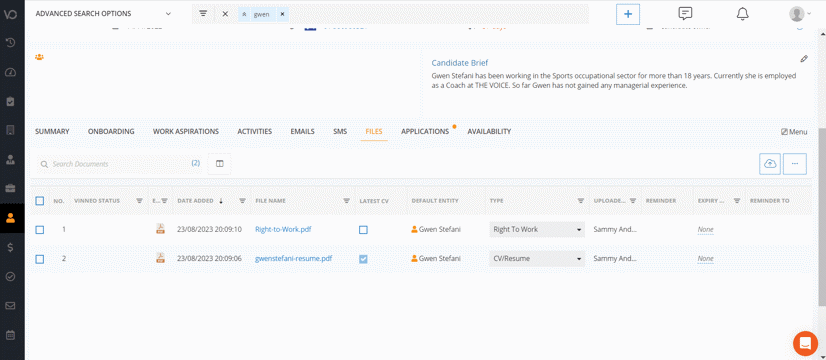 Work permit? Background check? Right to work?
You can now choose the specific doc type, set an expiry date, and mark the file as the latest CV.
Enhanced visibility for you and your consultants.
3. Set Expiry Date as Mandatory for Custom Doc Types
Now you can set the expiry date as mandatory for custom doc types.
Easily manage your candidate's compliance docs and safeguard your business.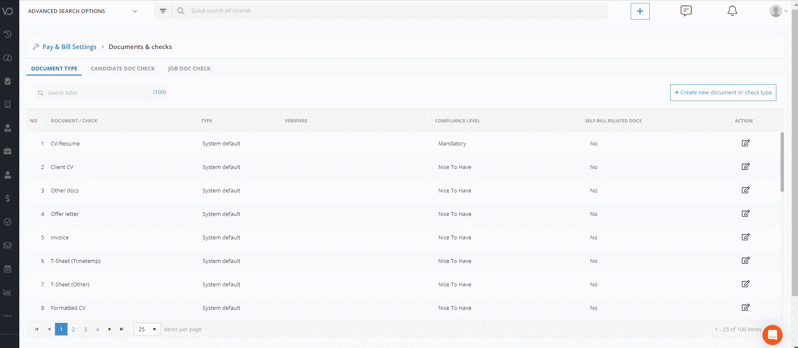 4. FastTrack/TimeTemp Time Management Updates
Now you can add additional items to a timesheet on TimeTemp.
Leverage the combined functionality of both TimeTemp and FastTrack.

Log hours against a Project on a timesheet in TimeTemp.
Perfect sync, all data in one spot.

Intelligence Updates
1. New Sticky Setting for User Activities I User Engagement
Select and showcase the user activities most relevant to your consultants and company.
2. Filter by a Specific Time Period | User Engagement
You now have the flexibility to select a specific time frame to report on specific user activities when viewing the User Engagement dashboard.
Deep dive into a specific period for precise insights in real-time.
3. New Date Type Filter I TV Dashboard
Now you can allocate the placements revenue on different types of dates, depending on your reporting needs.
Choose to view and report revenue by Booked, Placed or Start date.
4. Export Booked Fees Data in the Consultant's Original Currency: Booked Fees
Booked Fees data now showcases consultants' fees in their original currency, without the need for any conversions.
This enables your clients to analyze and generate reports, applying the company's own conversion rate. 
5. Export List of Contractors Based on Status: Temps and Contractors
Export a list of your contractors—active, finished, terminated, or all, right from the Active Drilldown report.