Most new staffing agencies make the mistake of focusing only on building their talent pipeline without investing in client relationship management. This relationship management, along with other activities, is what will ensure a stable source of incoming cash flow.
In this article, we'll share 7 top tips for business development in recruitment to help you get more clients. And that's not all – we'll also go over 5 key metrics that our top customers use to measure their success.
With these business development tools, we hope you'll walk away with some strong advice on taking your business growth to the next level.
7 business development strategies for recruiters
1/ Establish strong customer relationships
Having good relationships with clients is the first step toward your success as a recruiter. We recommend that you communicate with customers using a variety of channels: phone calls, emails, instant messages, social media; whatever gets the job done.
That said, be mindful that some clients (especially newer ones) may not be interested in what you're offering. They might not feel it right now, or maybe your message just isn't convincing. The key is not to overwhelm prospects with messages, but to build a healthy relationship over time. Check in periodically to see how they're doing, and offer a quick "congratulations" to news of their success.
This is also one of the best sourcing strategies to find top talent as well.
2/ Spend time building your reputation
Keeping a consistent brand online is crucial - you don't want your future prospects to have any doubts when they search for information about your agency. For this reason, make sure that all information on your websites, social media profiles, and other channels is the same. Also, make time to constantly update it.
Keep an eye on things like your brand story, awards, and surveys - which all play a major role in persuading people to choose you.
In order to stand out from thousands of competitors, your website should be well-designed, professional-looking, and easy to navigate. Spend time building up content, optimizing its UI/UX, and implementing tracking tools for future business development decisions.
In order to stand out from thousands of competitors, your website should be well-designed, professional, and easy to navigate. Spend time building up content, optimizing its UI/UX, and implementing tracking tools for future business development decisions. This overview of website building for recruiters might help.
3/ Make "warm-up" connections
No matter how you feel about it, making calls is always an effective strategy when it comes to finding prospects. That said, the traditional way (cold calling) doesn't work anymore - you can't just reach out to potential customers and make empty promises that don't resonate.
The key to getting clients in recruitment is making sure that they know who you are and what you've got to offer before asking for anything. Try some "warm-up" activities first - like connecting with them on Linkedin or other social channels - before picking up the phone.
4/ Have a follow-up plan
Every conversation with customers must end with an action plan for both sides, e.g scheduling a follow-up call next week. Without a plan, the relationship is unlikely to move forward. For recruiters looking to secure long-term contracts and develop their staffing business, include action points at the end of every client interaction.
Remember, customers don't like sellers; they want to be part of an ongoing conversation with a partner that truly cares about their interests. When they're still considering, take a step back from the pitch and ask yourself what else you can offer, even after reaching an agreement.
5/ Market your business
Social media has played an indispensable role in business development strategy and recruitment agencies are no exception to this rule.
Aside from the purpose of running job ads, staffing companies should make use of these platforms to create and share interesting content that matters to their clients. When you showcase your expertise, you'll get referrals.
6/ Digitalize all operations
Finding the right talent to fill up your pipeline may prove to be extremely challenging. There's a vast talent pool to sort through nowadays, not to mention all the other admin tasks that a recruiter has to deal with. That is where automation comes in to save the day.
Especially in some specific industries such as medical and mechanical, the effect of digitalization is more obvious. Take a look at this example for a better view.
Recruitment software makes it easier for staffing agencies to screen and manage candidates. Cloud-based platforms such as Vincere are backed up by powerful AI and machine learning algorithms, paving the way for recruiters to improve productivity and enhance reach to a wider range of clients.
7/ Nurture current clients
Don't just look around for new prospects. Your current clients might just be exactly what you need to expand your staffing business!
The more time and resources you invest in the relationships you have now, the more likely those clients are to recommend your services to people in their network. Not to mention, these clients will also be more willing to work with you on future projects.
Bonus business development tips: The top 5 metrics of high-performing recruitment teams
For many of our customers, agility has been the key to survival. Recruitment business leaders have experienced abrupt shifts in the market (understatement.com), and have been forced to acclimatize to new ways of managing a remote workforce.
Yet one thing we've seen in common across our top-performing customers is this: they've leaned heavily on insights from Vincere's recruitment analytics suite to make quick, astute business decisions during the toughest of times.
So if you're rebuilding your management and business development strategy for the near future, here's some food for thought. These are 5 key metrics we found our top-performing customers are incorporating into their goals and KPIs.
1/ "Where's the money at?"
Metric to measure
Fees by company. Spend by client.
However you want to see it, the focus this year has swung from Candidate > Client. We've seen recruitment owners looking for deeper insights into their Client data: which of your Client accounts offer opportunity for increased revenues versus those which have potential to churn. Ultimately, do you know who your biggest clients are...and how much they are spending?
Why it matters
Knowing how much of your total revenue comes from your top ten clients helps you identify and mitigate risks. If 70% of your business comes from one client...what happens if there is a hiring freeze? If your revenues are spread widely across multiple organizations which of those can you get deeper into?
This goes beyond just looking at those top-line numbers: knowing how much of your Consultants' activities are being directed towards each Client helps you be aware of the amount of effort VS reward that each of these key accounts represents. This will quickly highlight who your "best" clients are, and which of them are worth prioritizing.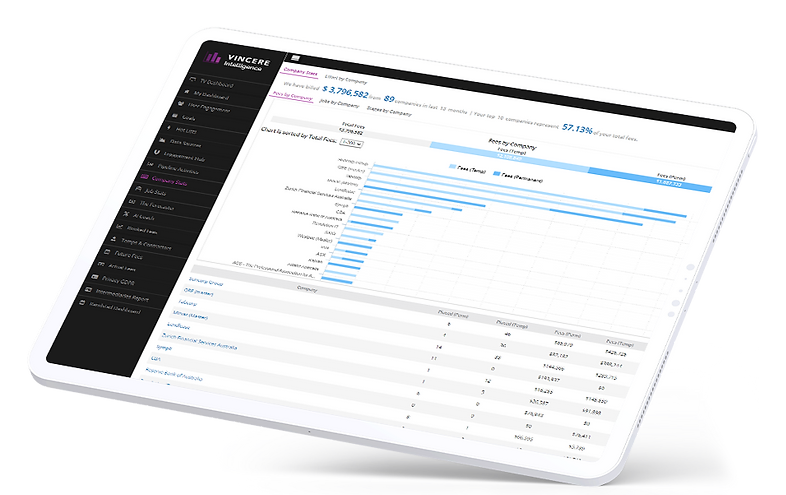 Vincere's pre-built 'Company Stats' dashboard shows you metrics like:
Company Stats

Fees by Company
Jobs by Company
Stages by Company

Effort by Company

Activities by Company
Average Activities per placement
Avg Activities per 1st interview
2/ "Are my pipelines blocked?"
Metric to measure
Open jobs against volume of activity. Do you know which job orders are stalling?
Why it matters
Prioritization is key to any business development strategy. Your recruiters should not be wasting time focusing on the wrong jobs, chasing hiring managers who lack urgency to make a decision or Candidates who aren't ready to move.
For you to forecast effectively, you need to manage the health of your pipeline like a hawk- so if jobs have stalled and are "rotting," flush them out of the pipeline and move on. Your recruitment business is best served by flushing out the "rotting" job orders that you're never going to fill even if it means significantly reducing your pipeline. This way, at least your recruiters will have the time to focus on what is real and can result in NFI.
Be brutal. Of all the job orders your recruiters need to fill, which of them require the least effort for maximum returns? (See 'Company Stats' above for a steer on which of your clients make the fastest decisions for the least Consultant activity.)
Keep a close eye on the velocity of jobs moving through your pipeline and prioritize those with an engaged hiring manager who is moving Candidates forward in the process. If Consultants are holding on to jobs in their pipeline which have not progressed in months...get them to take action or close them out from your pipeline. The good news is that the Vincere 'Job Health Check' dashboard shows you all of the above in a visual, intuitive manner so you can take action quickly.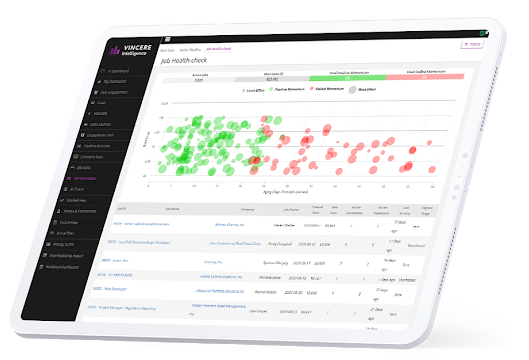 Vincere's out-of-the-box 'Job Health-check' dashboard show you analytics like:
Best case (forecast of fees in $)
Least effort versus most effort
Positive momentum versus stalled momentum
Aging (days since the job was created)
3/ One for Contract recruiters: "How much $$$ am I leaving on the table?"
Metric to measure
Only 6% of agencies track redeployment rates. This is probably the biggest missed opportunity for contract recruitment businesses. It is also the #1 KPI we see across our top-performing Contract businesses, globally.
Redeployment rate is the percentage of workers that you place in a new job/assignment after their current assignment ends.
You need to know:
Which of your contractors are finishing? And when?
How many of your contractors are unutilized? Which contractors have not been called in the last month?
What are your current redeployment and unutilized rates? You can't improve what you don't measure.
Why it matters
Think about your Contractor Acquisition Cost: that's all the time and effort you've invested into making a successful contract placement, then getting that Contractor compliant and paid. So why not focus on retaining workers and making sure they are all redeployed into new assignments?
If a Contractor you've previously placed is not working for you, there's a very high chance they're working for your competitors.
70% of contractors fail to be redeployed by the agency that placed them. Ouch.
Focus on improving your redeployment rates, that's easy revenue you shouldn't be missing out on.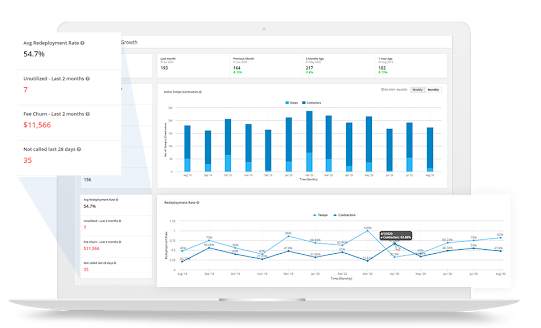 Vincere's pre-built 'Temp & Contractor' dashboard shows you key metrics like:
Temp/Contractor growth over time
Active contractors (start of this month)
Starters & Finishers (this month)
Net Finishers (this month)
No. of active Temps / Contractors (weekly, monthly)
Avg. Redeployment rate
Redeployment rates over time
Unutilized contractors (last 2 months)
Fee churn $ (last 2 months)
No. of Temp / Contractors not called (last 28 days)
4/ "Who are my top billers and underperformers?"
Metric to measure
Consultant ratios.
CVs Received : CVs Submitted, CVs Sent : 1st Interviews, 1st Interviews : Placement etc.
Why it matters
Two words. Performance management.
If you're already tracking basic metrics like no. of candidate calls, no. of client meetings booked, no. of CVs sent etc, great. But these are simply a measure of activity levels. A high volume of activity does not necessarily make a recruiter a top biller.
Business development in recruitment all comes down to ratios. The smaller the ratio, the more effective and successful a recruiter is.
An understanding of each consultant's ratios makes a manager's 1-on-1s so much more effective. By deep-diving into the ratios, you can help recruiters work out exactly what needs to be focused on. That's feedback- and the best part? It's actionable.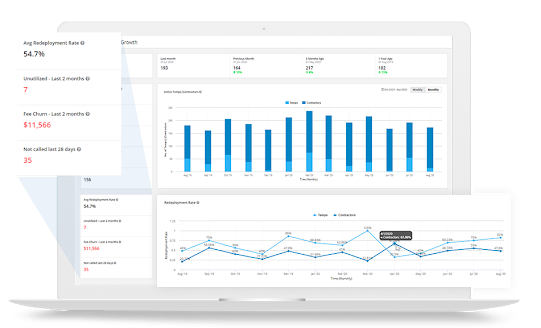 Vincere's out-of-the-box 'AI Coach' dashboard uses machine learning on data collected from your usage of Vincere over the last 12 months to show you:
Real-time business performance: Target versus Actuals
Pre-built filers so you can drill down by Brand, Team, Location, Consultant
Every consultant can view their own personalized dashboard, based on their activity, data and numbers.
5/ "Are my consultants using the system effectively?"
Metric to measure
User engagement: CRM usage & activity levels.
To be more specific, this includes system log-ins, breakdown of system actions, activities and volume.
Why it matters
The benefits are twofold.
Consultants' engagement with your CRM should be constantly monitored and measured on a longer-term basis to track whether your system is being adequately utilized or not. Log-in rates can be high during the initial go-live days, but if they eventually plateau and plummet, that's an issue.
With #wfh being touted as the "new normal," managers can't actually see what's going on unless they have real-time analytics to guide them. How do you know who to support, and when it's needed the most?
Tell me this: do you know if your consultants are truly busy? Do you know if the business is actually moving forward as it should be? What did your consultants do today, and what do they need to do tomorrow to move the needle?
Important business and management decisions can be made simply by looking at tech usage and activity levels.
For those interested, check out our list of the top recruitment KPIs necessary for your business's success.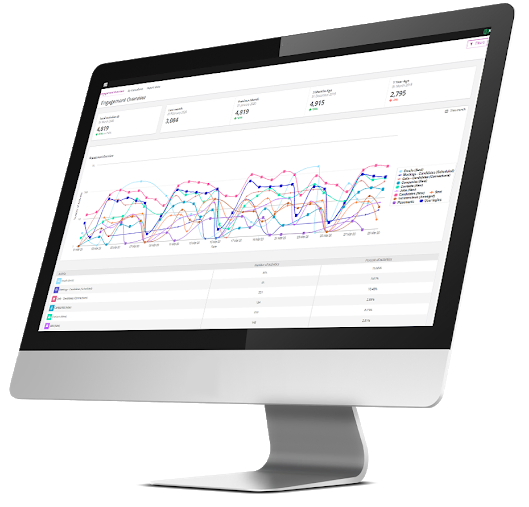 Vincere's pre-built 'User Engagement' dashboards show you:
Activity overview: total number and type of activity
Activity by consultant: total number and type that was completed by each consultant
Report Data - Entity: records that have an activity associated
Report Data - Drill-Down Log: all activities that were taken inside the platform
Final thoughts
Business development for recruitment agencies can be especially challenging. But with the above tips and metrics, you should learn how to reach potential clients and scale your staffing business in no time.
Learn more about our all-in-one recruitment agency software - designed to address the pain points of any recruitment agency in a single end-to-end platform.
You may also be interested in: