"Innovate always, in all ways." That's one of the values we live by here at Vincere and the reason Vincere has become what it is today. If you've been with us since the beginning, thank you for believing in us and for the continuous support...but if you're new to Vincere and just getting to know us, here's one thing you should know: we're not newbies - we haven't come out of nowhere.
Our journey started 5 years ago with one clear mission: to help ambitious recruitment companies make more placements. We have since released 25 iterations (& counting) of Vincere - both big and small - that over the years have transformed Vincere into a cutting-edge CRM/ATS and a major disruptor in the recruitment software space.
In 2017 alone, we've already shipped over 15+ hot new features. We still have a lot of exciting roll-outs up our sleeves for the rest of 2017 but we thought we should pause, take a breath and share the top 10 highlights of what we've shipped so far this year.
[Calendar] When your days are numbered ( in a good way)...
We've added a calendar right front and center on the homepage to help recruiters and managers keep their days busy and productive. This is not just any ordinary calendar. Oh no. Like everything inside Vincere, this calendar has been built specifically for agency recruitment.
Sync up your office 365 and Gmail calendar and you'll get a personalised to-do list of all meetings, interviews, tasks including your (temp and perm) starters and finishers - and even clients and contacts birthday.
The great thing about using this calendar is that you'll be able to see everything in one place, and the goal is to help you get - and stay- busy. The more activities you have, the more placements and $$$ you'll make.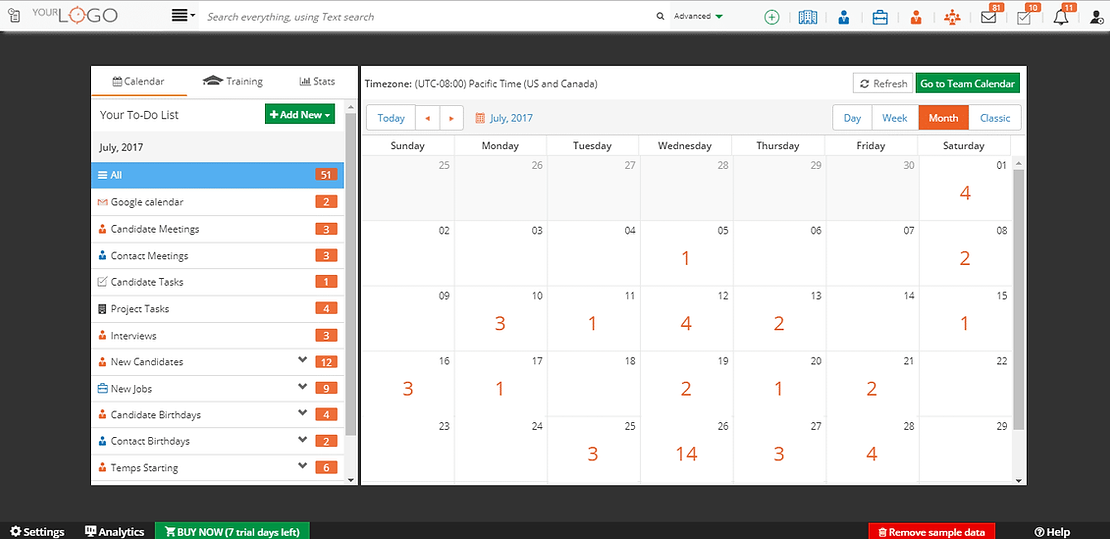 [Instant Job Board] The micro-site you can launch in minutes…
Since it's launch, this feature has been a hot favourite.
The Instant Job Board is your very own micro-site for candidates to search, share, apply for your jobs or just deposit their resume. It's fully branded, available in multiple languages and currencies, and the best part? It's launched in minutes and is mobile-responsive – no developers required.
The Instant Job Board enhances the overall Candidate Experience with your brand and your service.. Applicants can upload their CV or apply via LinkedIn or Indeed in a couple of clicks. Even if there aren't any suitable jobs right now, candidates can deposit their CV and register their interest. Their application is automatically captured by Vincere and will be waiting for you to review inside the system (no data entry required)
Over the past few months, we have added:
New languages: German, Dutch, Finnish, Russian, Polish, Estonian, Chinese, Spanish, Indonesian (Bahasa) and Vietnamese.
Ability to add CSS customization
Custom domain i.e. URL masking
Dynamic banner images
Candidate Portal (read on for details)
[Candidate Portal] Empowering candidates with self-serve onboarding...
In our July release, we decided to take things up a notch with the addition of a Candidate Portal to the existing Instant Job Board.
Candidates can register for an account, and upon login, your Candidate will be guided through a simple, intuitive interface where they can update their profile, including compensation, education and contact information on one centralised self-serve portal. This is perfect for those of you dealing with Temp / Contract jobs and need a structured onboarding process.
[Executive Briefs] Put your best recruiting pitch forward...
Now you can create multiple executive briefs for a candidate, specifically crafted and personalised for each job role to help spark the right conversations with your clients.
[LiveList™] A new way to send candidates to clients, enhanced collaboration...
Another great feature to help you stand out from the competition and win more business, the LiveList™ works just like a client portal. Gone are the days when your clients shuffle between emails, searching for and downloading resumes.
Now, you can shortlist and send candidates (up to 100 at a time) over to your clients. Attach the document of choice and the right executive briefs for each candidate – you decide what your clients see. From a secure Cloud-hosted link, your clients will be able to:
Accept, reject and keep candidates in view
Indicate interview availability and arrange interviews
Rate & add comments
Remove rejected candidates from list and forward the list internally
You'll receive instant notifications for any actions your clients take so your follow-ups are always relevant, timely and one step ahead of the competition.
[Hot Lists] Stay focused...
We all know recruiting for Jobs and Candidates is a game of speed - a job and candidate is always open/available for a limited time, so focus and speed is of the essence. We have a new way of helping your consultants to focus their efforts for a limited number of days with Hot Lists. Now you have the ability to make any record ( Candidate / Job / Contact / Company) 'HOT' for a limited number of days. 'Hot' prospects will stay top of view and will also be viewable on the new 'Hot List' dashboard. A great feature for anyone running a fast-moving staffing/temp business.
[TimeTemp] Your integrated online timesheet & expense management solution...
Are you fed up with using Excel spreadsheets or paper-based systems to track employee time cards? If so, TimeTemp is perfect for you. TimeTemp removes the labor intensive, manual process of timesheet sign-off chasing and enhances recruitment efficiency. A winner if you have a contract or temp business:
Your candidates (employees) & your clients (managers) can submit, review and approve/reject timesheets online from a web-based portal fully aligned to your company's brand.Automated T-sheets: automatic calculation and generation of digital timesheets in PDF, which are automatically added to Vincere (available to view and download at any time).
To learn more about TimeTemp, click here.
[Analytics] Get a grip on your business...
Recruitment analytics has always been our strong suit, and the reason why Vincere customers experience quarter-on-quarter growth.
To date, Vincere Analytics boosts a total of 42+ ready-made dashboards to give you the ultimate visibility and insights you need to run a successful recruitment company.
To give you a flavour of our analytics suite, here's a quick overview of the three mega dashboards we've released:
1. Leaderboard
Recruiters are a naturally competitive bunch, and that's what makes us great at your job. The Leaderboard adds a dash of fun and fosters healthy competition by giving recruitment consultants a snapshot of how well you are performing compared to teammates.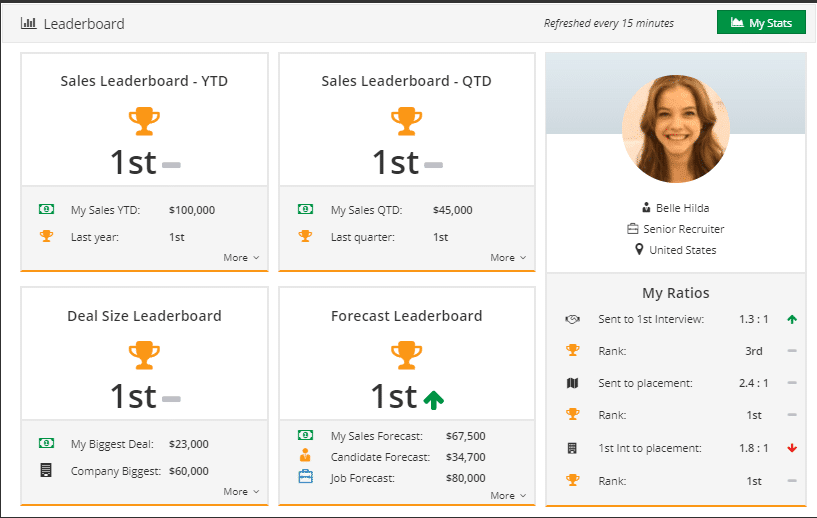 2. Companies Dashboard
Finally, get an exact read on which customers are a time drain and which are worth investing the effort in.
If you work with key customer accounts or across a broader range of clients, then you'll like the new Companies dashboard.
It shows you exactly how much time and activity your team have invested with a certain customer- and are your efforts worthwhile?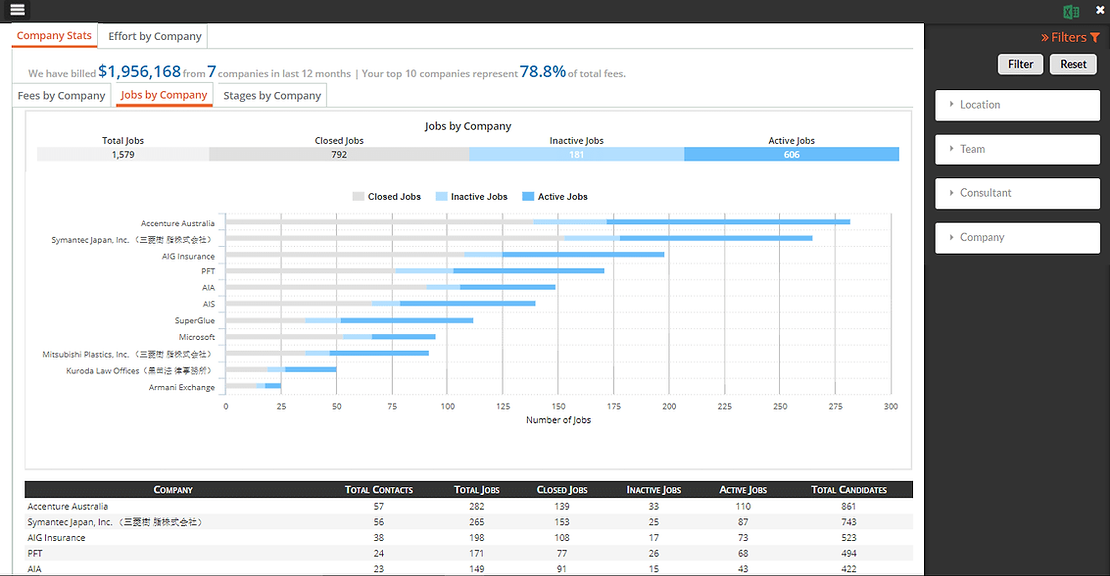 Get reports like:
Fees by Company
Jobs by Company
Stages by Company
Activities by Company
Average Activities per Placement
Average Activities per 1st Interview
3. Jobs Dashboard
Get an instant overview of all your Jobs: who owns the most jobs? How many jobs are active, inactive or closed? What is the average fee per job?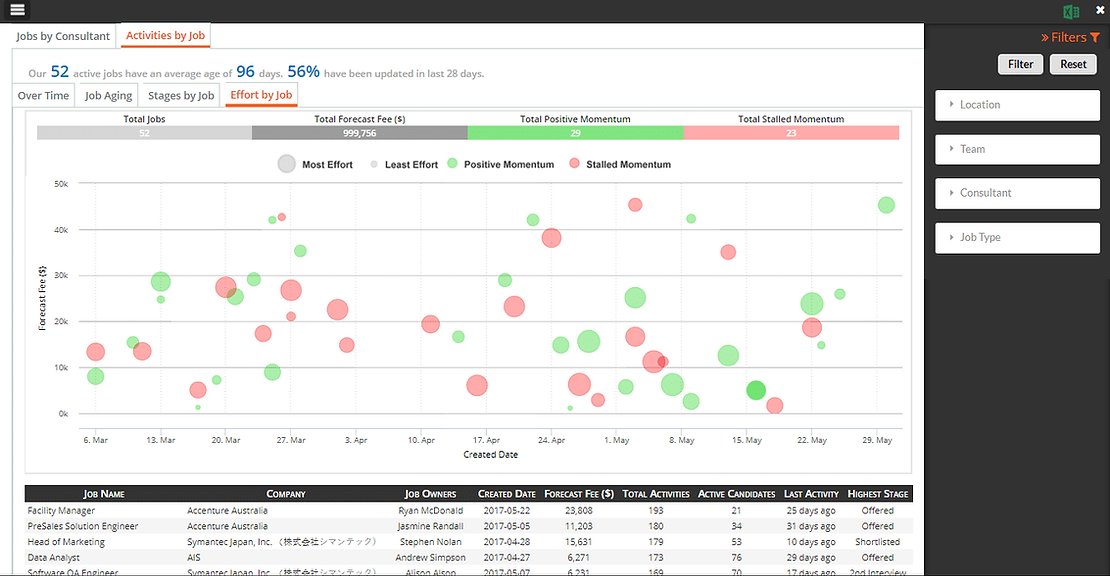 Reports include:
Jobs Status by Consultant
Stages by Consultant
Average Fees by Consultant
Activities by Job (Over Time)
Job Aging
Stages by Job
Effort by Job
If you're concerned about security and accessibility, we've also added permissions to the dashboards so you get the decide who gets to see what.
[Tasks & sub-tasks] If checklists are your thing...
If you like to get super detailed with your tasks then you'll love this feature. Now, you can create subtasks and divide your work into smaller, trackable action items. Subtasks live within job-related tasks and they're an easy way to stay organised and keep your to-do list less cluttered.
With the new subtask feature, you can:
View Candidate phone numbers and email addresses info in an easy click
Create call lists and assign them to colleagues (or yourself)
Add comments on-the-fly
Mark subtasks as complete (works just like a checklist!)
[Integrations & API] We play nice with apps you already love...
We know how important it is that Vincere plays nice with other apps you already love, which is why adding more integrations was one of our key focuses this year.
A couple of integrations we've added include:
LinkedIn Search
LinkMatch
Broadbean
Besides building on our own integrations, we've also made it easier for others to build on our platform with constant improvements to the Vincere API. (P.S. we'll be launching V2 of our API soon, so stay tuned!)
Want a quick sneak peek at what's landing soon?
1. Massive improvements to User Interface
Candidate & Contact Quick View
Enhanced CV Views
2. Candidate Portal v2:
Skill profiles
Job alerts
3. Distribution Lists:
Segment and add contacts to targeted lists easily so that you can send messages that hit closer to home.
4. New and Improved API
As you can see, we've been really busy so far and there's so much more to come. Watch this space! (or follow us on our LinkedIn for the latest updates)