Reliable AI & Forecasting for Recruitment Businesses
Empower your teams with actionable insights today to hit the business goals of tomorrow.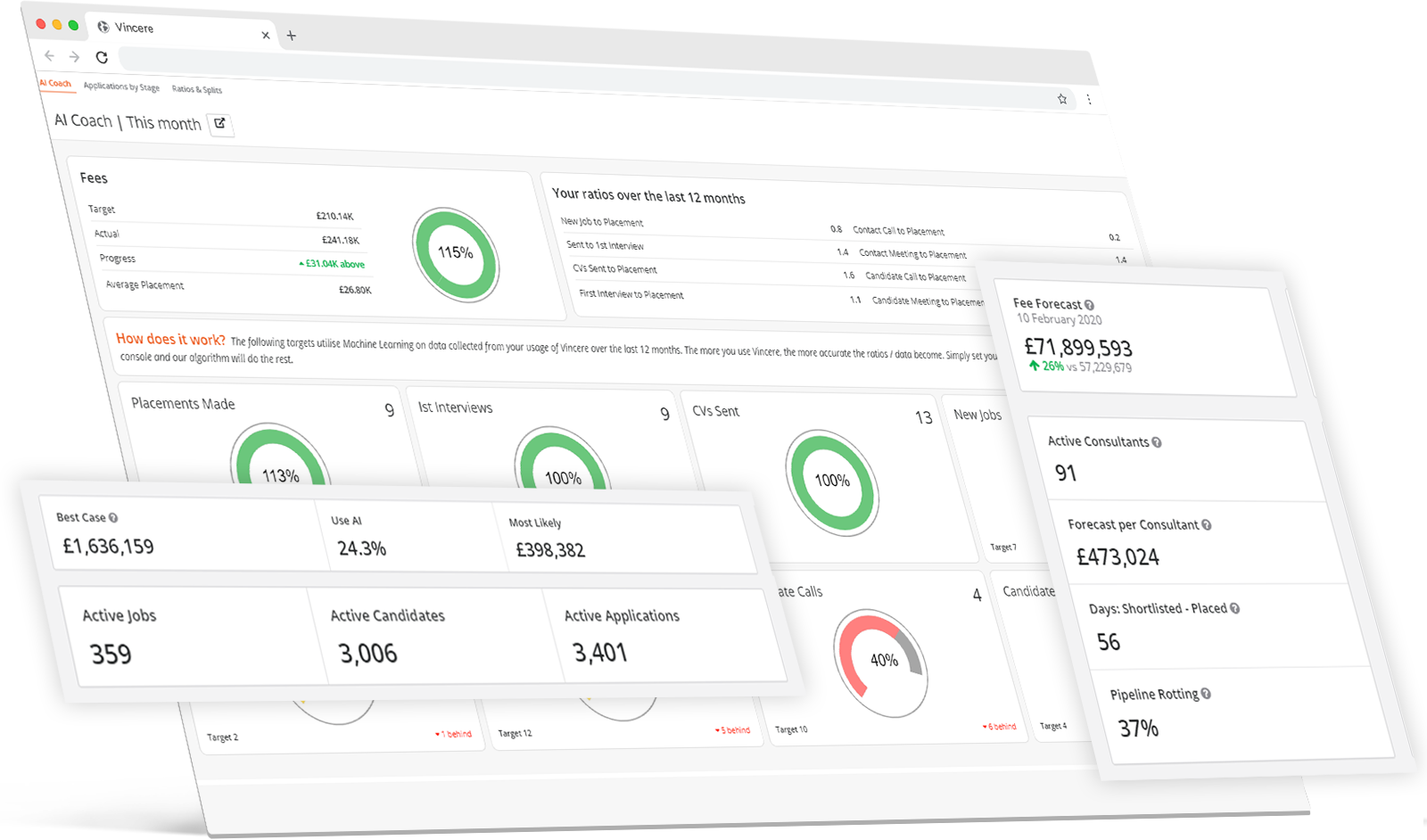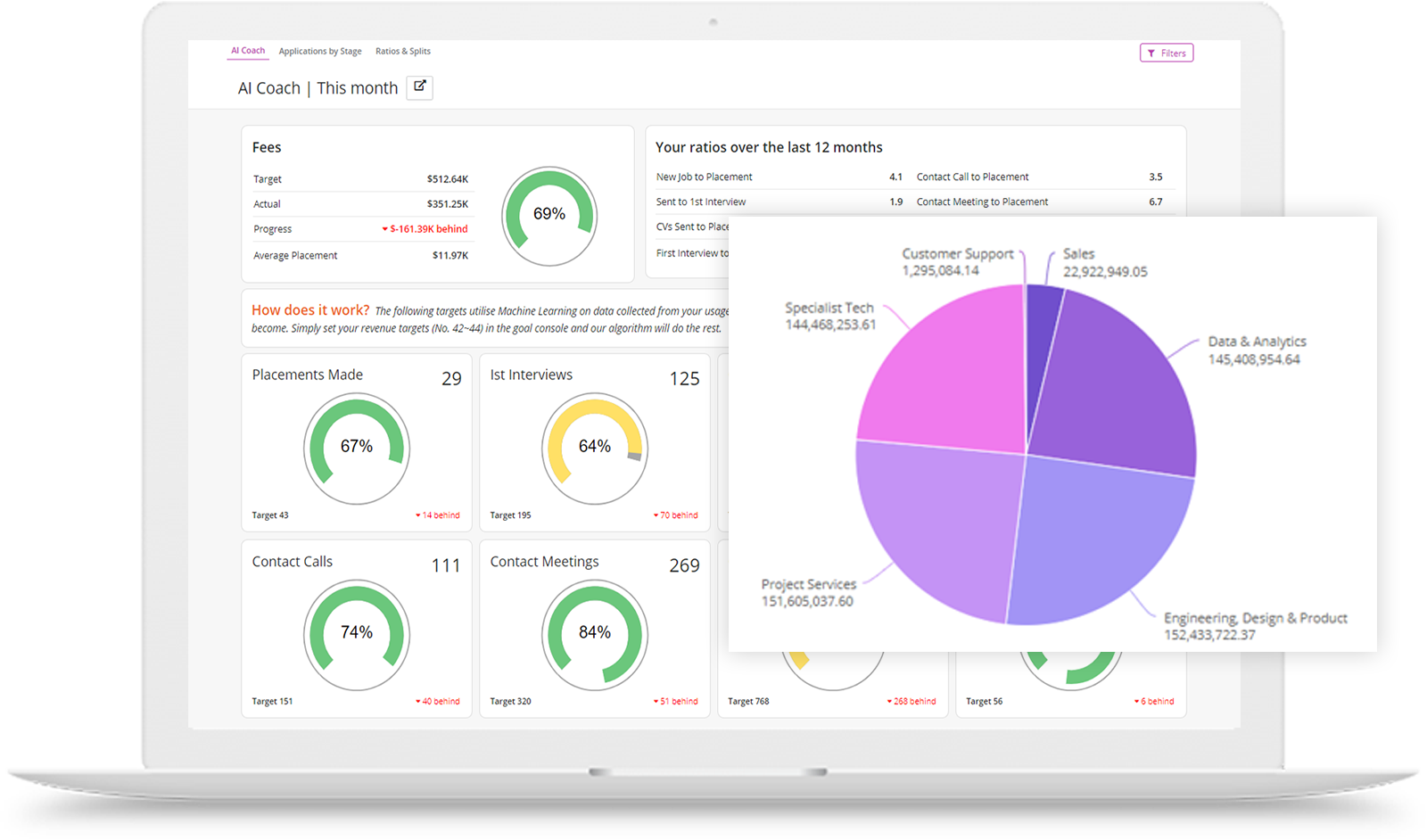 The AI Coach
Its name says it all. This AI-powered dashboard tells you the activities you need to do to hit targets.
Fees
An up-to-date view of booked, deferred & recognized fees across your entire business.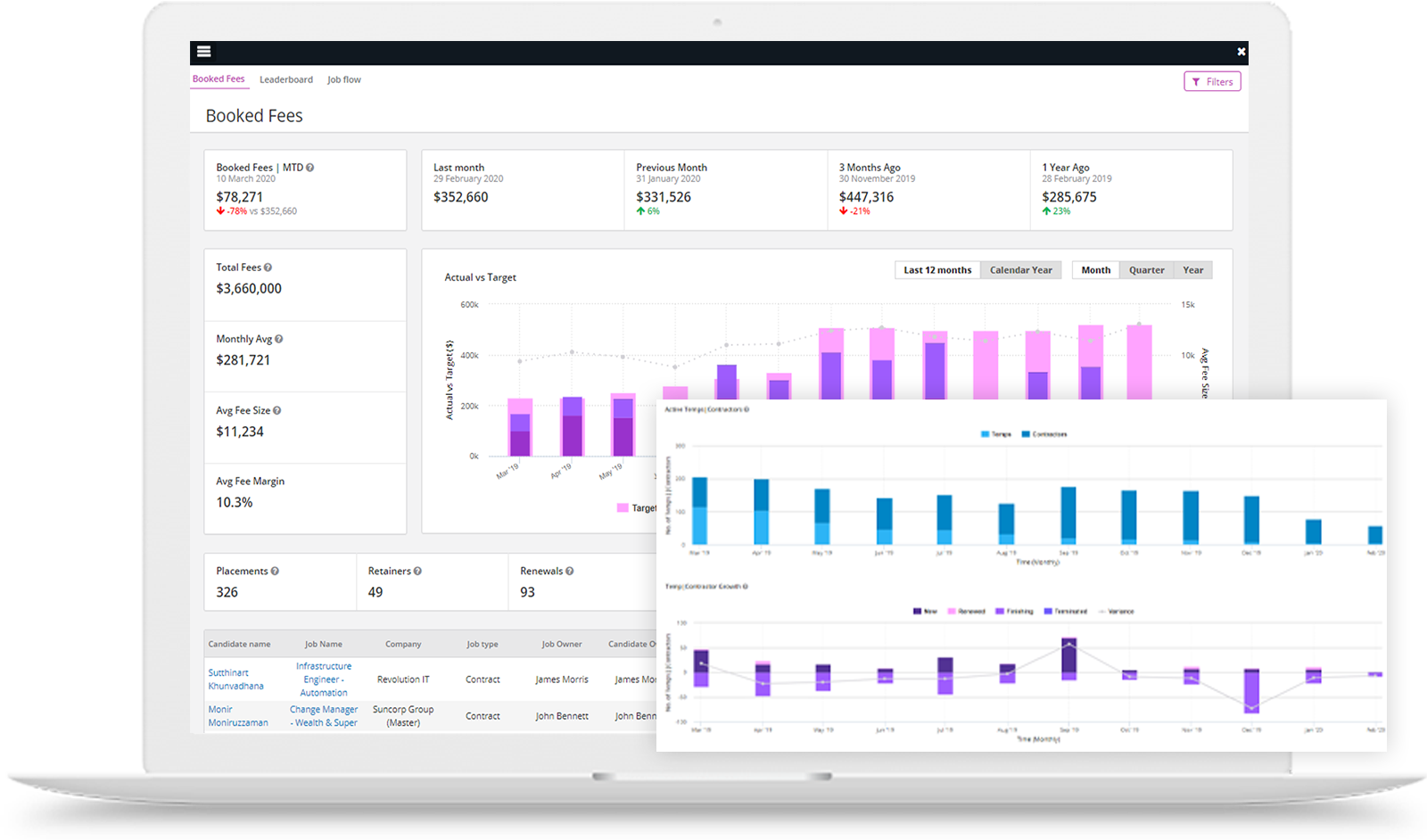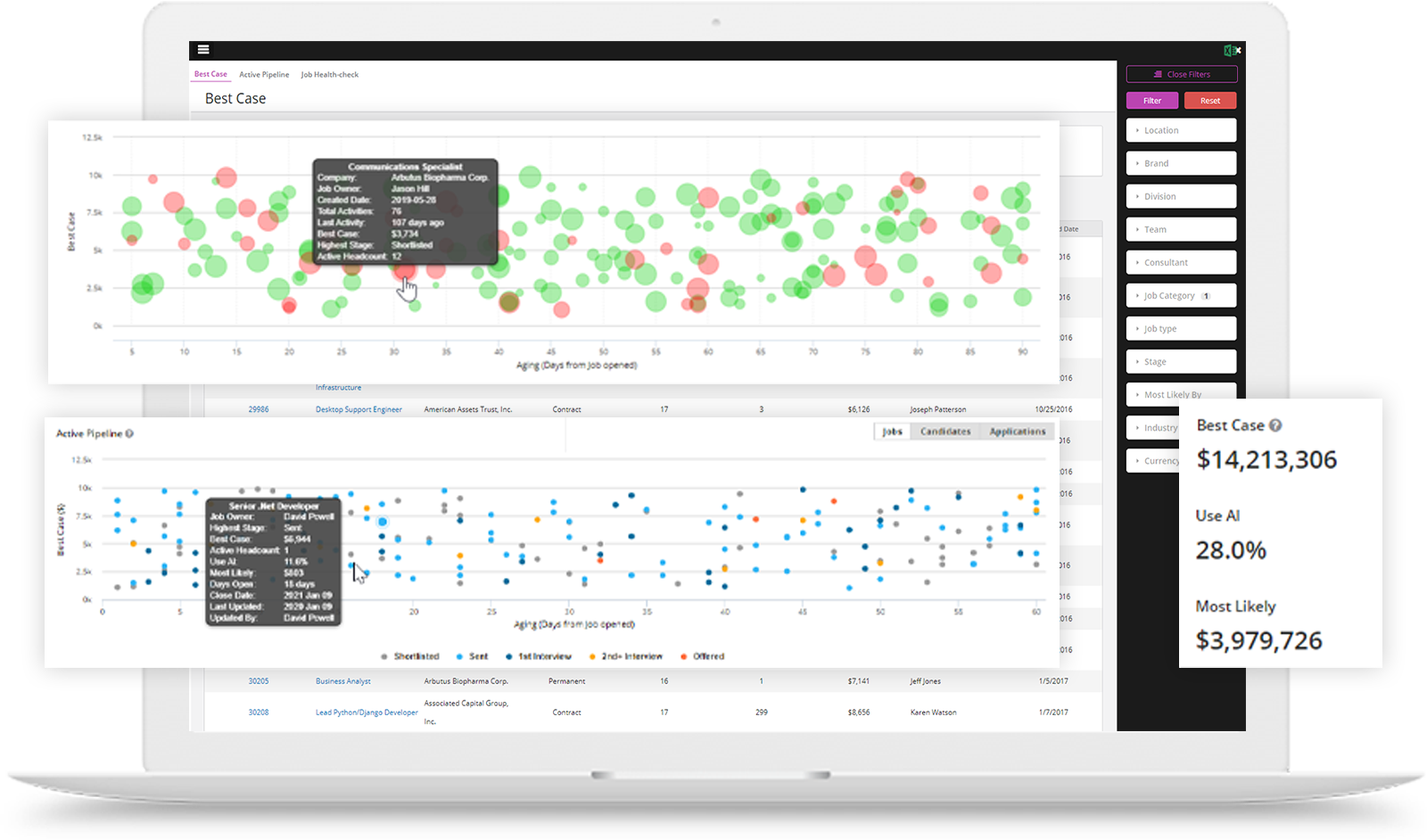 The Forecaster
A monster dashboard that shows your forecasted fees based on active jobs in Vincere.
A war chest of insights to grow your business
Vincere Intelligence takes the guesswork out of performance management by giving you actionable insights for better business performance.

See Ratios & Splits
Uncover strengths & weakness of each team or consultant by looking at metrics like 1st Interview : Placements, CVs Sent : 1st interview & more.

Zoom in on easy placements
Know exactly which jobs and candidates you should work on for a quick win.

Get accurate fee forecasts
Without wrangling excel, get a handle on your 'Most Likely' & 'Best Case' fees at the click of a button.

Gain a clearer picture of the pipeline
Built-in pipeline rotting feature helps eliminate clutter and shows which jobs and candidates are real.

Understand the value of active jobs
Get a visual overview of how much money each job is worth and which stage they are at in the pipeline.

Automatically tracks days to placement
A vital stat to watch and Vincere does that right out-of-the-box. The longer it takes, the slower you'll grow.
No More Waiting. Slice & Dice in Real-time
Apply filters to see what you need quickly. Drill down by brands, offices, teams, or even individual consultants. Get the answers you need instantly.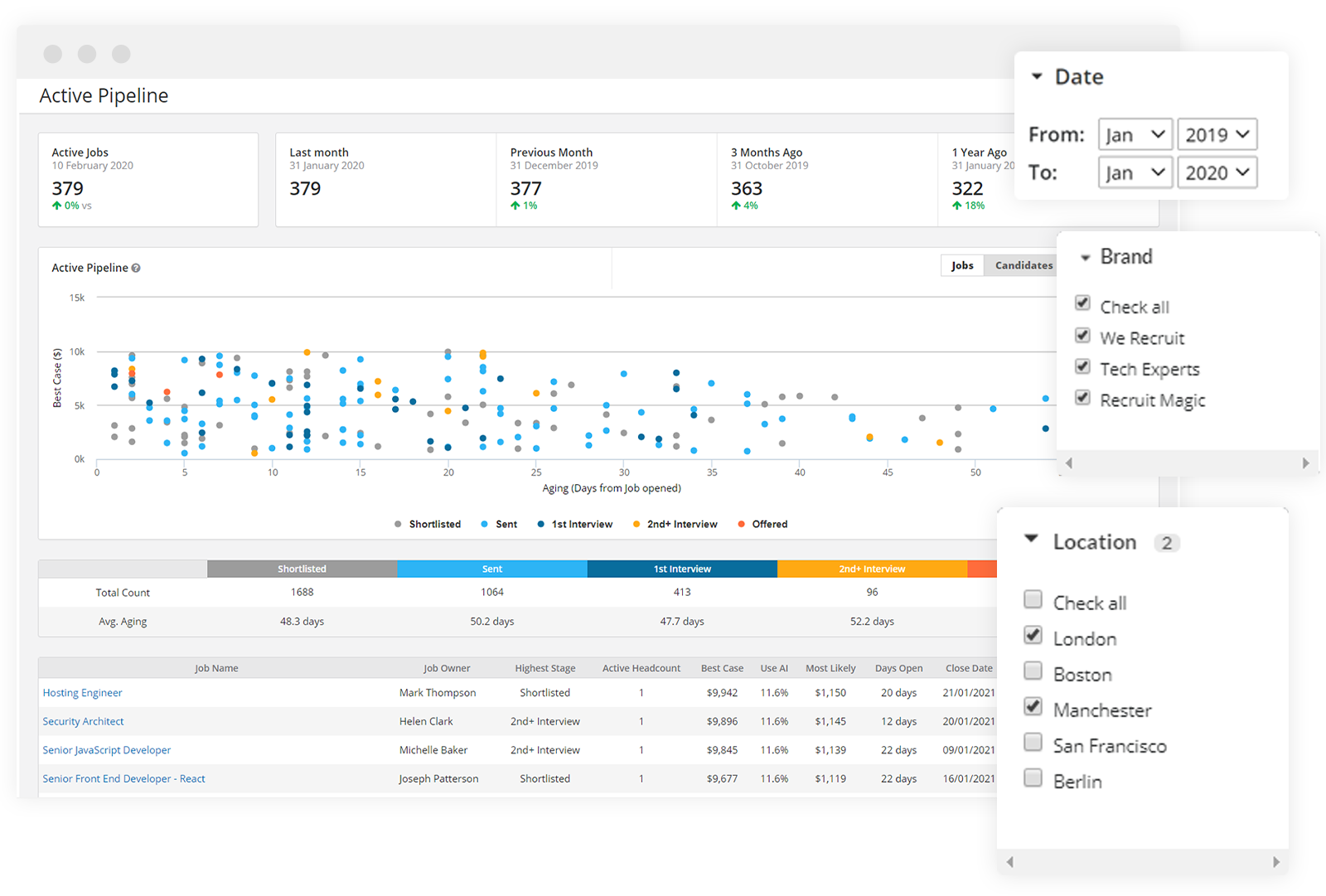 "The powerful analytics offered by Vincere places the right insights in the right hands, at the right time."

Aaron Williams
Co-founder & Managing Director at The Onset
Ready to meet your new
Recruitment OS?