Last weekend, we delivered our 8th Vincere release of the year. This included a huge upgrade to Search and a bunch of enhancements to our timesheet management software TimeTemp. Find out more here.
Now it's time to turn the focus to our recruitment analytics platform. Our Analytics team has grown three-fold in 2019. They've been working on a series of new dashboards which we'll be unveiling over the coming weeks, but let's start here with our new AI Coach.
Introducing the new AI Coach.
This dashboard has been in beta mode with Vincere customers for the past 4 months. It's unique.
What is the AI Coach?
Utilizing Machine Learning on data collected from your usage of Vincere over the last 12 months, the AI Coach automatically generates goals and ratios specific to your business, your teams, your individual consultants.
All you need to do is 1 thing: set your business, team or individual revenue target in your Vincere Goal Console. Then let the AI Coach do the rest.
Working backwards from your revenue target, the AI Coach analyses real-time performance metrics and, based on these, will show you exactly what activities you need to do to hit your number.
✓ Get an at-a-glance view of business performance: Target versus Actuals
✓ Drill down to see the AI Coach by Brand, Team, Location, Consultant
✓ Actionable insights for everyone: every user can view their own personalized dashboard, based on their data (and numbers)
For 'Lazy Leaders'? Or 'KPIs for GrownUps?
This dashboard shows consultants exactly what they need to do in real-time, without managers having to set individual recruitment KPIs.
You no longer to explain to consultants why they need to hit certain activity targets as these numbers are generated based on their actual activity. It outsmarts the smartest consultant: to argue with these activity targets is to argue with themselves. Management just became a whole lot simpler ;)
Bernie Schiemer, CEO of Vincere commented "We were not sure what to call this new Dashboard. We almost called it the 'Lazy Leader', as the AI Coach takes all the hard work out of setting targets for your consultants. Most growing business leaders don't have time to study the metrics and provide personalised targets to individual consultants. Or, if they get over a certain size, say 100+, it becomes a time consuming and expensive exercise."
Schiemer added, "Think of this new dashboard as 'KPIs for Grownup Recruiters'. It is ideal for firms that trust consultants to manage their own activities, but still need them to be on track to hit quota". Bernie added, "In the end we settled on 'AI Coach' because it's always on, recalibrating in realtime based on actual performance ratios."
Bernie remarked, "When I was running my own recruitment firm we had a global team of 300+ consultants. For us, keeping our junior consultants focussed was always a challenge. The AI Coach solves this problem- it's always on, guiding them on what activities to complete to hit target. It helps businesses move away from a cookie-cutter approach of setting blanket KPIs, towards a more modern approach to maximizing consultant performance".
This is us moving beyond buzzword of AI and delivering on essential insights that make a direct impact to the bottom-line of recruiters. There is nothing in the market quite like the AI Coach- and, as much as we'd like to take all the credit, this dashboard has been co-innovated on with our customers (you know who you are).
Bernie added, "This is the dashboard I wish I'd been able to give my consultants and managers when I had my own agency- it's been amazing to hear such positive feedback on the AI Coach from our customers so far. This is just a taster of what we have in store for you in 2020".
Hear it from our customers: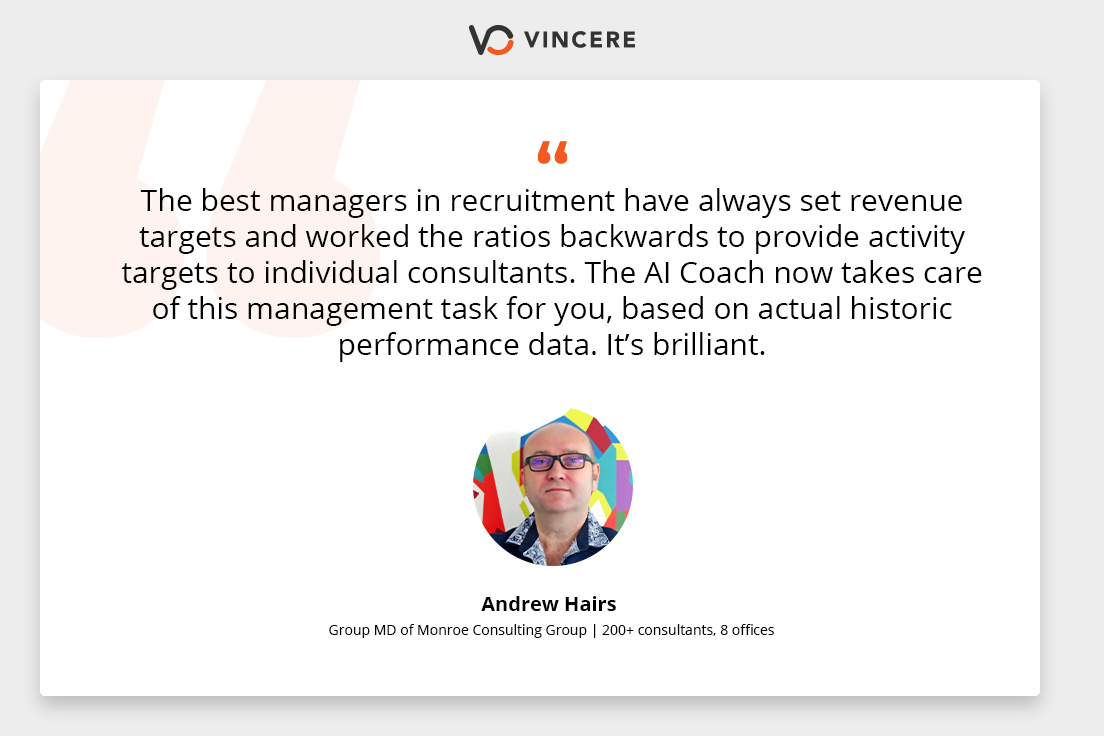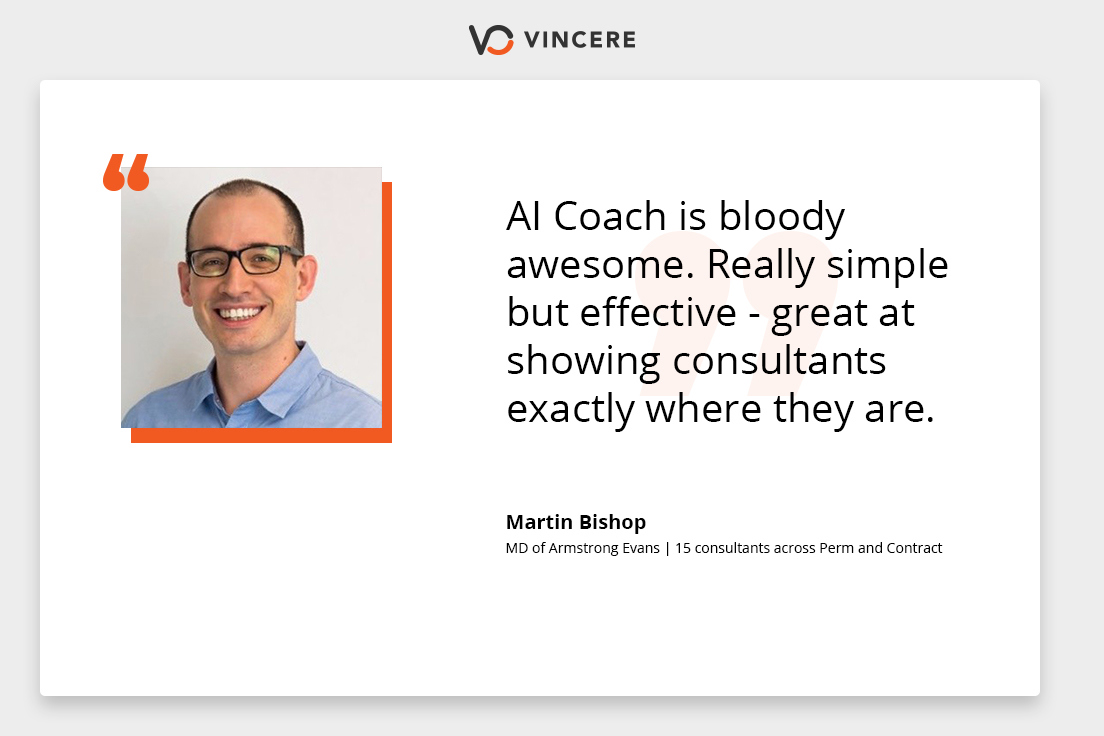 The AI Coach is available as part of Vincere's Analytics Suite.Intrigued? Request a demo of Vincere.
P.S. Have any questions? Get in touch with Vincere Support.