Contract and Staffing Recruiters...this one's for you.
Managing timesheets can be a real hassle - especially if you're relying on excel spreadsheets or paper-based systems for tracking. But take heart, those days are numbered as we're rolling out something mega for you in the coming weeks…
*drum roll please*
Introducing TimeTemp; your integrated Timesheet & Workforce Management Solution. Over the past months, we've invested time and $$$ to build our very own timesheet module. With TimeTemp, your candidates and clients will be able to login into a secure portal to submit, approve, reject and review timesheets easily. The best part? TimeTemp works out-of-the-box with Vincere so data flows seamlessly between the systems, adding more hours to your day to do what matters most: make more placements.
So how does TimeTemp work?
1. Is it a Temp or Contract role?
It starts with adding a job. Select the job type and the relevant compensation & fee structure will automatically apply:
Awards & Compliance - we've made these fields country-specific e.g the Awards & Compliance structure for Australia is unique and different from what is required in the USA.
Pay & Charge
Allowances
Stat Govt Taxes
Optional Factors
Timesheet & Pay Rules - this is where you'll select TimeTemp as your timesheet system. TimeTemp will take the information logged here for billing, timesheeting and reports.
Hours Blend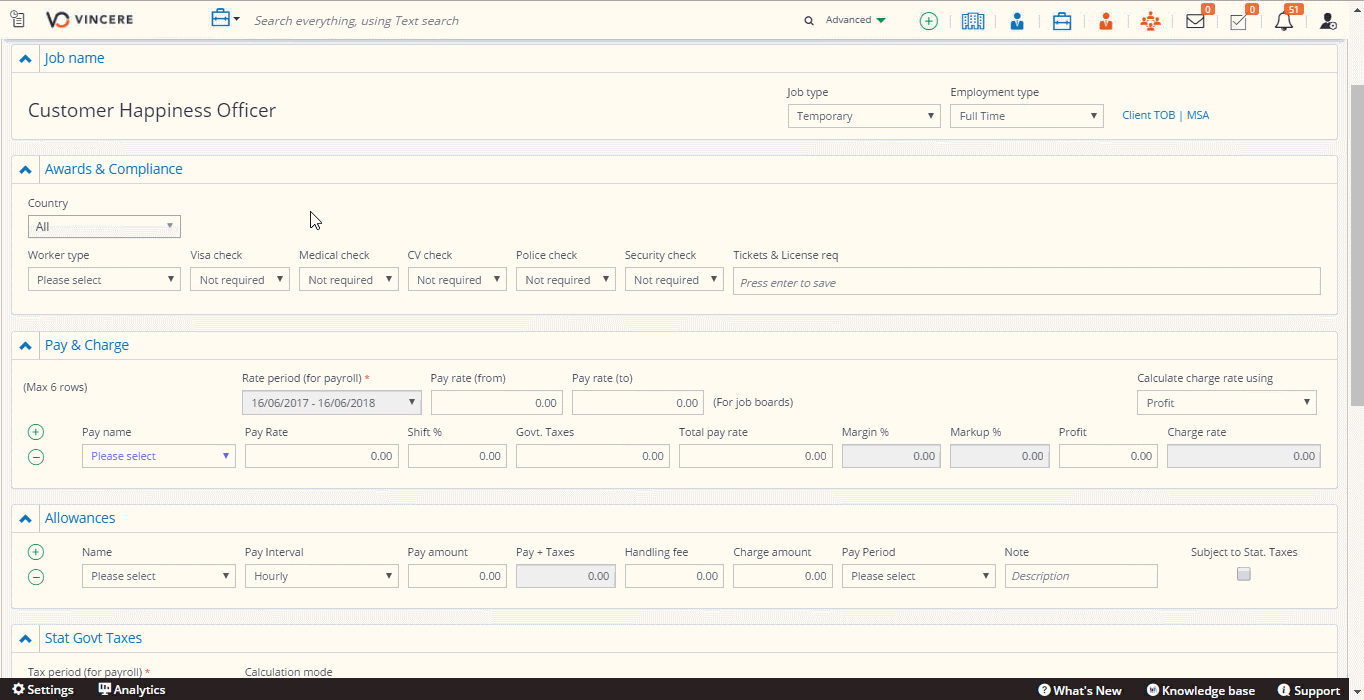 (click on image to view larger version)
2. Now, it's over to TimeTemp
Once a placement is made for the job, 3 types of users will be given access to TimeTemp:
Recruiters (you!)
Employees (your candidates) - to submit, view timesheets
Employers (your clients) - to review, approve, reject timesheets
All they have to do is log into TimeTemp and take action - no training required. So easy-to-use, easy-to-love!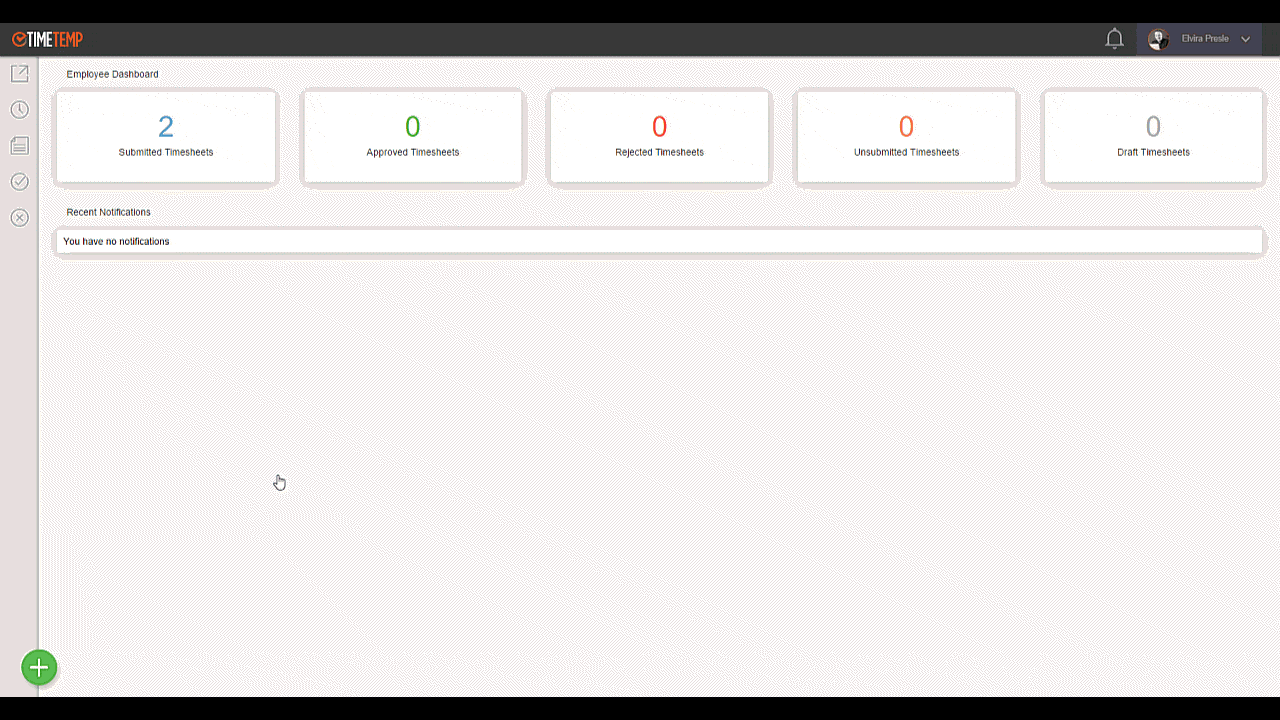 (click on image to view larger version)
3. Automated timesheets? Yes please.
All approved timesheets will be automatically sent and stored in Vincere against the related Candidate, Contact, Company and Job records.
You can view and download timesheets anytime, just click to download and you'll get the timesheet in a beautifully formatted PDF - voila!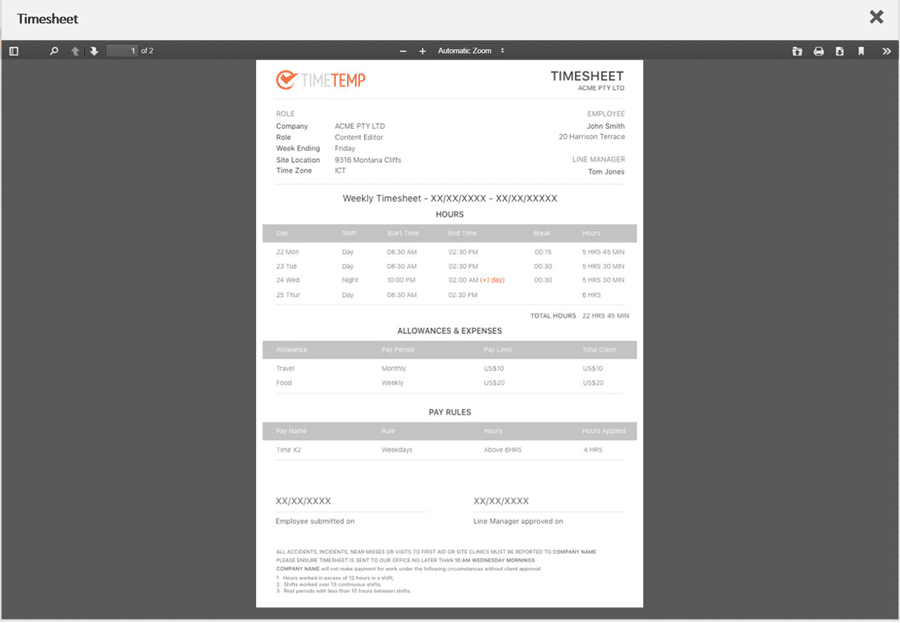 (click on image to view larger version)

The days of manual tracking and timesheet chasing are officially over, TimeTemp makes the temporary recruitment experience effortless. It's an ideal choice for Temp & Contract recruiters - no matter whether you've been in the market a long time, or are just starting your own staffing agency.
If you're looking for timesheet management software, consider Vincere. Vincere's TimeTemp is the end-to-end recruitment solution designed to track time, leave and expenses and much more. Using the shift scheduler, you'll be able to manage and book workers into shifts, create templates, track availability and export data to payroll systems.
For more updates about TimeTemp, follow us on LinkedIn for the latest news.
About Vincere
Vincere is an out-of-the-box staffing agency platform for the front/middle/back office operations of ambitious recruitment firms including features like recruitment analytics, timesheet management, candidate portal, client portals, video interviewing and much more.
Ready to see TimeTemp in action? Schedule a demo now.