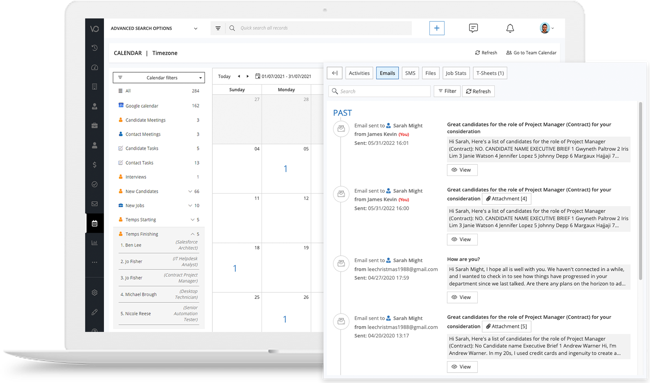 A unified view of all recruitment activity
See all jobs, candidates, applications, placements in one powerful recruitment ATS. 
This is Where Consultants Live
An ATS that serves as the ultimate pipeline, ensuring complete visibility, fostering accountability, and driving execution.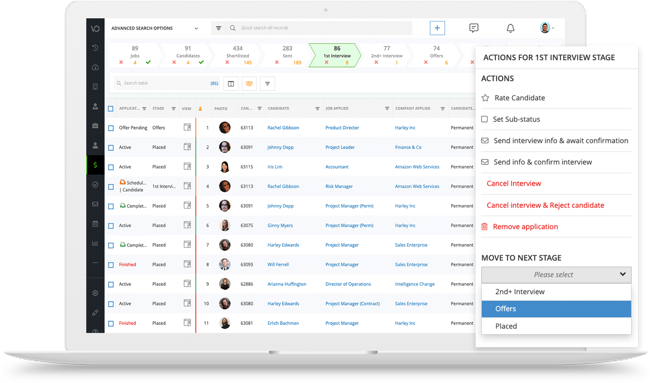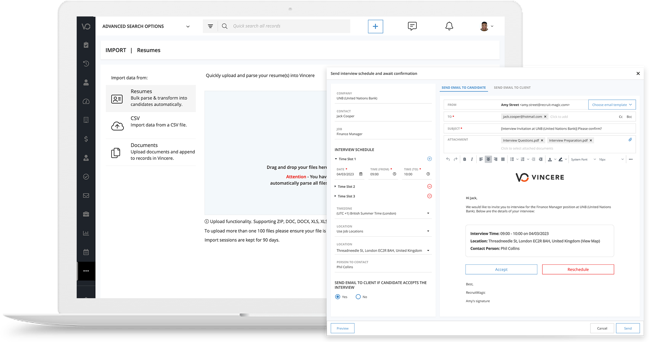 Meaningful Automation
Put repetitive admin tasks on autopilot: resume parsing, interview scheduling, onboarding and compliance. Turn all hours of the day into billable hours.
A battle-tested workflow for recruiters
An ATS recruitment software that helps you seamlessly manage every stage of the recruitment process, ensuring nothing falls through the cracks.

Industry-leading Search



Use our multi-dimensional search tool to uncover the needles in the haystack.

Email & Calendar Sync
Work faster and engage with Candidates effectively with two-way inbox sync.

Seamless job posting
Advertise your jobs on leading job boards and let the applications roll in.

Track every touchpoint
All activities and emails are automatically tracked so you get a 360-degree view of all interactions.

Source from LinkedIn
Minimize data entry. Find & add new Candidates to your database in one click.

Send Candidates to Clients
Spec out Candidates or send them in bulk using the LiveList™.

We were looking for an ATS that could automate key aspects of time-consuming and inefficient recruiting workflows. I'm glad I found Vincere. This is game-changing for our business strategy and how we get work done.

Leah Wigg
Sales Enablement Manager at Halcyon Knights
Ready to meet your new
Recruitment OS?
Recruitment terms & glossary:
​Digital transformation is at the heart of business development nowadays – and the recruitment industry is no exception to it. Considering the dynamics of the current business world, recruiters who make use most of their time and resources are much more likely to win than those who do not. In order to improve your business efficiency, adoption of new technologies - such as ATS for staffing agencies - is a must.
An applicant tracking system (ATS) is a type of software that allows recruiters to track their candidates during the whole recruitment process. Its main purpose is to help streamline the recruitment process – starting from the initial screening step, all the way to the final onboarding phase.
Unlike recruitment CRMs, ATS for staffing agencies places a stronger focus on applicant management. It provides a reliable tool for recruiters to search for applicants, communicate with them, manage candidate documents (resumes, cover letters, etc.), schedule interviews, send offers, and more!
When it comes to recruitment operations, various steps are involved in the process – including planning, sourcing, job posting & promotion, candidate screening & shortlisting, interview scheduling, and so on. An applicant tracking system (ATS) acts as a tool for recruiters to enhance the efficiency of all of the above steps – thanks to functions such as:
Candidate search, sourcing & tracking.
Job flow management.
Talent pipeline.
Appointment scheduling.
Automatic emails.
Notes.
Multi-platform integration (website, LinkedIn, Gmail, Outlook, etc.).
Candidate portal.
Calendar integration.
Mobile app support (if available).
In a study conducted by Oliver Wyman, 90% of leaders acknowledged the importance of organizational agility – and yet, only 26% thought that their own team were highly agile. In order to fill in this gap, sticking to the old way is no longer the correct choice – you need to start adopting technologies such as CRM and ATS in order to truly catch up with competitors.
Below are a few major benefits of ATS for staffing agencies:
Automate the recruitment process
We all know that time is money – and ATS systems provide exactly what staffing businesses need to achieve their KPIs, with the least amount of time investment required. Gone are the day when recruiters have to manually input data, write emails to applicants, and scour through bunches of messages/ notifications just to keep track of things.
A good ATS is capable of completing all of the aforementioned tasks on its own – hence, your team members should have time to focus on more strategic tasks – as well as to enjoy life at work.
Enhance applicant experience
​The more personalized your applicants' experience with you is, the more likely they are to convert. This is especially true for more experienced candidates, who are extremely hard to come by in this era.
ATS for staffing agencies are designed exactly for that purpose. Thanks to the ability to segment audience and assign special tags, headhunters now have more ground to customize their conversations.
Bolster the applicant pool
​The purpose of ATS in recruitment is to help staffing companies actively seek and engage candidates in every platform possible. Given their amazing personalization and automation capabilities, recruiters can be rest assured that their applicant pool is always growing at a sustainable rate. Whenever a client reaches out, you should be able to immediately provide them with a few suitable profiles.
Reduce time to offer
​Days to offer is a critical recruitment KPI, especially for medium to larger staffing agencies. For the purpose of quickly converting your candidates, there are few solutions that can beat the versatility of a applicant tracking system (ATS).
With one, not only are recruiters provided with automatic messaging templates, but they also have the option of bundle-emailing contacts and mass setting up conversations in their calendar.
You are constantly bouncing back and forth between platforms
Have you ever felt stressful having to collect data from multiple sources – website, social media, LinkedIn ads, offline calls, etc? To make things worse, data discrepancy is constantly bugging you and seemingly driving you insane?
If you find yourself in such a situation, you are definitely in need of an ATS for staffing agencies now. No longer will you have to toggle through multiple interfaces to understand how you are interacting with candidates. Every information you need now will be available in one single platform.
You are having trouble with recruitment analytics
For recruiters who are still relying on spreadsheets, it's time for you to completely ditch the old way. The current dynamics of the business environment means that analytics is now a must for every organization – and doing things the old way won't give you the necessary information to move forward.
A good ATS for staffing agencies will help you track conversations at all stages of the recruitment process. With features such as mail sync and LinkedIn integration, your whole team should be able to visualize the candidates' complete journey – who they are, which sources they come from, how they interact with your messages, etc. The more data you have, the better ground for decision making.
​Profile duplication is a real problem
One thing that makes ATS for staffing agencies so special is the ability to track all activities back to a single source – which are visible to the whole team. This prevents the duplication of candidate profiles, which often happens in the following scenarios:
One of your team members sources/refers a contact that is already available in the system
A previous candidate decides to hand in their application.
A candidate applies/ is sourced for more than one positions.
etc.
For those who find themselves always troubled by the above-mentioned problem, it's time for you to consider adopting a high-quality recruitment agency software.
You find yourself relying too heavily on new candidates
Instead of looking for new candidates when a position becomes available, staffing companies should first tap into their existing talent pool. With the help of a good staffing ATS, headhunters can store all candidate information in one single place, screen the right one quickly when the need arises, and immediately jump into a conversation with them.
​Looking for the best ATS for staffing agencies? Given the current number of SaaS providers, it may be tough for recruiters to decide which option is worth the investment.
For those in need of a best-value-for-money pick, Vincere Core should definitely be on your checklist. Designed by a team of experienced recruiters, our product is fully integrated and scalable – so that users are able to achieve more within less time. Some features of our applicant tracking system include:
Candidate search & management.
Job posting.
Automated resume screening, interview setup, and onboarding.
Activity tracking.
Social platform integration (LinkedIn).
Calendar sync.
etc.
Not to mention, Vincere Core combines the various function of both ATS and CRM at the same time – which means you can save a lot of resources by investing a single source of truth.
Start using Vincere ATS today!