We know just how busy recruiters are. From speaking to clients to getting jobs, scheduling interviews and following up with candidates, recruiters are pulled in too many different directions in a day.
That's why this holiday season, the Vincere elves will be spending time doing only one thing: testing, testing and testing so that come 2018, you'll be equipped with a robust recruitment app you can use anywhere, at anytime.
Standing in line for coffee? Quickly swipe through new candidates and review their applications. Tap once to call or send an email, keep in touch whilst on the go.
In a client meeting? Now you don't have to try to remember everything and wait to enter all that data into the system only when you finally make it back to your desk. Add notes and comments on-the-fly as you speak to your clients in real-time.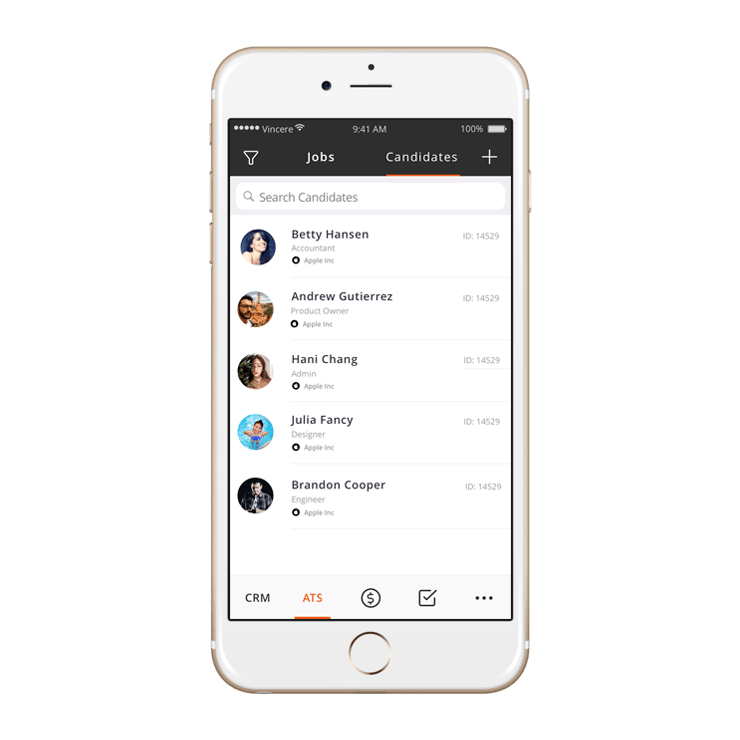 Vincere Mobile offers key features in a clean and intuitive user interface:
View full candidate profiles & resumes
Shortlist candidates on the go
View full company, contact and job details
Add notes, comments, tasks to any record in seconds
Tap to call/ email clients or candidates
Search by name or keyword combinations (including full boolean searching and filtering capabilities)
Vincere Mobile app is available for all iOS & Android phones.
About Vincere
Vincere is your new Recruitment Operating System: the modern OS purpose-built for recruitment & staffing agencies worldwide.
An all-in-one recruitment platform to streamline the Front, Middle & Back office operations of Exec Search/Perm/Contract/Temp businesses.
Vincere's suite of modules are natively built & pre-integrated from day one:
Seeing is believing. Schedule a demo of Vincere today.