We'd like to start by saying: Thank you.
2019 has truly been a year dedicated to innovation, but Vincere's product evolution this year would not have been possible without our customer feedback and support - and for that, we're grateful. 
We delivered 10+ huge releases and 110+ upgrades & enhancements - as the team doubled down on the mission to deliver cutting-edge features whilst optimising the user experience across the platform.
Below is just a small part of the work we've done this year.
We overhauled our infrastructure to the latest version of Kubernetes. Vincere is always powered by the latest, best of breed technology and cloud industry practices.
We also made important hires across the Product & Customer success teams, and moved our growing professional services team into a brand new office to support the increased demand for data migration and bespoke services.
So before we put this year behind us and speed into 2020, scroll onward to see the highlights of our releases in 2019.
Jan 2019
vChat
We kicked off 2019 with vChat - our very own instant messaging tool that lives right inside Vincere.
vChat is a great way to reduce inbox clutter, and communicate in real-time with your teammates across different locations.
Fees Dashboard
We've made several iterations of the dashboards since its first roll-out. Now, they've officially been renamed to give better clarity on what each dashboard actually shows you.
Booked Fees:
This shows you how much money you will make, based on the contract.
Deferred Fees:
This looks forward for the next 12 months. It shows you the money you can expect to make, and takes into consideration the agreements that you haven't yet delivered on (fully) to the customer.
Recognised Fees:
This is the number that is linked to your invoicing and accounting systems. It calculates how much money you'll actually make a.k.a the money you have invoiced.
The best part about these dashboards?
Besides an at-a-glance view of your financial performance, you can drill down by location, teams, brands, and consultants in real-time.
TimeTemp Mobile
TimeTemp is our time, project & expense management module that works out-of-the-box with Vincere. Now, available as native apps for iOS and Android - your candidates can use TimeTemp wherever they are.
Download now on the App Store & Google Play.
April 2019
Onboarding & Compliance
We've added Employee Self-Service (ESS) capabilities to the Candidate Portal. Onboarding is typically an ad-hoc process, but with our end-to-end feature stack it can be process-driven. This gives your candidates an engaging experience; you'll also have the peace of mind that you're always compliant.
Our onboarding capabilities include:
Custom fields and forms for onboarding (including compliance fields)
Configurable candidate registration process
Ability for you to set required document categories and types (on a per job basis)
Out-of-the-box default compliance fields specific to your country
Set specific users as document verifiers
Ability for verifiers to approve & reject documents
AI Coach
With all the buzz about AI, our AI Coach dashboard is an industry-first.
Utilising machine learning on data collected from your usage of Vincere over the last 12 months, the AI Coach automatically generates goals and ratios specific to your business, your team, and your individual consultants.
All you need to do is one thing: set your business, team or individual revenue target in your Vincere Goal Console. Then let the AI Coach do the rest.
Working backwards from your revenue target, the AI Coach analyses real-time performance metrics and based on these, it will show you exactly what activities you need to do to hit your number.
June 2019 
Consolidated multi-currency reporting
Reconciling numbers across different currencies, wrangling bank spot rates and FX fluctuations is a universal source of pain for Financial Directors (and middle & back office teams) regardless of company size, industry or niche.
We have added a critical function that is missing from many (erm....pretty much all) of the CRMs & Recruitment BI tools on the market today.
This enhancement allows you to input Bank Spot Rates per placement or per invoice, which then feeds through to the Fees Dashboard.
Now, you can make placements anywhere in the world, get paid in 100+ currencies and let Vincere automate the complex calculations and FX rates for you. All of this, right out-of-the-box.
August 2019 
Zapier
Zapier was initially launched privately (beta release) back in April but in August we rolled out brand new updates based on customer feedback.
You can use Zapier to connect Vincere to a variety of web application to help automate your recruitment business workflows including:
Connect Vincere to your marketing platform such as Hubspot, Autopilot, and Mailchimp to send personalised email campaigns.
Connect Vincere to your accounting, timesheet or back-office systems such as Quickbooks and Xero.
Connect Vincere to your messaging app like email, push notifications, or SMS to get customised alerts about important events such as new placement and candidates added.
TimeTemp Estimator
When it comes to calculating complex rates, quickly and compliantly, all your consultants need to do is select the right template and the rest of the information (on-costs, pay rules & overtime) will be populated automatically in one click.
We built this feature originally for our customers in Australia and New Zealand. Now it's available globally for everyone.
With further enhanced TimeTemp features, you can create templates specific to companies and countries, even down to states/prefectures. It's especially useful for placements in the United States, Australia and Japan.
November 2019
LiveList ™ Upgrades
The LiveList ™ is one of our most-loved features simply because it's what makes recruitment businesses (using Vincere) stand out from the competition. Exec Search firms love the LiveList ™ because it helps them win more retainers. Simple as that.
New features include: 
Display sub-status. These are the tags and statuses that you want to share with clients when presenting them with your candidate market map.
For example: 'Disqualified', 'Out-of-budget', 'Unicorn', 'Engaging'...sub-statuses are unique to your business and process.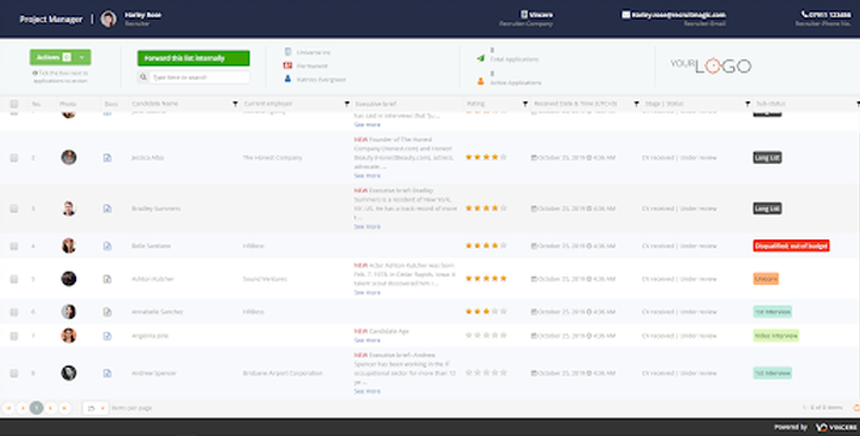 Choose to hide or show photos of candidates
You can already hide the names and current employers of the candidates you send out via the LiveList. Now you can extend this option to candidate photographs too.
*We added this feature at the request of the growing number of Vincere customers that are now advocating 'blind-hiring' and are seeking to remove unconscious bias out of the hiring equation.
Learn more about the LiveList ™
Search
We believe that a great search tool will help consultants save money, and make more money, and our Advanced Search tool is second to none.
Without relying on job boards or heading straight onto LinkedIn, we need to focus on who we have already sourced, met and qualified as great candidates before we search externally and have to do it all over again.
This massive upgrade to search is one we've devoted a lot of resources to. We've pored through customer feedback, and tested design after design to bring these series of improvements.
_
More to come in 2020 
If you're new to Vincere, or haven't checked it out in the past couple of months, we need to catch up. The features we are delivering are in direct response to what recruitment businesses ask for. They are features built specifically to help you win more clients, shorten the placement cycle, and deliver a better client & candidate experience overall.
To our customers reading this, thanks again for your ongoing support for our product and company - 2019 has been amazing, and we couldn't have done it without you. What do you think of these new features? As you know, we're always looking to hear your feedback.
We finished the year strong on the product front in 2019, and this is a sign for greater things to come in 2020. It's cliche, but it genuinely does feel like we're just getting started.
Watch out for Vincere, 2020 here we come.