Check out the latest #RecOS updates we've added specifically with you in mind.
Release v18 lands on Saturday, 20th Aug 2022.
1. Custom Column Fields and Views
Introducing Custom View. This allows you to customize your own field columns on Candidate, Job, Contact, and Company tables.
You can now filter your data based on your specific preferences. This feature improves loading performance, offers flexibility, and allows you to prioritize your data.
Note: Custom fields for Deal and Placement are currently not supported.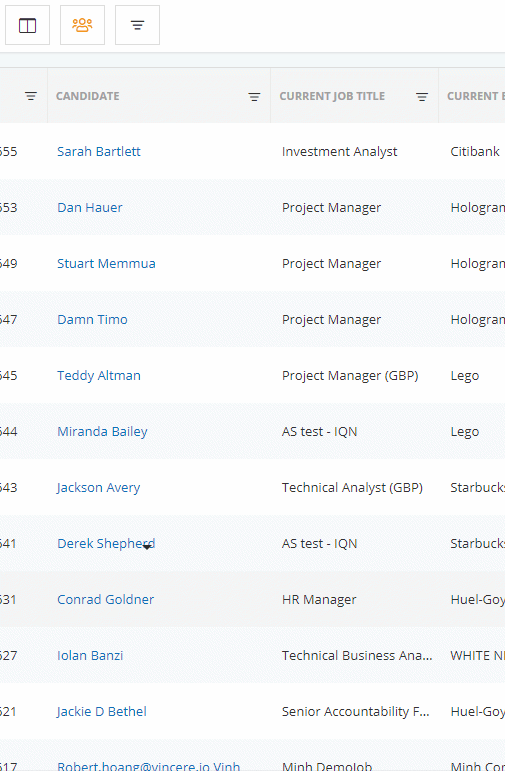 2. Application Advanced Search
Upgrades to help you search better with speed and precision.
2.1 Search with exact Job ID
In addition to free text search, you're now able to find Applications using exact Job IDs.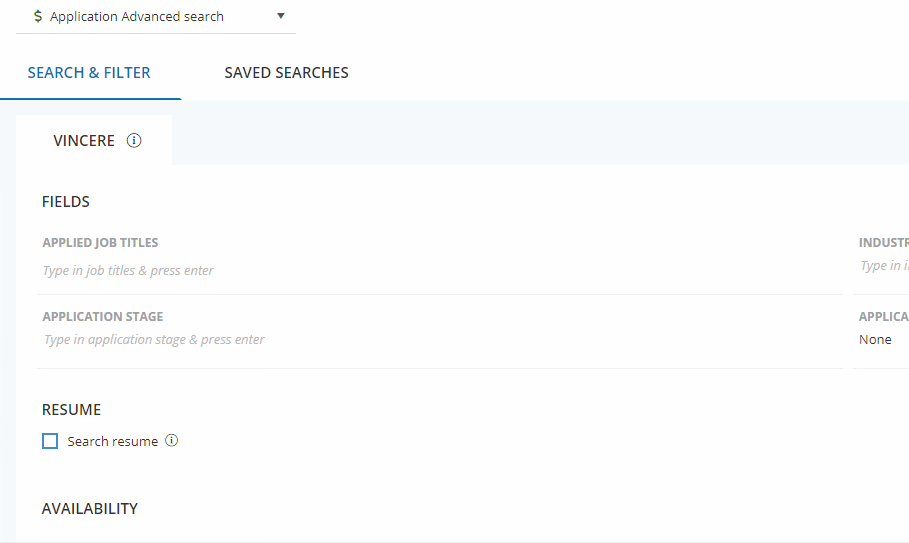 2.2 Resume Search for Applications
We're bringing the power of resume keyword search to Applications.
Search using keywords and Vinny highlights them in the CVs for you.
Note: This supports searches marked "Latest CV" only.
3. Updates to Talent Pools and Distribution Lists
We've rolled out a bunch of updates to enhance your overall experience when working with Talent Pools & Distribution Lists. Our focus: reduce clicks, deliver speed & prioritizing accessibility.
3.1 New action: Pin
A new handy feature to help you prioritize lists for easy access.
Note: Supports up to a maximum of 10 pinned items.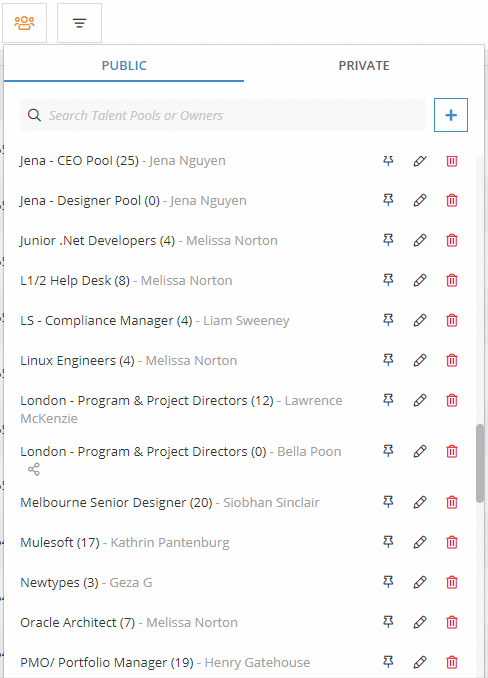 3.2 Organized tabs for Public or Private
We've organized Talent Pools & Distribution Lists into Private and Public tabs to make it easier for you to get to what you need quickly.

3.3 Share Icon label
Shared Distribution Lists / Talent Pools will now display a share icon for easy identification.

3.4 Quick Delete
We've moved the delete button so that it sits together with the other quick action buttons. Less clicks!

3.5 New Panel
We've updated the look and feel of the panel when adding a Candidate to a Talent Pool or Contact to a Distribution List. You'll now be able to see:
Creator/User

Share Permission

Number of records (of the Talent Pool or Distribution List)

4. Remove Applications
Instead of moving Applications to the Reject stage, you're now able to remove Applications, I.e. undo a move from Shortlisted, Sent, Interview Stages.
This also helps with the accuracy of stats reflected in the ATS pipeline.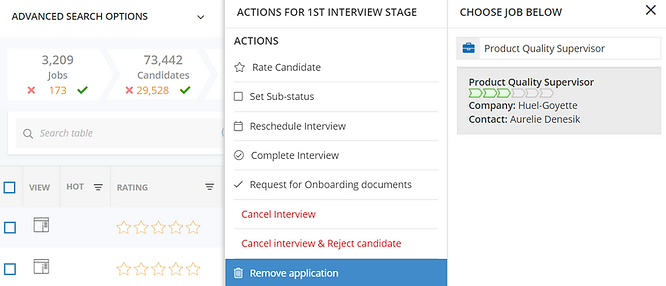 5. Add Attachments to Email Templates
You're now able to include file or document attachments to email templates e.g branded files for job descriptions, company information.
Note: This feature will be rolled out to all email templates in 3 phases. In phase 1, you can upload attachments to a set of 13 email templates focused on Candidate communications.
2.1 send Job Description to active Candidate
2.2 send Job Description to passive Candidate
6.1 Email in candidates stage -> Candidates
6.2 Email in Shortlisted candidates stage -> Candidates
6.3. Email in Resumes Sent stage -> Candidates
6.4. Email at 1st Interview stage -> Candidates
6.5. Email at 2nd+ Interview stage -> Candidates
6.6. Email in Advanced Search -> Candidates
6.8. Email at Offer stage -> Candidates
6.9. Email at Placements stage -> Candidates
7.1. Email all stages in CRM -> Contacts
7.2. Email in Advanced Search -> Contacts
20.1. Request Consent
6. Send any File: Send Job to Candidate
Previously, when sending a Job to a Candidate, you could only send job description files.
This upgrade offers more flexibility in the type of documents you can send directly to candidates.
Send any file you wish.
7. Edit Email of Candidate and Contact (Used in TimeTemp)
You can now edit the email of a Candidate or Contact even if it's associated with an account in TimeTemp. You can edit it from:
Profile: Full view & quick view

Placement (Vincere TimeTemp section)
Changes will be synced to TimeTemp and tracked automatically in the Activity Log.
Confirmation emails will be sent to the new and old email addresses of the Candidate or Contact informing them of the change.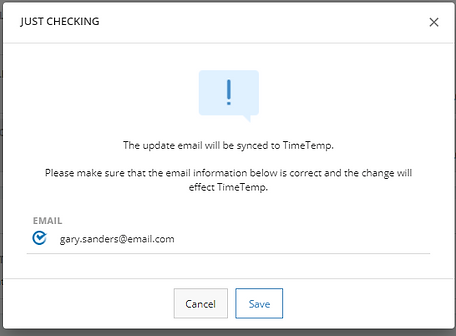 8. New Filters in Data Export
More power and controls when you export.
We've introduced new filters into the Export Scheduler, including:
Brand
Company
Job Owner
Job type
Pay type
Filter data specific to your preferences including the ability to combine multiple selections and drill down into filtered segments.
9. Reserved Columns in Data Export
Instead of manually adding data to exported files, use "Reserved Columns".
Reserved Columns are simply data columns you can add with pre-defined values you need.
These columns will be included in the exported files saving you time and effort.

10. Manage Unavailability
To enhance the visibility and accuracy of searches, we've added new events in the Availability calendar: Unavailable and Placement.
Candidates will be able to indicate their "unavailable" slots:
Unavailable candidates will not show up in your search results

Syncs to TimeTemp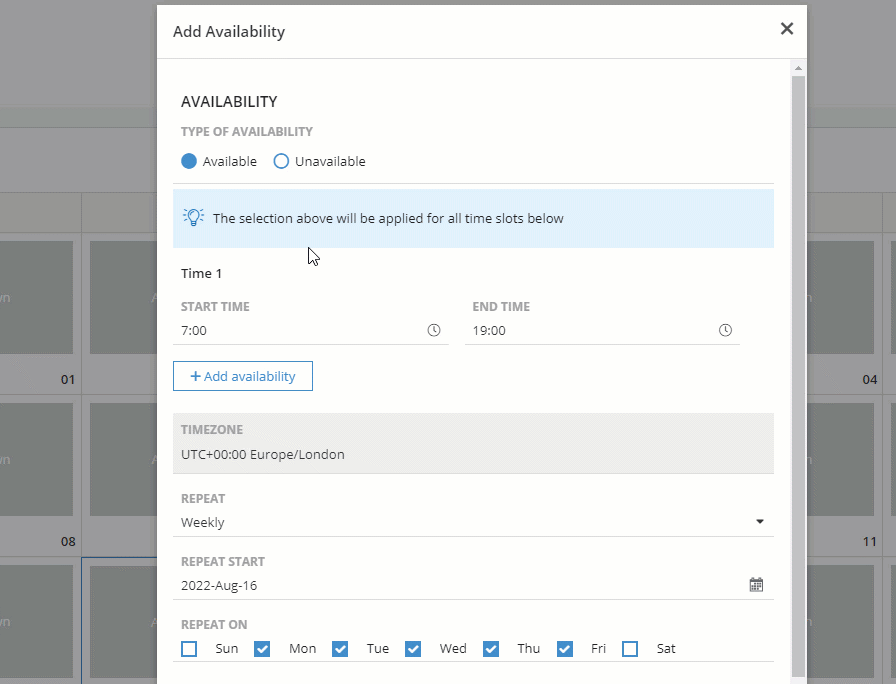 We've also added new functionality on the Placement page: Update Availability.
This nifty addition allows you to filter out candidates who are already placed in a job.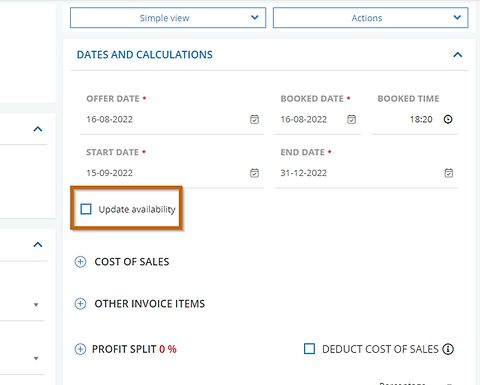 11. New Shift Pattern Day
Day patterns enable you to set up recurring shift patterns by day e.g 4 days on, 4 days off (with no relation to specific weekdays or weekends).

12. Book Workers to Individual Days
Before: You could only book workers for the full duration of the pattern (Start Date to End Date).
Now: You've got the power to book and unbook workers to any chosen day.
This is useful when you need to quickly fill bookings for upcoming days. Perhaps someone unexpectedly calls in sick or you've got someone who wants to try the shift for a few days before making the full commitment.
Release v18 lands on Saturday, 20th Aug 2022.
P.S. Have any questions? Get in touch with Vincere Support.