Feature updates designed to streamline your day-to-day. 
From customizing your 'Quick Add Job' form by Job types to a brand-new Applications stage in the chevron.  
These are features you've asked for.   
For efficiency and unrivaled productivity.  
Let's jump in: 
Core Updates:
1. Quick Add Job Upgrades 
Meet the newly customizable Quick Add Job form.   
You now have the power to add Custom Fields, remove or hide sections, and even rearrange fields based on unique needs.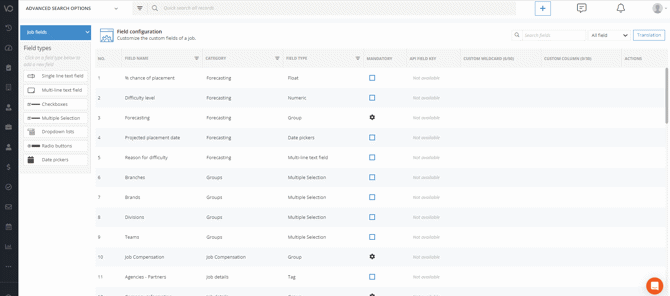 We've also added a 'Quick Shortlist' field for easier Candidate search.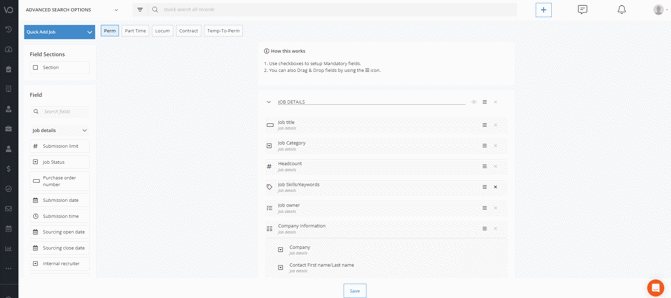 More flexibility and control over your data.  
Important note: These upgrades won't be available on the Mobile App or when adding jobs via API. But don't worry, we are working on it. 
2. New Chevron/Stage: Applications 
We've introduced a brand-new Applications stage to the ATS pipeline.  
Designed to help you sort applications coming from different Job boards.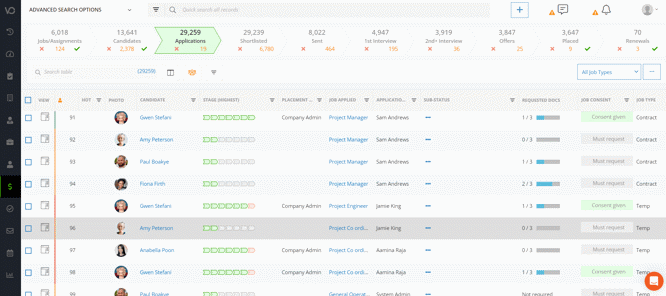 Important note: Existing Broadbean and LogicMelon settings will remain unchanged until you update them. 
3. Archived Candidate UI Updates 
A few minor tweaks on the UI to help you find what you need without fuss: 
Search for 'Archived Candidates' with the new 'Search' bar.  
Sort OR filter archived records  
Undo Archived Candidates 
Select Archived Candidates per page  

Find that golden candidate from your past without the back and forth.
Pay & Bill Updates:
4. Data Export: Timesheets 
Now you can export details of submitted, approved, rejected and unapproved timesheets and timeframe via the Data Export.  
Streamline payroll processing with automated, accurate data-backed reports.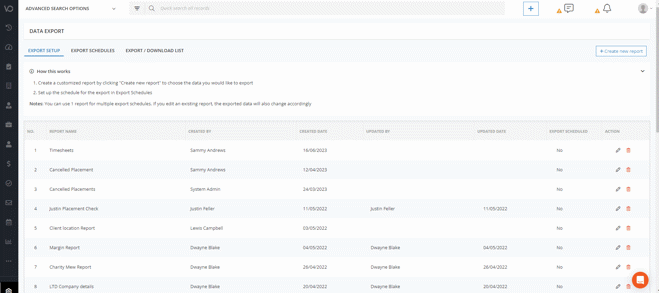 5. Improved Placement Workflow 
Need to make a quick placement?  
Place candidates in seconds with the new 'Place' button.  
Less clicks = more action. That's what we believe.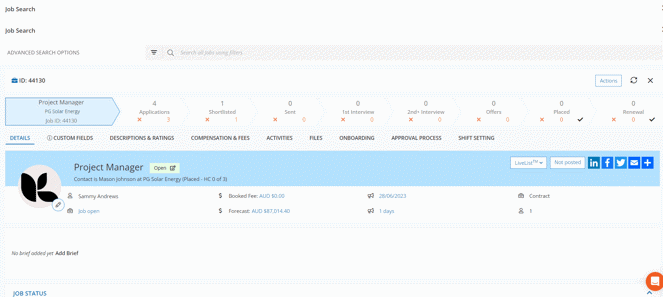 6. New Time Management: TimeTemp & FastTrack 
We've integrated TimeTemp and FastTrack.  
Enabling you to manage your TimeTemp contractors' payroll on FastTrack360. 
Seamless synchronization from front to back.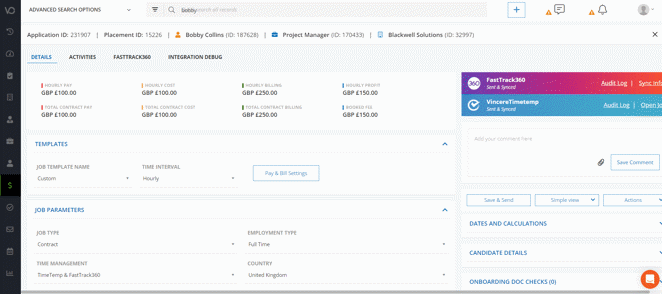 7. Send booking confirmation to past placements 
Client booking confirmation can now be sent for Finished or Terminated placements.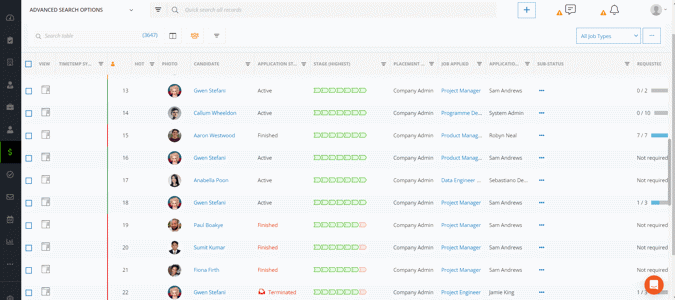 8. New ATS Column: Placement Owner 
We've added a new column in the ATS table to show the owners of a Placement.  
So, you can easily manage and view reports by Placement Owners.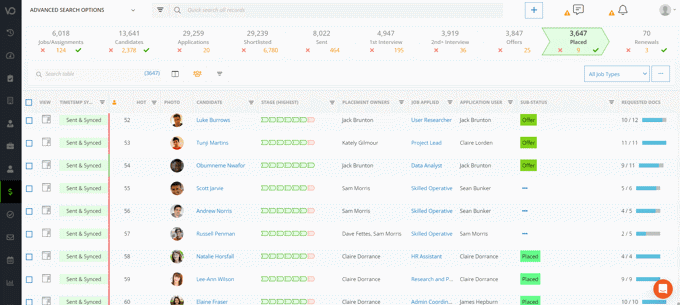 Volcanic Integration Updates:
9. Volcanic | Application URL to Volcanic 
Now you can map Engage or Portals Application URLs to Volcanic.  
Synced up effortlessly across platforms.  
Portals & Engage Updates: 
10. Job URL Generator enhancements 
We've renamed the 'EHub URL' button to 'Job URL'.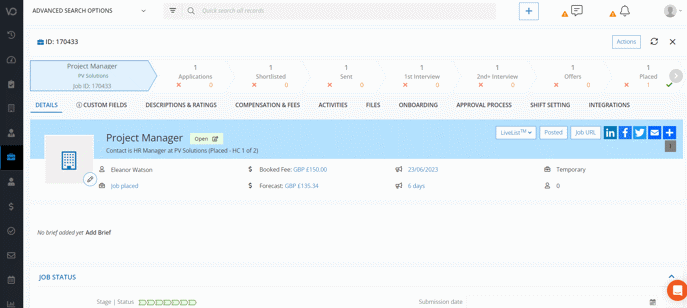 Plus, you can now generate Job URLs not just for Engage, but also for Portals.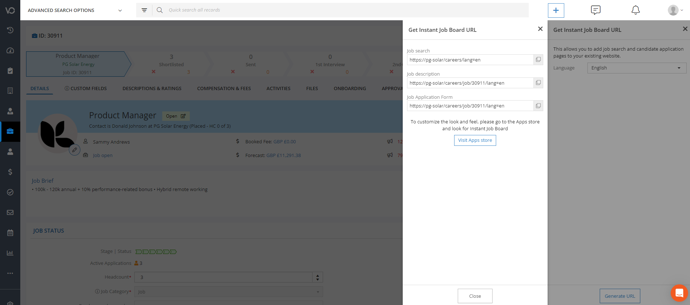 11. Add new Candidate Applications to the Applications stage 
All new Candidate applications will now be added to the 'Applications' stage automatically.  
For a more streamlined candidate selection process.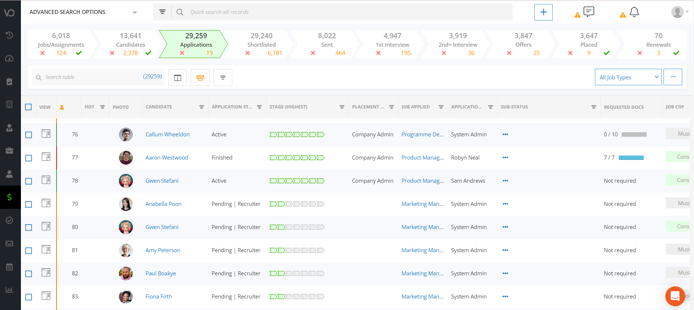 TimeTemp Updates :
12. Option to configure TimeTemp email notifications for placements  
Now you have the option to choose who will receive email notifications.   
More flexibility and control over who receives email notifications.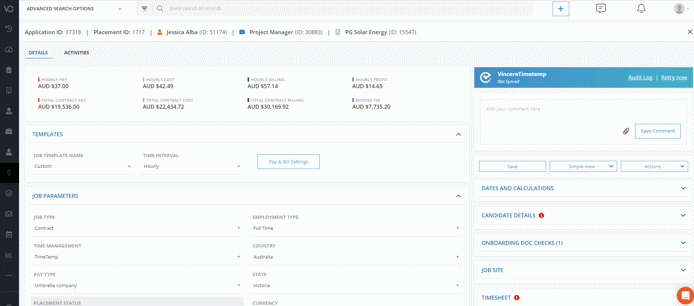 13. Submit timesheets without shifts  
New settings for TimeTemp placements to allow employees to submit timesheets with or without shifts.  
Candidates can quickly log and submit their timesheets.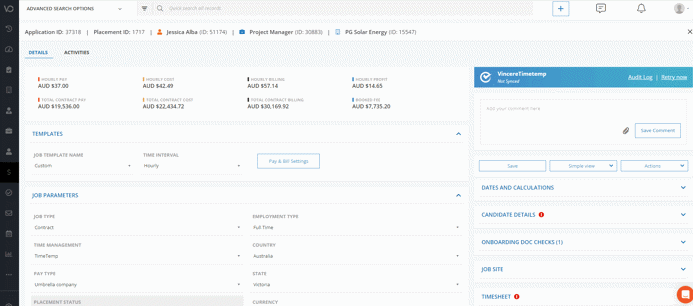 14. TimeTemp Audit Logs  
You can now view the logs of the placements that have been sent & synced to TimeTemp. 
Improved visibility on Placement records.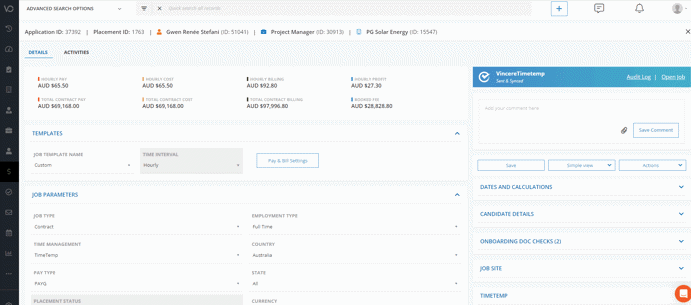 Intelligence Updates:
15. Monitor engagement with Vincere by department 
Dashboard: User Engagement  
Data exported from the User Engagement dashboard will now include information on consultant's:  
Locations  
Branches 
Brands  
Divisions
Teams  
Closely monitor each department's usage of Vincere and correctly map this data.  
You now have access to a variety of use cases, such as:  
Assess consultant's productivity, client-wise  
Consultant's performance, client-wise  
Job Aging report, for the currently open vacancies, client-wise  

16. Choose your own Date Format for Date Fields in the Forecaster dashboard 
Dashboard: The Forecaster  
All dates displayed in the Forecaster dashboard will be in the format you've chosen in your User Settings:  
Improved visibility for unmatched scalability.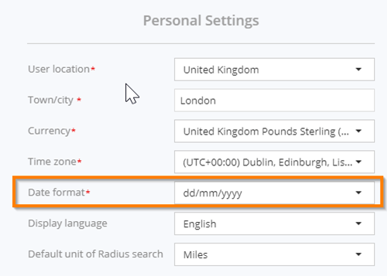 17. Additional Timesheet information in the AWR Report  
Dashboard: AWR Report 
The AWR Report now includes the timesheet Date Range.  
Now you can collect timesheet info from one location.   
18. Previous year jobs added into the Active Pipeline and Job Health-check reports  
The Active Pipeline and Job Health-Check Reports now include the Jobs created from the previous year, that you're still working on.  
This way you can better manage your active pipeline when the new year starts: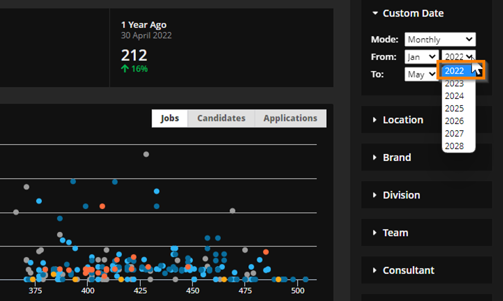 19. Pull filtered reports by Screen View 
Dashboard: User Engagement  
From now on you can export the data from the User Engagement dashboard.  
Matching your filtered activities and the exact information you see on your screen:  

You can still download all your User Engagement data, including the drill-down report data, by clicking on the button to get the detail file:   

20. Filter your Job Stats by specific Company and Job status  
Job stats will now include 2 additional filters: Company ID and Job Status.  
Drill down your Job data on a specific company and on Job status (either open, closed, or both):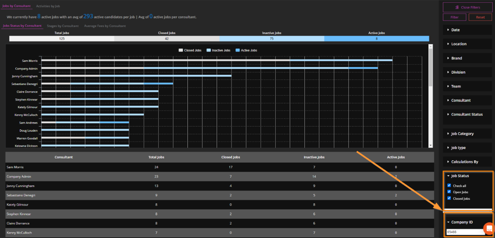 You now have access to a variety of use cases, such as:
Assess consultant's productivity, client-wise
Consultant's performance, client-wise
Job Aging report, for the currently open vacancies, client-wise
These updates were automatically added to your Vincere account on July 1st.  
What do you want to see on our roadmap this year?  
Let us know here.